Minister Rabbitte Announces €8.1 million EU Funding for Telecommunications Project that will Revolutionise Broadband Provision in Ireland and Europe
Posted on: 10 January 2013
CTVR – the national telecommunications research centre at Trinity College Dublin to lead €8.1m broadband project that will drive economic growth
A major telecommunications project that will revolutionise broadband provision in Ireland and Europe has been awarded €8.1million in EU funding was announced this week by the Minister for Communications, Energy and Natural Resources, Pat Rabbitte, on the occasion of a presentation on the priorities of the Irish Presidency of the EU. The pan-European research project, 'DISCUS' which was awarded funding under the European Union Seventh Framework Programme is being coordinated by CTVR, the national telecommunications research centre headquartered at Trinity College Dublin.
Announcing the EU funding award, Minister Rabbitte said: "Strengthening Europe's digital economy by advancing areas such as a high speed broadband rollout is a priority for the Irish Presidency of the EU. This pan European telecommunications project led by our own researchers here at CTVR at Trinity will provide concrete results for the benefit of both Ireland and Europe and demonstrates the critical links between research and enterprise that lead ultimately to jobs creation."
The project will explore new ways to use optical fibre to build a simplified broadband network that will provide ultra-high speed internet to both urban and rural areas that is economically viable, environmentally sustainable and capable of supporting all current and forthcoming services for the foreseeable future.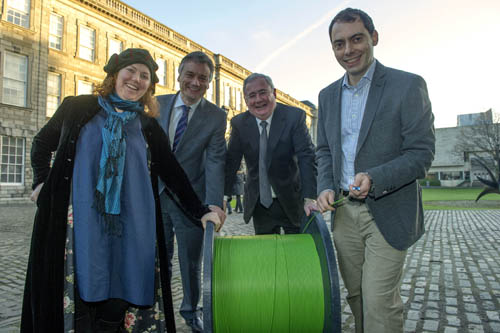 Head of CTVR, Professor Linda Doyle; TCD Provost, Dr Patrick Prendergast; Minister for Communications, Energy and Natural Resources, Pat Rabbitte; CTVR lead academic of the project, Dr Marco Ruffini.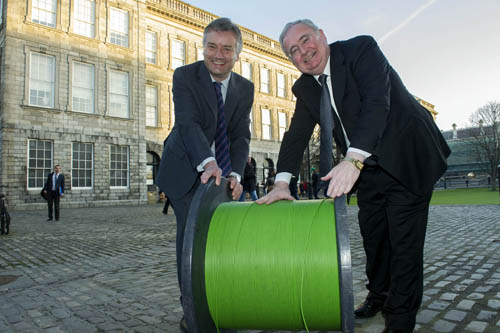 'DISCUS' addresses issues at the heart of the fibre-optic broadband provision: the challenge of growing demand for broadband services requiring higher speed as well as higher quality and ubiquitous availability that today's networks cannot deliver.
The three year European project includes 13 Irish and other European collaborative partners in optical networks and academia in Belgium, Germany, Spain, Italy, UK, Sweden and France where CTVR will be collaborating with major European telecom operators and equipment vendors such as Telefonica, Telecom Italia, Alcatel-Lucent and Nokia-Siemens as well as universities and SMEs. Of the €8.1 million EU contribution, €2.78M is for work to be conducted in Ireland at Trinity College Dublin, University College Cork and Tyndall National Institute.
Welcoming this announcement, Provost of Trinity College Dublin, Dr Patrick Prendergast said: "Leading such a top-tier international consortium is an endorsement of the strong international academic reputation that CTVR has earned and raises the profiles of Ireland and Trinity College Dublin as leaders in research and development of future broadband infrastructure. It is also a demonstration of the value to Ireland of continued investment in high quality research."
Commenting on the significance of the outcomes of the research project, its coordinators Dr Marco Ruffini of Computer Science and Professor David Payne of Electronic Engineering at Trinity College Dublin said: "We adopt a different technology called Long-Reach Passive Optical Network that compared to the current standard fibre to the home, allows us to increase the number of users per network from 32 to 1,000, and increase the distance between homes and central office from 10-20km to over 100km. This means that over 1,000 telecom local exchanges that we have today in Ireland could be consolidated into about 20 central nodes, reducing capital and operational costs, reducing power consumption, and extending the service availability also to rural areas. One of the key features of 'DISCUS' is that we are viewing the entire network architecture as a whole, i.e. the access and the core parts together, and seeking solutions that can minimise the entire network cost. This brings together a pan European team of world class expertise to achieve what will be a revolutionary change to the way future networks are built and operated, to deliver unprecedented service capability and customer experience."
The 'DISCUS' consortium partners are Trinity College Dublin (Ireland), Alcatel Lucent (Germany), Nokia Siemens Networks (Germany), Telefonica Investigacion Y Desarrollo (Spain), Telecom Italia (Italy), Aston University (UK), Interuniversitair micro-electronica centrum (Belgium), III-V lab (France), Tyndall & University College Cork (Ireland), Polatis (UK), Atesio (Germany) and Kungliga Tekniska Hoegskolan (Sweden).
Total investment in this project is€?11.7M, of which €8.1 million has been contributed by the EU and the remainder is provided by the partners involved.
CTVR (www.ctvr.ie) is one of ten flagship Centres for Science and Technology (CSET) in Ireland and is funded by Science Foundation Ireland.
Notes to Editor
DISCUS partner, Nokia-Siemens Networks' endorsement:
Research Manager at Nokia Siemens Networks in Germany, Dr Harald Rohde: "DISCUS offers a great possibility to strengthen and to bring forward the European photonic community. Together with the strong partners within DISCUS, Nokia Siemens Networks will work on the development, the standardisation and finally on the deployment of the next generation of the European Internet core. Together with the partners, Nokia Siemens Networks will continue to expand the European IT Capabilities, ensuring Europe's competiveness".
DISCUS partners:
Country Participant
Belgium IMEC
France III-V Lab GIE
Germany Alcatel-Lucent Deutschland
Nokia-Siemens Networks GMBH & Co. KG
Atesio GMBH
Ireland Trinity College Dublin
University College Cork
Tyndall National Institute
Italy Telecom Italia
Spain Telefonica Investigacion y Desarrollo SA
Sweden Kungliga Tekniska Hoegskolan
United Kingdom Aston University
Polatis Ltd.