Marathon Reading of Dante's 'Divine Comedy'
Posted on: 14 December 2015
A six-hour marathon reading of the Paradiso from Dante's Divine Comedy by 36 readers in 9 different languages took place in the Chapel of Trinity College Dublin on Friday, December 11, 2015.
The Papal Nuncio Archbishop Charles Brown, the Italian Ambassador to Ireland Giovanni Adorni Braccesi and poet Eiléan Ní Chuilleanáin were among a wide variety of readers at the event, which will mark the 750th anniversary of Dante's birth. Also speaking at the event were well known Italian scholars Professor Corinna Salvadori Lonergan and Cormac Ó Cuilleanáin from Trinity along with Associate Professor of Russian Sarah Smyth and Pro Chancellor of the University Dr Edward McParland.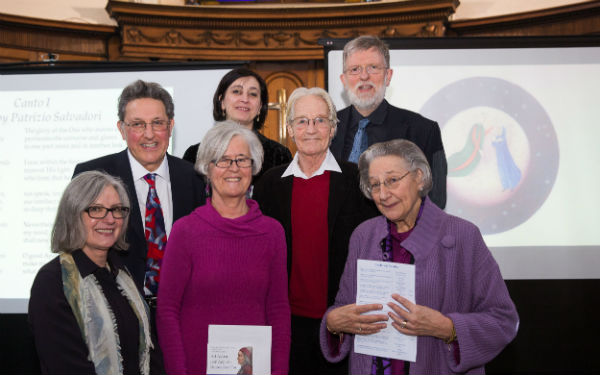 "Dante's Comedy is seen as one of the supreme works of world literature," explains Professor Cormac Ó Cuilleanáin, Head of the Italian Department, Trinity. "This 14-century epic poem tells of mankind's quest for salvation, expressed through Dante's personal journey through hell, purgatory and heaven at Eastertide in the year 1300. The best and worst of human nature are on display, with memorable speeches, unforgettable characters, dramatic confrontations and vast tracts of brilliant enlightenment. Samuel Beckett never got this book out of his head. Other Irish writers who have engaged with this work include Seamus Heaney, who translated several key passages of the Comedy and wove echoes of Dante's Purgatory into the visions of Station Island."
At the event, English-language translations of the Paradiso were projected as the readings take place. The 33 cantos were read mostly in the original Italian but some were read in English, with Czech, Finnish, French, German, Hungarian, Spanish, Russian also represented.
Organised by Trinity's Italian Department in conjunction with the Italian Cultural Institute, University College Cork and University College Dublin, the Trinity event on December 11th completed an epic reading of Dante's entire poem: the Inferno on Saturday 28 November in the National Gallery, with the first canto delivered in Irish by President of Ireland, Michael D Higgins, and a reading of the Purgatorio on Friday 4 December at the Glucksman Gallery, University College Cork.
At the Paradiso readings, lithographs by Liam Ó Broin, from his recent Dante series, were on show near the Chapel entrance, while inside the Chapel a series of emblematic illustrations by the German artist Monika Beisner were projected for each canto.
In addition, Trinity College Library's Dante collection, which includes a priceless copy of the first printing of the Comedy (1472), forms part of an online exhibition: https://mysterypagination.wordpress.com/2015/10/15/750-years-of-dante/
For further details and speaker schedule please see here:http://www.tcd.ie/Italian/paradiso/
Media Contact:
Fiona Tyrrell, Media Relations Officer | tyrrellf@tcd.ie | +353 1 896 3551