LGBT Rights and Legal Change in Ireland
Posted on: 13 July 2015
The LGBT activists whose case paved the way for the passage of the marriage equality referendum in May 2015 were among speakers at a legal seminar on LGBT rights and legal change held in Trinity College Dublin on Friday, July 10th, 2015.
The 'LGBT Rights and the Law' seminar focused on legal cases which have brought about significant social change for gay rights and for LGBT people in Ireland. Speakers included Senator Katherine Zappone and her wife Ann Louise Gilligan. Together they brought an historic case seeking the right to marry for same-sex couples. This case, setting off a decade of debate on marriage equality in Ireland, paved the way for the passage of the marriage equality referendum in May 2015.
Other speakers included Senator David Norris, who was the applicant in the key 1980s case which led to the decriminalisation of homosexuality. Mark Bell, Professor of Law, Trinity provided an overview of the way in which legal cases, particularly cases aimed at securing equality in the workplace, have helped achieve greater equality for gay people in Ireland and elsewhere. Brian Sheehan, Director of GLEN, also spoke at the event.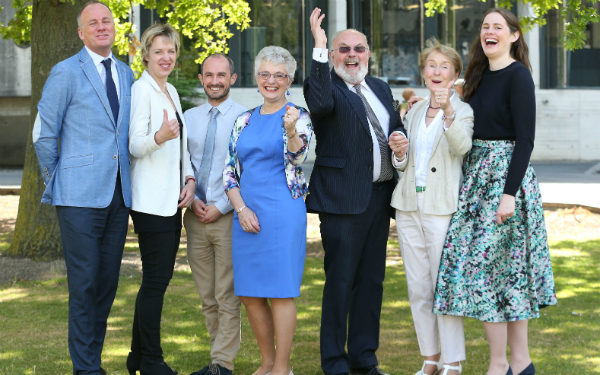 Professor Bell commented: "Early case-law in Ireland, Europe and the US often tried to expand protection from discrimination by seeking a broad interpretation of gender equality laws. Although such cases were frequently unsuccessful before courts, they exposed the shortcomings in the existing legislation and paved the way for change in the late 1990s and early 2000s. Although equality at work rights have been in place for over 15 years, there continues to be evidence that only a minority of those who experience discrimination report it to anyone else and very few take the step of bringing a formal complaint. This poses the challenge of how to promote equality in ways that complement a complaints-based model of enforcement."
The event is the second in a series of seminars entitled 'Changing Ireland, Changing Law' which is exploring the role public interest litigation has had on social change in Ireland. The seminar series forms part of a research project being undertaken by Trinity's School of Law in conjunction with the School of Languages, Law and Social Sciences in Dublin Institute of Technology.
The project is being led by Dr Mary Rogan, Head of Law, Dublin Institute of Technology and Professor Ivana Bacik, Professor of Criminal Law, Trinity, and is funded by the Irish Research Council, along with additional contribution from the Trinity College Dublin Equality Fund and Arts & Social Sciences Benefactions Fund. Upcoming seminars in the series will focus on the rights of migrants and public interest litigation more generally.
Media Contact:
Fiona Tyrrell, Media Relations Officer | tyrrellf@tcd.ie | +353 1 896 3551