Irish Rugby Legends Raise €52,000 for Cancer Research at TCD
Posted on: 03 January 2013
Rugby stars, the Wallace brothers who led C.R.O.S.S Rugby Legends Cycle to raise funds for cancer research presented a cheque for €52,000 to representatives of St James's Hospital and Trinity College Dublin on December 21st last.
In September 2012, Ireland's most famous rugby family, Richard, Paul and David Wallace, along with many Irish and International Rugby Legends cycled 700 km from Mizen to Malin Head in aid of C.R.O.S.S. that supports cancer research at St James's Hospital and Trinity College Dublin. Headed by Professor of Surgery, John Reynolds, the research programme targets the prevention and treatment of cancer, in particular cancers of the oesophagus, stomach, lung, bowel, and breast. "We are very honoured to be associated with the Wallace brothers and Rugby Legends and appreciate their commitment to supporting our work. The much-needed funding will be used towards the purchase of state of the art laboratory equipment that enables translational cancer research in Trinity," said Professor Reynolds.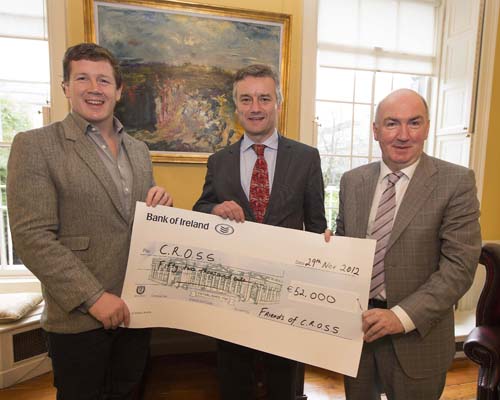 Paul Wallace presents the cheque to Dr Patrick Prendergast, Provost, and Professor John Reynolds, TCD
The Wallaces, alongside rugby legends such as Mick Galwey, Shane Horgan, Paddy Johns, Denis McBride, Scott Hastings, Shane Byrne, Conor McGuinness, Ieuan Evans and Colin Charvis, led the public on the C.R.O.S.S Rugby Legends Cycle.
The charity fundraiser is the brainchild of Paul Wallace, a member of this exceptional Irish sporting family, and Patron of C.R.O.S.S. The Wallace brothers have made the Guinness Book of Records as the only three members of one family to play for the British & Irish Lions – a unique achievement in international sport. David's recent retirement marked the end of an era for the three brothers, who had back to back International careers spanning over 20 years.
Commenting on the success of the C.R.O.S.S. Rugby Legends Cycle, Paul Wallace said: "As Patron of C.R.O.S.S, I was delighted to be leading this challenge in a team with my brothers to raise much needed funds for cancer research at Trinity and St James's Hospital. I would like to thank my team mates and everybody who supported the cycle."