Irish Chamber of Commerce (Singapore) Raises Money for Trinity Cancer Institute
Posted on: 10 December 2015
At the recent Stamford American Singapore Ireland Golf Invitational, the Irish Chamber of Commerce raised over €22,500 for an integrated cancer facility, Trinity Cancer Institute, being developed by Trinity College Dublin, St James's Hospital and their partners.
Presenting the cheque in Dublin, Mr Conor McCoole, President of the Irish Chamber of Commerce (Singapore) said "We are delighted to raise this money for such a great cause and help support the treatment and research of cancer treatment to benefit the many patients throughout Ireland, and internationally."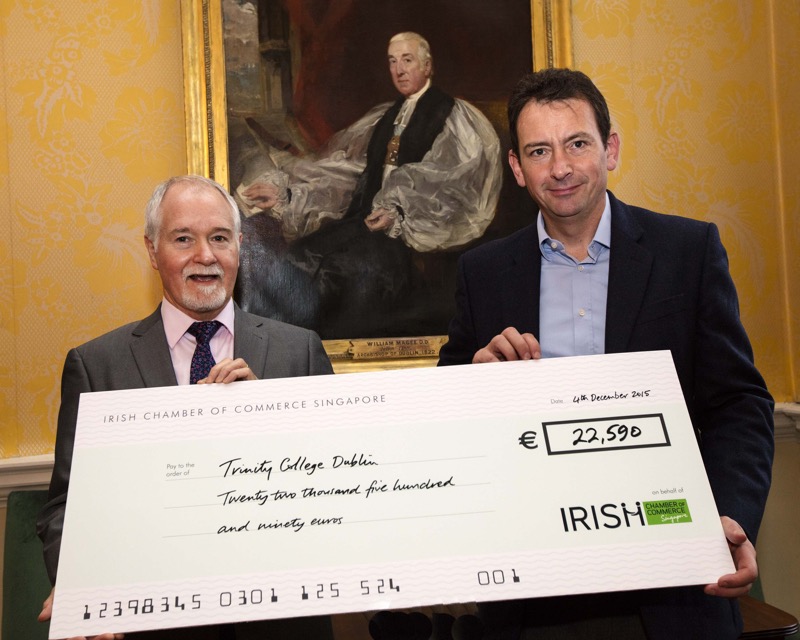 Trinity Dean of Research, Professor John Boland accepted the cheque on behalf of the University and said "The aim of the Trinity Cancer Institute is to improve outcomes for cancer patients by providing research-led diagnosis and treatment, by developing a better understanding of cancer through interdisciplinary research, and by educating the next generation of cancer clinicians, scientists and other healthcare professionals who will contribute to cancer care in the longer term. This contribution from the Irish Chamber of Commerce in Singapore, is a wonderful show of support from the international Irish business community, and we are extremely grateful."
The Stamford American Singapore Ireland Golf Invitational is an annual golfing event organised by the Irish Chamber that brings together members and their business associates for a day on the fairways. The event was kindly supported by the Stamford American International School, the Singapore Ireland Fund, Golf Vacations Ireland, Diageo, and Molley Roffey's Irish Bar.