'Humanities World RepoRTÉ? Dismantles Myth of the Arts Caged in Ivory Tower
Posted on: 12 December 2014
What is the purpose of the Humanities and how does research from this field contribute to understanding of contemporary global problems? A new book, 'The Humanities World Report, 2015' with major contribution from the Trinity Long Room Hub Arts and Humanities Research Institute aims to answer these hot button issues for academia and in doing so, to address criticisms that the Humanities are 'locked in an Ivory Tower' – removed from everyday world concerns. The report is also the first worldwide examination of the value of humanities research around the globe and the first to produce hard facts on the state of the Humanities. The new book was formally launched by Professor of Anglo-Irish Literature and Drama, Margaret Kelleher, UCD who is also a Member of Science Europe's Humanities Committee at a special ceremony in Trinity College Dublin recently.
Authored by Trinity Long Room Hub Professor of Humanities, Poul Holm, Professor of History at Stockholm University, Arne Jarrick, and Senior Lecturer in Philosophy at University of Kent, Dr Dominic Scott, 'The Humanities World Report' presents a first step towards assessing the state of the humanities globally. The research is based on extensive interviews conducted with 90 humanities scholars across 40 countries as well as an in-depth literature review. Topics include the nature and value of the humanities, the challenge of globalisation, the opportunities offered by the digital humanities, variations in funding patterns around the world, and the interaction between humanities and society.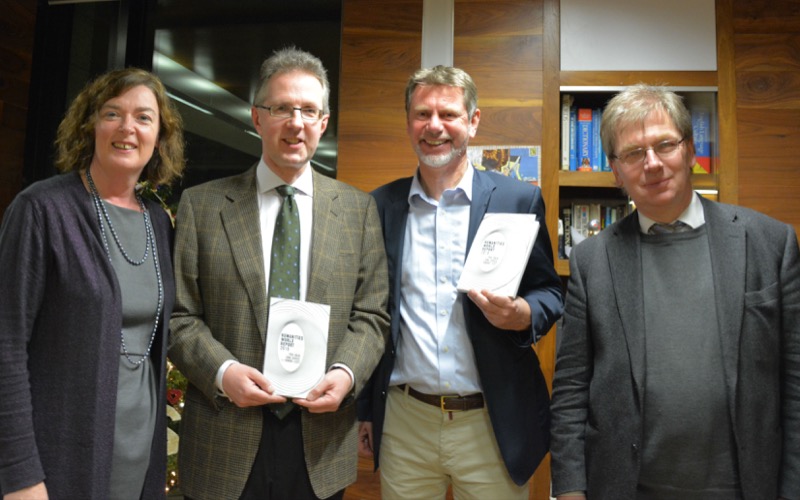 Despite the stereotypical view of humanities scholars as locked away in their ivory towers, the picture that emerges from this report is that they are deeply committed to the social value of their work and appreciate the long-term importance it has for addressing global challenges. The report, which is published as an Open Access title by Palgrave MacMillan, will be of interest not only to researchers and students in the humanities themselves, but also to administrators and funders.
Commenting on the significance of the book, Trinity College author, Professor Holm said:
We provide much-needed information on the global condition of Humanities research. We aim to provide an overview of new emerging research fields and of the institutional conditions in which research is conducted. The interviews in particular give a whole new perspective by giving voice to humanities scholars in Africa, Asia and Latin America. We were struck by the vitality of humanities. Contrary to what is often said the humanities are not in crisis but more vital than ever.