Graduate and Founder of Medical Device Company Wins Innovation Award
Posted on: 17 January 2014
The Trinity Innovation Award was presented to entrepreneurial graduate, Vivienne Williams, co-founder of Cellix Ltd, a Trinity College Dublin spin-out company that has developed new technology mimicking human capillaries in plastic with microfluidic pumping solutions. It counts leading pharmaceutical and biotechnology companies among its clients.
The Trinity Innovation Award is an annual award presented to an individual or company that has made an outstanding contribution to the promotion of an entrepreneurial culture within the University and society.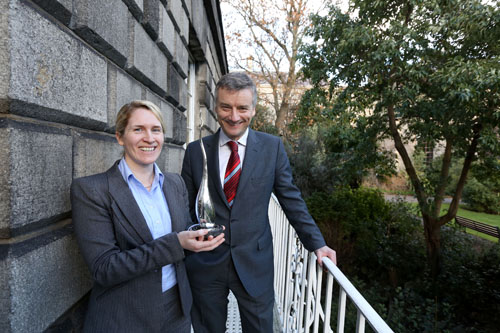 Vivienne Williams, co-founder of Cellix Ltd, with Trinity Provost, Dr Patrick Prendergast
On presenting the award to Vivienne Williams, Trinity Provost, Dr Patrick Prendergast, congratulated her on developing the commercial potential of her research at Trinity:
"Vivienne is an excellent example of an entrepreneurial graduate. Her innovative career path acts as an inspiration to our students; by achieving excellence in research and exploiting its commercial potential she now heads up a significant innovative company. Trinity is committed to educating for an entrepreneurial mindset with long-term benefits for the economy and society. Our recently launched Strategy for Innovation and Entrepreneurship builds on our entrepreneurial culture, pioneering an integrated approach to innovation and entrepreneurship that will permeate all levels of education. It is forging an entrepreneurial campus, bringing forward a new generation of innovators and entrepreneurs that will create scalable businesses and sustainable jobs. "
The entrepreneurial cycle from laboratory research to success in the marketplace began in 1999 for Vivienne, who holds an M.Sc in Physics from Trinity and began postgraduate research in microfluidics with physicist, Professor Igor Shvets and former Professor of Medicine, Dermot Kelleher. In the course of the collaborative project, the commercial potential of the "vein on a chip" technology became apparent. In 2006, the company spun-out from Trinity College with Vivienne as CEO, co-founder Dmitry Kashanin as CTO, they established its office in on-campus incubation space. It has since expanded and relocated to an industrial facility in the greater Dublin area. It counts AstraZeneca, Pfizer, Sanofi-Aventis, Servier and Amgen among its clients. It has developed the technology further with the recent launch of the ExiGo precision microfluidic pump which has applications in microfluidics, nanofluidics, droplet generation and manipulation thereby diversifying the product portfolio to include a new target customer base.
On receiving the Trinity Innovation Award, the Cellix co-founder said: " I'm delighted to receive this award and believe that it marks our dedication to the development of innovative tools for drug discovery and development."
About Innovation and Entrepreneurship at Trinity:
In the past two years, eight Trinity spin-out companies have attracted almost €60 million in venture capital investment; and,
Trinity's technologies are available for licensing in growth areas such as aviation, connected health, gaming and telecoms, new materials, and medical devices and therapies.
Since 2009, Trinity has averaged seven new spin-out companies annually and 20 % of all Irish spin-out companies now stem from the University;
Trinity collaborates with eight of the top 10 information communications technology exporters in Ireland, and partners with eight of the top 10 medical device companies;
Trinity ranks in the world's top 1% of research institutions in 18 STEM fields, including immunology, materials science, and molecular biology and genetics. (Thomson Reuters Essential Science Indicators, in terms of research impact as measured by citations)
Media Contact:
College Press Officer, Caoimhe Ní Lochlainn, tel: 8962310 communications@tcd.ie