Elan Funds a Clinician Scientist Research Fellowship in Neuroimaging
Posted on: 10 October 2012
Trinity College Dublin is pleased to announce that Elan Corporation, plc (Elan) has committed to sponsoring a five year clinician scientist post-doctoral research fellowship in neuroimaging of neurodegenerative diseases. This fellowship is being awarded to Dr Peter Bede. Dr Bede is based in Neurology in Trinity College Dublin's School of Medicine, the Trinity College Institute of Neuroscience and the Neurology Department at Beaumont Hospital.
A specialist registrar in Neurology with a focus on Motor Neurone Disease (MND) and advanced Magnetic Resonance Imaging (MRI) techniques, Dr Bede was awarded a Health Research Board Research Fellowship in 2009 to develop MRI biomarkers in MND. As the clinical role of conventional MRI in MND is limited to the exclusion of alternative diagnoses, Dr Bede uses novel quantitative methods to capture and measure MND specific changes in the brain and spinal cord.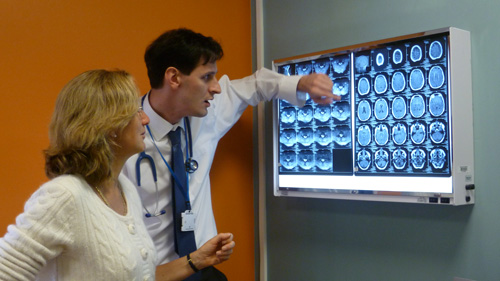 Professor Orla Hardiman and Dr Peter Bede.
Dr Bede is part of the Irish Motor Neurone Disease research group that has recently shown that the type and severity of disability in MND correlates sensitively with focal brain changes. This opens the door to the precise measurement and characterisation of MND pathology in vivo. Their current research project aims to identify and characterise neuroimaging signatures of known genes in MND and Frontotemporal dementia (FTD), assessing the effect of various genetic factors. This Neuroimaging research is linked closely to the other projects of the Irish MND group in genetics, neuropsychology, epidemiology and bioengineering.
Professor Orla Hardiman, who leads the Irish MND group, said: "The Elan Fellowship will enable Peter, an outstanding young clinician, to concentrate on developing sensitive imaging markers in neurodegeneration. Such biomarkers serve a number of scientific and pragmatic medical objectives, including early diagnosis, objective measurement of response to therapy in pharmaceutical trials, and a better understanding of overlap syndromes in neurodegenerative conditions. We are grateful to Elan for the support and I am confident that Peter's research will contribute to consolidating work in neuroimaging of neurodegenerative diseases, the area of strength in TCD, and thus to understanding of disease pathogenesis and treatment."