Dublin University Photographic Society Wins Best Overall Society of 2014/15
Posted on: 19 March 2015
The Annual Central Societies Committee Society of the Year Awards took place recently with 300 students at the event representing over 65 of the 120 Trinity societies.
Dublin University Photographic Association society (DUPA) which won Best Medium Society were also the judges' choice for the Best Overall Society of 2014/15 for helping to promote staff and student photography throughout Trinity and beyond. DUPA's main aim is to encourage both digital and analogue photography and it was noted for being one of the most efficient, active and well-organised societies on campus.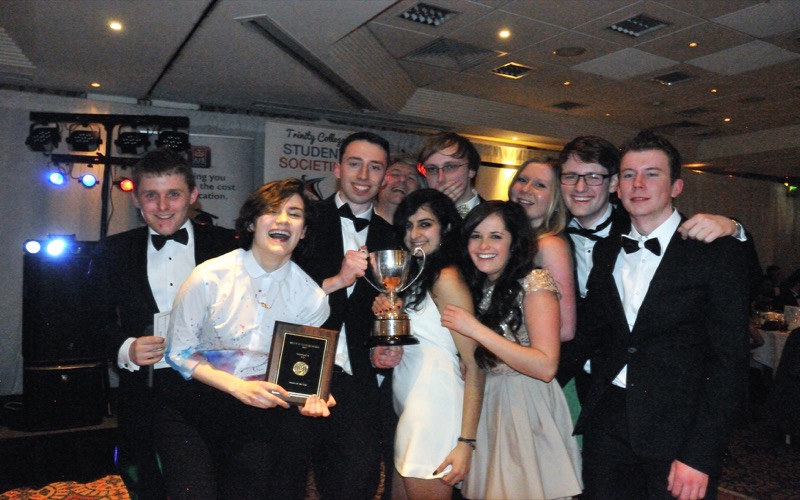 The DUPA society is two-fold: the technical side involves running regular classes and workshops, giving members access to high-end equipment and maintaining excellent darkroom facilities and the more artistic and creative side of the society, where they encourage members to go out and make new photos; whether this is via competitions, photowalks or submissions for exhibitions. They are committed to giving members a basic understanding of the technical side of photography and helping them develop throughout their journey.
The Societies Choice winner, the Knitting Society was voted 'most lovable society' for creating warm and welcoming atmospheres at their regular 'Stitch & Bitch' event and their weekly workshops. The society was recognised by the judges for providing an exceptionally inclusive space for staff and students providing a truly unique experience as well as aspiring to foster a sense of community and belonging for all their members.
Abbie O'Neill of Trinity Vincent de Paul won Best Fresher award. Abbie, a Junior Freshman Deaf Studies student, who as well as winning an award for her course-work, is also an active member of Trinity VDP. She became involved in the society during Freshers' week, when she was cast in the VDP Panto, Aladdin. Since then she has been an outstanding asset to the VDP. "Abbie is a prime example of how a society can shape your life in college, how it can help you meet new people, let you face new challenges and enhance your experience in your short time at College," commented VDP Treasurer, Stephen Carroll.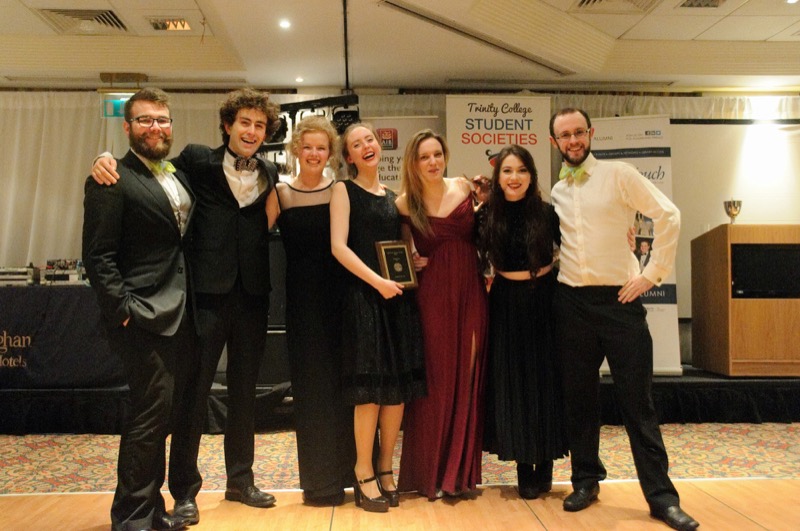 The CSC awards students who have put great effort into fulfilling the aims of their societies, providing a service to their members while adding significantly to the Trinity experience. The CSC is the College body that regulates student societies, granting recognition and funding as well as overseeing activity. Formally established in 1969, the CSC is now responsible for 120 societies covering diverse interests.
Full winners list
Best Small Society– Christian Union
Best Medium Society– Photographic Society (DUPA)–
Best Large Society– The Philosophical Society
Best New Society– Global Development Society
Most Improved Society– Traditional Music Society
Best Society Event – Trinity Economic Forum (TEF)
Best Fresher – Abbie O'Neill – Vincent de Paul
Best Individual – Peter Gillen (Entrepreneurial)
Best Online Presence – TAF and TES
Best Poster – Paradise Lost TAF
Best Society Publication – TAF 2014
Best Overall Society – Photographic DUPA
Societies' Choice – Knitting Society