Dr Vishva Dixit Awarded Dawson Prize in Genetics
Posted on: 17 February 2016
Dr Vishva Dixit, a leading international authority on the science of cancer and related therapies, this week received the prestigious Dawson Prize in Genetics at Trinity College Dublin.
Dr Dixit also gave a fascinating public lecture about exciting recent developments in our understanding of how cancers resist destruction by our immune systems and how new 'targeted therapies' can overcome this.
Dr Dixit researches how cells 'make decisions to live or die.' He has made groundbreaking contributions to our understanding of the fiendishly complex circuitry that governs cell behaviour, particularly in the immune system. He is Vice President of Discovery Research at Genentech, South San Francisco, a member of the US National Academy of Sciences, and one of the most highly cited scientists in the world.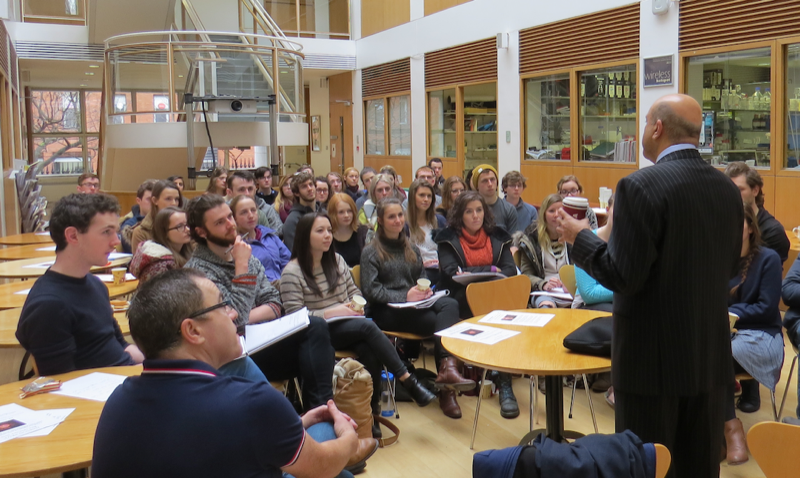 The Dawson Prize is awarded approximately every 2-3 years to a geneticist of international prominence chosen by the faculty of The Smurfit Institute of Genetics at Trinity. Previous recipients of the prize include Nobel laureate Sir John Sulston (2006) and Lasker awardee Mary Claire King (2010).
In his lecture, Dr Dixit discussed the emergence of cancer resistance to therapy, and explained why so many therapies achieve poor outcomes, before he spoke about exciting new immunotherapies that could revolutionise cancer treatment.
Commenting on the selection of Dr Dixit to receive the prize, Professor Seamus Martin, Smurfit Professor of Medical Genetics within The Smurfit Institute at Trinity, said: "Vishva is a truly visionary scientist and a very worthy recipient of the Dawson Prize. He has made so many breakthroughs in our understanding of the immune system that it's impossible to list them all. I am delighted that he visited Trinity to receive his prize and told us about his research. It was fascinating to hear about new cancer therapies that are rapidly coming over the horizon."
"We are very grateful to the late George Dawson who inspired the establishment of the Dawson Prize in Genetics. Professor Dawson founded the Department of Genetics at Trinity in 1958 and served as its Head for many years. George was a very original thinker and challenged students and staff alike to be independent-minded and address important and challenging scientific problems."
Media Coverage
Media Contact:
Thomas Deane, Media Relations Officer | deaneth@tcd.ie | +353 1 896 4685