Crowdsourcing Project to Capture Lived Experience of the Famine
Posted on: 01 September 2015
Trinity researchers have launched an innovative crowdsourcing project which allows members of the public to contribute and share family stories and documents about the Famine and emigration in Ireland in a bid to capture the lived experience of the Great Hunger in Ireland and to learn more about those who left the country in its wake.
The Great Famine Voices project is calling on the public to share letters, documents, objects and family memories on its website (http://www.greatfaminevoices.ie/) to help build a comprehensive picture of what it was like to live in famine Ireland or emigrate and make a new life elsewhere.
As part of the project the Great Famine Voices team will be sharing on the website documents such as rental documents, relief lists and eviction lists from the world renowned Great Famine Archive at Strokestown Park, many of which have never been shared before. The team are inviting members of the general public from all over the world to come and search for family names within these documents and to share their family memories of the Famine and emigration. Members of the public can also help transcribe these documents and corroborate and contextualise the information contained within them using other online primary sources.
The Great Famine Voices project is a collaboration between Trinity College Dublin, the Great Famine Archive at Strokestown Park House, Science Foundation Ireland's ADAPT Centre and the Irish Heritage Trust.
The project is led by Dr Danielle O'Donovan, Research Fellow at the Centre for Research in IT in Education at Trinity, and Dr Owen Conlan, Assistant Professor in Computer Science, Trinity. The project was launched at an event at the Irish Famine Museum and Archive at Strokestown Park House on Friday August 28th, 2015.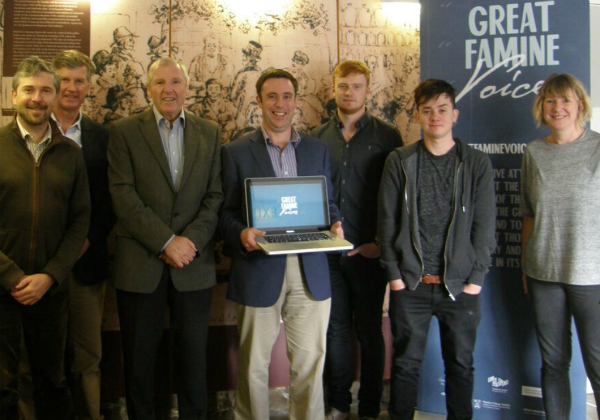 Speaking about the project Dr O'Donovan said: "The Great Famine Voices project is an innovative attempt to seek out the lived experience of the Great Hunger on the ground in Ireland and to learn more about those who left the country and scattered worldwide in its wake. We hope to grow an online community of those interested in Famine history, local history and genealogy to help us slowly and painstakingly bring our unique collections into the public eye and answer important questions about what it was like to live in Famine Ireland or emigrate and make a new life elsewhere."
"The Famine Archive at Strokestown is full of quantitative information, lists of names and land values. Now through this project we would like to begin to gather qualitative information, the stories that bring those lists of names to life. Are your family names in these records? What happened to your family after their name appeared on this list? Do you hold family memories of what it was like to live through the Famine, what it was like to survive it or what it did to your area? An assisted emigration scheme saw 1490 people leave the Strokestown estate bound for Canada, was yours one of these families? As a member of the Irish diaspora does your family date their leaving Ireland to the Famine or afterward? Held within families all over the world are letters, objects or passed down memories of that time. Our crowdsourcing platform invites those who visit to share their family memories of Famine and emigration."
Links: http://www.greatfaminevoices.ie/
Media Contact:
Fiona Tyrrell, Media Relations Officer | tyrrellf@tcd.ie | +353 1 896 3551