CROSS 2015 Rugby Legends Cycle for Cancer Research at Trinity and St James's Hospital
Posted on: 03 July 2015
The fourth year of the Rugby Legends Cycle for the C.R.O.S.S. charity which supports cancer research at Trinity College Dublin and St James's Hospital will embrace 1,000 km of beautiful scenery on the Wild Atlantic Way from Skibbereen to Donegal.
The Cycle called Atlantic 1000 will be staged from 5th to 11th September 2015 in the week leading up to Cancer Week Ireland. Ireland's most famous rugby family, Paul, Richard, and David Wallace, along with many Irish and international rugby legends, will again get on their bikes to cycle in aid of C.R.O.S.S., a charity that supports cancer education and research.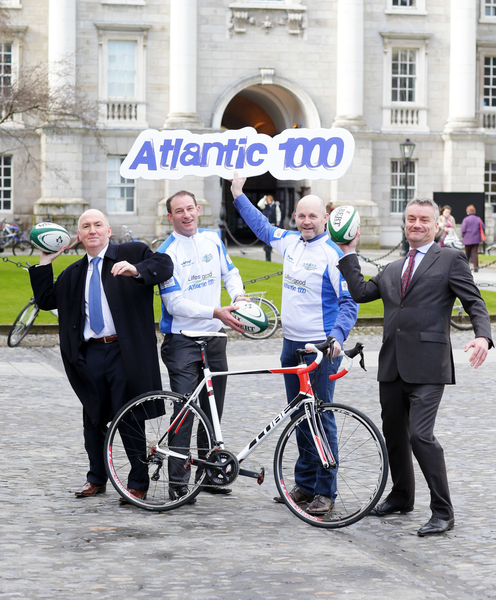 Over the last three years the Cycle raised over €225,000 helping to find new ways to treat and prevent cancer. Individuals or corporate teams can join the Atlantic 1000 team for any of the one-day stages or cycle the full tour and enjoy this amazing trip of a lifetime along the beautiful west coast of Ireland. Entry fee for the CROSS Atlantic 1000 for individuals is €290 per stage, or €1,500 for the full tour, which includes accommodation, meals, return transfers, an amazing cycling kit and fantastic fun!
The Wallace brothers have made the Guinness Book of Records as the only three members of one family to play for the British & Irish Lions – a unique achievement in international sport. Aware of cancer being a leading cause of death worldwide, the brothers decided to put energy into helping find solutions for tackling the disease through their support for education and research. With the title sponsor Lifes2good, the CROSS Atlantic 1000, supporting cancer research in Trinity, is a great opportunity for people to get on their bikes for a great cause.
For more information about the event, or to register for a stage please go to www.crossrugbylegends.com.
Link to 2015 Itinerary: http://crossrugbylegends.com/2015-itinerary-download/
Stage 1: Cross Atlantic 1000 Skibbereen – Bantry http://ridewithgps.com/routes/8772051
Stage 1: Cross Atlantic 800 Skibbereen – Bantry http://ridewithgps.com/routes/8772152
Stage 2: Cross Atlantic 1000 Bantry – Tralee http://ridewithgps.com/routes/8772928 (morning departure times for this stage, 7.30 & 8.15, Atlantic 1000 cyclists must be finished lunch and on the road by 12.30)
Stage 2: Cross Atlantic 800 Bantry – Tralee http://ridewithgps.com/routes/8772240 Stage 3: Cross Atlantic 1000 Tralee – Lahinch http://ridewithgps.com/routes/8773110
Stage 3: Cross Atlantic 800 Tralee – Lahinch http://ridewithgps.com/routes/8787489
Stage 4: Cross Atlantic 1000 & 800 http://ridewithgps.com/routes/8773245
Stage 5: Cross Atlantic 1000 & 800 http://ridewithgps.com/routes/8773356
Stage 6: Cross Atlantic 1000 http://ridewithgps.com/routes/8785305
Stage 6: Cross Atlantic 800 http://ridewithgps.com/routes/8785752
Stage 7: Cross Atlantic 1000 & 800 http://ridewithgps.com/routes/8786647