Conference Celebrates Ireland's Greatest Philosopher George Berkeley
Posted on: 08 April 2014
The enduring contribution of Ireland's greatest philosophers, George Berkeley, was explored at a major international conference in Trinity College Dublin recently.
Berkeley, Ireland's greatest philosopher, is also among the great world philosophers. He is usually regarded as the father of modern idealism and also perhaps the first experimental psychologist, who made major contributions in mathematics, theology and the study of language. Swift described him as 'an absolute philosopher'.
The conference celebrated the tri-centenary of Berkeley's great work, Thee Dialogues between Hylas and Philonous, which he wrote at Trinity at the age of twenty-eight. It also commemorated one hundred years of scholarship on Berkeley in Trinity.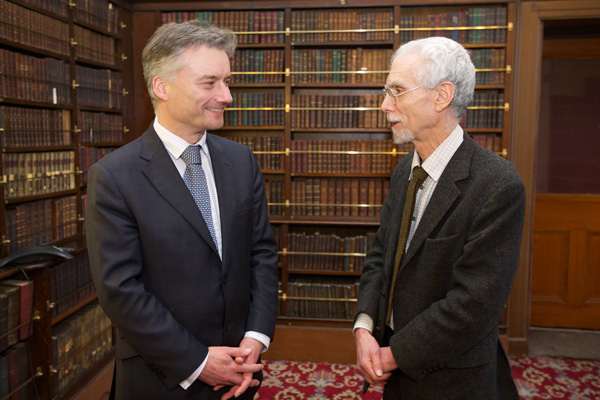 Trinity Provost, Dr Patrick Prendergast, and Professor David Berman, Fellow Emeritus at the Department of Philosophy
Organised by Trinity's Department of Philosophy, the conference brought together nine leading scholars on Berkeley, from the UK, US, Europe and Korea, as well as Trinity's own Professors David Berman, James Levine, Associate Professor in Mental and Moral Science and Dr David Wilkins, Assistant Professor in Mathematics.
Head of the Department of Philosophy, Professor Vasilis Politis commented: "That Berkeley remains at the forefront of philosophical studies – not only historically but with a view to current philosophical inquiry – is confirmed by the many leading philosophers worldwide that dedicate a major part of their studies to the substance and significance of his work. And we at Trinity are especially glad to have gathered many of these leading philosophers together for this important event."
The opening address at the conference, Irish Philosophy: Past and Future, was delivered by eminent Berkeley scholar Professor David Berman, Fellow Emeritus at the Department of Philosophy, and was aimed at a wider audience. Listen to a full podcast of the lecture here.
Professor Berman commented: "In my talk I explored a period when Ireland was at the cutting edge of world philosophy. This was the golden age, which was born with Toland's Christianity not Mysterious (1696), grew with the answers to his challenge from Browne, King and Synge, and culminated with the work of Hutcheson, Burke and especially Berkeley."
"This unique flowering of Irish philosophy can be explained by the very practical need of the emerging Anglo-Irish Ascendancy which faced the challenge of ruling a population composed largely of Roman Catholics as well as the growing forces of enlightenment, which forced it to draw creatively on the forces of counter-enlightenment or right-wing Lockeanism as against those of the enlightenment and left-wing Lockeanism."
The conference will result in the issuing of a collection of essays on Berkeley and the Three Dialogues to be published by Cambridge University Press and edited by Trinity's Dr Aisling Crean and Dr Stefan Storrie.
Media Coverage:
Media Contact:
Fiona Tyrrell, Press Officer for the Faculty of Arts, Humanities and Social Sciences, Trinity College Dublin | tyrrellf@tcd.ie | + 353 1 8964337