British and Irish Relations in a Changing EU explored at Trinity Henry Grattan Lecture Hosted in Irish Embassy in London
Posted on: 07 May 2013
Former President of the European Parliament Pat Cox and TCD Economist Antoin Murphy speak on British and Irish Relations in a Changing EU
A lecture on British and Irish relations in a changing EU was given by the former President of the European Parliament, Pat Cox, Trinity College, Professor Emeritus, Antoin Murphy, and Director of the Centre for European Reform, Charles Grant at the Embassy of Ireland in London on Thursday, May 2nd. The event was part of the Trinity College Dublin Henry Grattan Lecture Series and the first in the series hosted outside Ireland. The Ambassador of Ireland, Mr Bobby McDonagh and Dean of the Faculty of Arts, Humanities and Social Sciences, Trinity College Dublin, Professor James Wickham opened proceedings.
The lecture addressed the very different relationships with the EU that Britain and Ireland have pursued since membership over forty years ago. Ireland's decision to adopt the euro was a decisive moment in these contrasting evolutions of policy. A British withdrawal from the EU, were it ever to occur, could represent an equally significant change in the relationship between Britain and Ireland resulting from membership of the EU.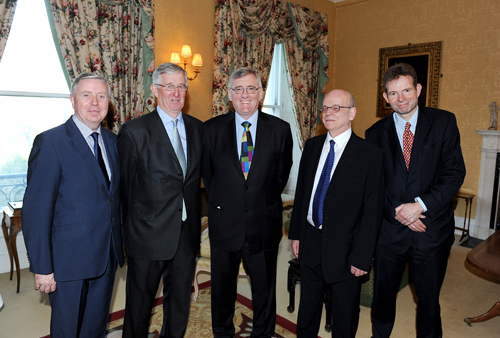 Pat Cox, former President of the European Parliament and alumnus of Trinity College Dublin, Antoin E. Murphy, Professor Emeritus, Trinity College Dublin, Bobby McDonagh, Ambassador of Ireland, Professor James Wickham, Charles Grant, Director, Centre for European Reform.
Pat Cox's presentation contended that both the British and Irish accessions to the European Community forty years ago were driven by their respective quests for a meaningful role in Europe's emerging polity and as a response to national necessities:
"Judged as the effective capacity to act in one's interests, from the outset, for many in Britain the perception was that sovereignty shared was sovereignty surrendered. While as a smaller state with a highly UK-dependent economy, for most in Ireland sovereignty shared was seen as sovereignty gained."
"It will be for the British people themselves to decide their destiny and whether or not to choose the road less travelled. Based on consistent public policy, public opinion, not uncontested but majority, and enlightened national interest one may predict that Ireland is not for turning."
Trinity Professor Emeritus, Antoin E. Murphy spoke on the changing economic relationship and its relevance in the context of possible changes in the UK's links with the EU and posed the question:
"In 2011 Ireland exported more goods to Belgium than it did to Great Britain. Trade in goods and services (both exports and imports) with the UK now amounts to only 18% of Ireland's aggregated trade. As Irish exports have soared in recent decades there has been a considerable diversification of its trade away from the UK. Furthermore in absolute terms there was a fall in Irish exports to the UK of €8 billion between 2002 and 2011. Has Ireland, under a new economic geography, significantly de-coupled from the UK thereby greatly reducing Ireland's economic concern of the UK (with or without Scotland) changing its economic relationship with the EU? "
About the Henry Grattan Lecture Series
The Henry Grattan Lecture Series – a flagship initiative of the School of Social Sciences and Philosophy – plays an important role in enabling Trinity College Dublin to engage with society and in ensuring that leading academics and policy makers from around the world are publicly accessible. Previous lectures have addressed topics such as The End of the European Project? and Iceland's Road To Recovery: What Lessons To Be Learned. With former speakers including Joschka Fischer, former German Vice Chancellor, David O'Sullivan, Trinity Alumnus and Chief Operating Officer of the European External Action Service and Steingrímur J. Sigfússon, Minister of Finance, Iceland.