Botanical artist to showcase Ellen Hutchins Exhibition finale
Posted on: 25 April 2017
Award-winning botanical artist, Shevaun Doherty, will this Wednesday and Thursday help bring the beauty of botany to life when she paints some of Ellen Hutchins' decades-old seaweed specimens as part of the Ellen Hutchins Exhibition.
The exhibition is a special showcase of the life and times of Ireland's first female botanist. It has been held in the Old Anatomy Building of Trinity over the past two months and draws to a close this week. The final public open session takes place on Thursday evening this week (April 27).
The exhibition is the story in words, pictures, specimens and letters of Ellen (1785 – 1815) — a remarkable young woman from Ballylickey, Bantry Bay, West Cork.
In eight years of botanising, cut short by her death aged 29, Ellen discovered many new species, and made a significant contribution to the understanding of cryptogams – seaweeds, lichens, mosses and liverworts.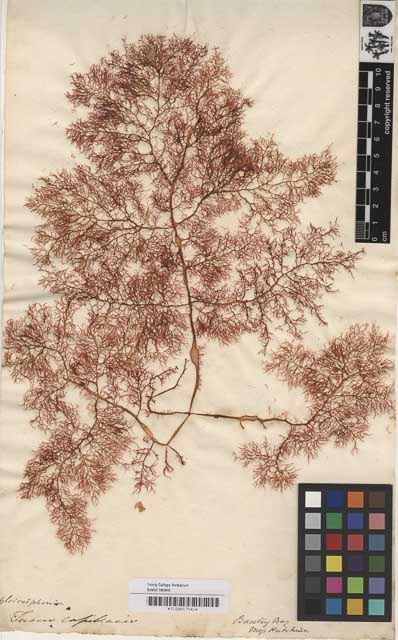 This week, parts one and two of the exhibition will be on display on Thursday March 30, before part two takes sole centre stage from Friday March 31 until Friday April 28.
The exhibition provides a wonderful opportunity to see:
The first ever exhibition of specimens of seaweeds collected by Ellen Hutchins in Bantry Bay over 200 years ago
Recently uncovered letters written by Ellen to James Townsend Mackay at Trinity College Dublin, from the period 1805 to 1810
Prints of Ellen's exquisitely detailed and accurate watercolour drawings of seaweeds
Ellen's own descriptions of her botanising from letters to her brothers in 1807
Designed for the staff and students of the School of Natural Sciences, the exhibition is mounted by the Ellen Hutchins Festival and the Herbarium of the Botany Department, Trinity.
It is of great relevance to all interested in the history of women in science, botany and botanical art and has two remaining public open sessions, 5 – 6:30pm on the last Thursdays of each month, 30th March and 27th April, when members of the Ellen Hutchins Festival will be on hand to answer questions.
The exhibition brings together panels about The Young Woman, Her Work and Her World, with original material and books from the Herbarium at Trinity, letters held by the Hutchins family, and prints of Ellen's drawings of seaweeds from the Royal Botanic Gardens, Kew and Museums Sheffield.
See www.ellenhutchins.com for more information on Ireland's first female botanist..
Media Contact:
Thomas Deane, Media Relations Officer | deaneth@tcd.ie | +353 1 896 4685