Appointment of New Seamus Heaney Professor of Irish Writing
Posted on: 21 January 2014
Professor Chris Morash has been appointed as the Seamus Heaney Professor of Irish Writing at Trinity College Dublin. The Professorship is named in honour of one of Ireland's greatest poets and Nobel Laureate who had a long standing relationship with Trinity. Professor Morash's appointment was announced at a special event in the Long Room in Trinity College on Monday, January 20th, 2014.
"This is a seminal appointment in Irish academia and will act as a form of legacy to Seamus Heaney's significant contribution to Irish writing and literary studies. The professorship was established in the last year of the great poet's life and he had expressed delight at his association with it. We hope to fulfill the aspirations for the role that we discussed with him at the time, and build on Trinity's extraordinary literary tradition with significant impact for writing in Ireland and internationally," said Dr Patrick Prendergast, Provost of Trinity.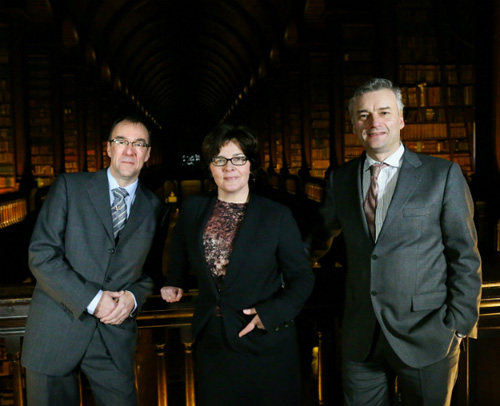 Professor Chris Morash, Seamus Heaney Professor of Irish Writing, Head of Trinity's School of English, Associate Professor Eve Patten and Provost of Trinity College Dublin, Dr Patrick Prendergast
Professor Chris Morash, was formerly Professor of English at NUI Maynooth where he also set up the Centre for Media Studies. He has published widely on Irish writing.
"The profound transformations of culture that have taken place globally over the past couple of decades make it imperative that we find new ways to understand and to assert the value of Irish literature," said Professor Morash. "The creation of this post is an assertion of that value. I look forward to contributing to the challenge of giving it substance."
The new position was established with the philanthropic support of a number of benefactors, most notably Dr Mark Pigott, KBE, and Dr Martin Naughton, Chair of Glen Dimplex.
"Through the philanthropy of these donors this important professorship has been made possible. We are very appreciative of their generosity and vision in supporting the new appointment," said Dr Prendergast.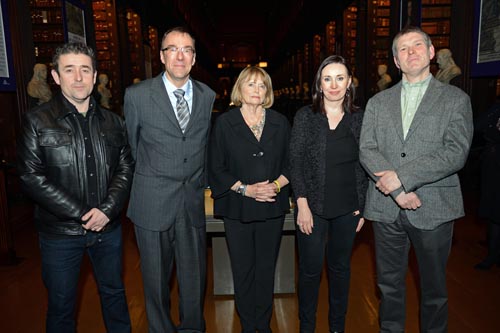 Professor Chris Morash pictured with members of the Heaney family, Chris Heaney (left), Marie Heaney, Michael Heaney and partner Emer Callan. Credit: Eric Luke, Irish Times.
Associate Professor Eve Patten, Head of Trinity's School of English, warmly welcomed Professor Morash to his new post and said: "This is a poignant occasion but a happy one too. The School has always played a leading role in the development of Irish literary studies, and the appointment of the Seamus Heaney Professor will consolidate our commitment to Irish writing and literary life as a whole. We are delighted to have Chris join us – he is a scholar of outstanding international reputation and a tremendous addition to Trinity College."
On the occasion of the announcement of his appointment, Professor Morash also launched his new book, Mapping Irish Theatre: Theories of Space and Place, which he co-authored with Shaun Richards and is published by Cambridge University Press. Mapping Irish Theatre makes the argument that for the past century, Irish theatre has depended upon a 'sense of place' that is rapidly fading, compelling Irish theatre practitioners to find new ways to connect with Irish audiences. One of Ireland's most acclaimed new theatre directors, Louise Lowe of ANU Productions, will formally launch the book.
The School of English, one of the oldest in the world, founded the first ever Chair of English Literature in 1867. Many major Irish writers over the centuries have attended Trinity – including Jonathan Swift, Oliver Goldsmith, Edmund Burke, Bram Stoker, J.M. Synge, Samuel Beckett, Oscar Wilde, William Trevor, Sebastian Barry, Deirdre Madden and Anne Enright.
Media Coverage: