American Human Geneticist Receives TCD Dawson Prize in Genetics
Posted on: 09 April 2010
Leading geneticist, Professor Mary-Claire King, who was the first to locate a gene associated with hereditary breast cancer (BRCA1), was presented with the 2010 TCD Dawson Prize in Genetics this week (7th April). Professor King, who is the American Cancer Society Research Professor at the University of Washington's School of Medicine in Seattle, received the prize from TCD's Smurfit Institute of Genetics after presenting a public lecture in Trinity on Genetics and Breast Cancer: Progress in personalised medicine.
Professor King's discovery of the gene BRCA1 was a pioneering achievement which took 17 years of skilful analysis and has led to a revolution in our understanding of breast cancer. During her address, Professor King discussed how genetics can help in the diagnosis and treatment of breast cancer and how the latest discoveries in genetics have led to the development of personal medicine where drugs and therapies are more carefully chosen for each patient.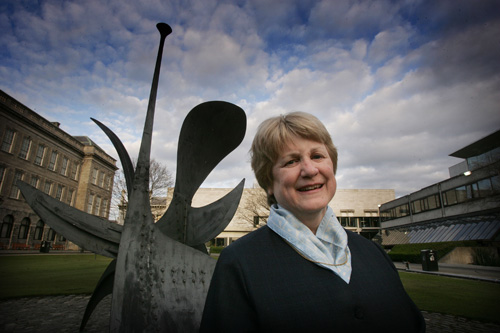 Professor Mary-Claire King at Trinity College Dublin. (Image courtesy of Alan Betson, Irish Times).
Alongside her work on gene predisposition Professor King is also responsible for major findings in molecular evolutionary biology and provided evidence of a 99% genetic link between chimpanzees and man. She has also worked with the United Nations using DNA evidence to identify victims of war crimes in various parts of the world and is also responsible for using genetics to trace the 'disappeared' in Central and Southern America, Rwanda, the Balkans and the Philippines. Her research has demonstrated how genetic technology can directly benefit humanity through disease prediction and treatment, and through human evolution and history.
Throughout her career Professor King has served on numerous government panels and with private organisations, including the National Cancer Institute's Breast Cancer Task Force, the United Nations War Crimes Tribunal, UN Forensic Anthropology Team and Amnesty International. She is a member of the National Academy of Sciences and has received numerous other awards for her work in genetics and for promoting the participation of women in science.
The Dawson Prize in Genetics was established by a gift from the late George Dawson, founder of the TCD Department of Genetics. The prize can be awarded every two years to a geneticist of international prominence.