18 Students Receive Trinity Sports Scholarship
Posted on: 02 December 2013
South African Student Awarded Scholarship is on the Road to the Olympic Games in Rio 2016
The annual Trinity Sports Scholarship Awards were held on November 27th last where 18 of the University's students received awards.
A total of 13 sports are represented in this year's list of awards and through the programme, talented sports students are offered a comprehensive support package to assist with their aspiration of sporting excellence alongside academic achievement.
Among the recipients was 18-year old South African student, Prakash Vijayanath, who is studying Computer Science and Business at Trinity. Originally from Johannesburg in South Africa, Prakash is currently training in the Badminton Ireland High Performance Centre in Marino Institute of Education and is a member of the Badminton World Federation 'Road to Rio' Group. This is a select gathering of young players who have been identified as potential qualifiers for the 2016 Olympic Games in Brazil's capital. He was the youngest competitor to win silver in the All African Men's singles this year and was a member of the South African team who won Gold at the event. He followed this performance by winning the South African Men's National Singles title in August and in advance of Rio 2016, he has his sights set on the Commonwealth Games in Glasgow next summer.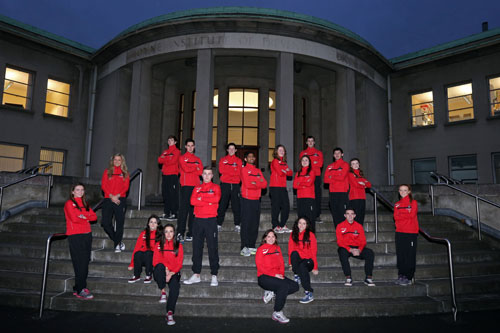 Head of Sport and Recreation at Trinity Michelle Tanner emphasised the importance of the programme in attracting high performing students to Trinity: "The rigours of competing at the top level in sport requires this level of support from the College. The talents we are recognising via the Sports Scholarship Programme continue to surpass expectations year-on-year and we must keep pace with the demands of the students and the competitiveness of Trinity in this arena. The inclusion of Prakash Vijayanath in the 2013/14 recipients clearly demonstrates the global impact of sport at third level."
The successful awardees are recognised for their achievements at a county, provincial, national and international level. They include GB International Air Pistol Shooter, Victoria Mullin, Trinity Ladies Gaelic Football Captain, Jacinta Brady, Kayaker, Aisling Smith, Men's Hockey Captain, Stephen Ludgate, Waterford Hurler Paul Coughlan, International paddlers Tom Brennan and Iomhar MacGiolla Phadraig and London Olympian Sailor, Scott Flanigan. This is the second year that these students have been awarded the scholarship. New to the programme are Ciaran McGahon (Association Football), Lucy Mulhall (Ladies Gaelic Football), Paul McPadden (Men's Gaelic Football), Maria O'Sullivan (Harriers & Athletics) Avril Dooley-O'Carroll and Anna-May Whelan (Ladies Hockey), Sinead Dolan and Hannah McCarthy (Rowing) and Melanie Young (Three Day Eventing).