Launch of Deaf Interpreter Training Programme
The Centre for Deaf Studies had an historic weekend with the launch of our "Introduction to Deaf Interpreting" programme, a 20 ECTS course funded by the Citizens Information Board and Sign Language Interpreting Services (SLIS).
Deaf Interpreters (DIs) are Deaf or hard-of-hearing people who possess fluency in a national or regional sign language and have recognised skills in interpretation and translation between their working languages/varieties/modes. Deaf interpreters often work in tandem with another interpreter. They provide supports that bridge a cultural or linguistic barrier that has been recognised within the community. Their in-depth lived knowledge of Deaf culture and the Deaf community supports hearing ISL interpreters, most of whom are L2 users of ISL DIs may work interlingually (e.g. between two varieties of Irish Sign Language, or indeed, cross-modally, working from Irish Sign Language to "hands-on" mode for DeafBlind clients). DIs can also work interlingually, for example from another sign language to/from ISL.
At present there are approximately 5 DIs working regularly in the field insofar as we can estimate, 3 of whom came through the Justisigns Project DI CPD training offered by the Centre for Deaf Studies (2013-16) to support those who sought to work in legal settings. This is insufficient to meet the needs of the community, which is one of the key drivers for this training programme. With commencement of the Irish Sign Language Act in December 2020, interpreters recruited by the public services must be formally registered with SLIS – graduates of this programme will be prepared to meet the requirements for membership of the register. In this w of the we will see increased awareness of the added value that DIs bring, and commensurate market demand for their work.
With twenty four students on board, we aim to change the landscape. The course will run across the coming year, delivered in monthly weekend blocks, with a final summer school in July 2021. Students will complete four modules that introduce them to linguistics, ethics, interpreting theory and practice, with content delivered by CDS colleagues and leading experts in the field of interpreting studies. Graduates of this programme will be prepared to meet the criteria for registering on the soon to be launched register of Irish Sign Language interpreters, managed by SLIS. Launched in International Week of the Deaf, our first sessions focused on introducing students to the linguistics of Irish Sign Language, coincided with European Day of Languages, and so we offered our warmest wishes to the world on this special day.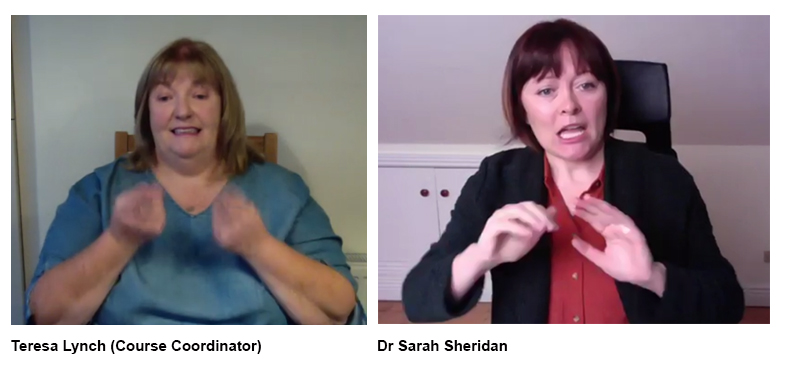 Special Volume on Irish Sign Language published by Irish Association of Applied Linguistics (IRAAL)
With International Week of the Deaf in full sway, we were delighted to see the publication of a very special volume of Teanga, the journal of the Irish Association of Applied Linguistics (IRAAL) edited by Lorraine Leeson and Irene Murtagh.
Special Issue 11 presents a selection of research articles on the linguistics and applied linguistics of Irish Sign Language. This publication comes at an auspicious time - the end of  the academic year that celebrates the eighteenth anniversary of the establishment of the Centre for Deaf Studies at Trinity College Dublin (est. 2001), and the year in which when Irish Sign Language Act (2017) is due to formally commence.
The Foreword to the Special Issue offers a snapshot of  history of contemporary work on linguistic and applied linguistic research on ISL, highlighting the central role that the Centre for Language and Communication Studies and the Centre for Deaf Studies has had in documenting and exploring the linguistics and applied linguistics of our third national language, Irish Sign Language.
The volume contains eight papers, many of which had been presented at the inaugural  Irish Deaf Research Conference on Irish Sign Language and Deafness in 2018, hosted by the Centre for Deaf Studies at the Trinity Long Room Hub, with many of the authors having strong Trinity College Dublin connections. Here is a sneak preview of the themes covered in the special issue:
Cormac Leonard and John Bosco Conama provide a fascinating window into the past, leveraging historical evidence of signing in Ireland as far back as the 18th century and providing us with a layered and diverse account of the history of ISL.
Robert Smith and Markus Hoffman bring us into the present, presenting a lexical frequency analysis of ISL, drawing on data from the Signs of Ireland corpus and produce the first objective lexical frequency analysis for ISL. Drawing also on the corpus for their data, Lorraine Leeson and John I. Saeed provide a cognitive linguistic account of passive constructions in ISL. Irene Murtagh presents an account of ISL verbs, using Role and Reference Grammar as the underlying theory of grammar.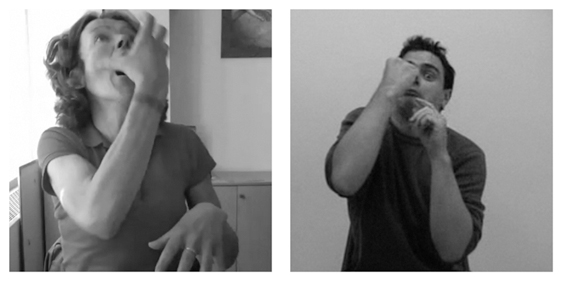 (Images with permission – Leeson and Saeed (2020)
Turning to applied topics, Carmel Grehan and Lorraine Leeson report on the findings of a pilot study that introduced the European Language Portfolio (ELP) to a cohort of adult M2L2 Irish Sign Language learners in a higher education setting. This is followed by a chapter that explores the use of fingerspelling by new adult learners of ISL (A-level learners in the Common European Framework of Reference for Languages (CEFR)). Drawing from the Second Language Acquisition Corpus (ISL-SLAC), the authors (Lorraine Leeson, Sarah Sheridan, Katie Cannon, Tina Murphy, Helen Newman and Heidi Veldheer) discuss the use of fingerspelling among M2L2 learners in comparison to native signers. Lorraine Leeson, Sophie Flynn, Teresa Lynch and Haaris Sheikh provide an overview of how the Irish justice system responds to deaf signers, reflecting on how provision maps to the obligations outlined in the Irish Sign Language Act (2017) and the UNCRPD (2006).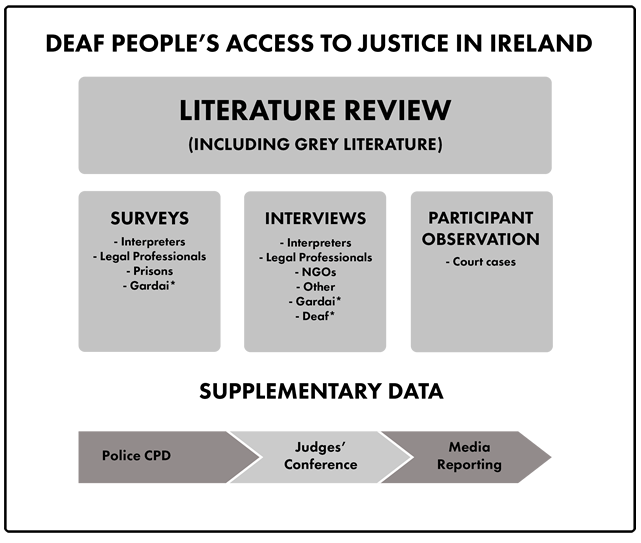 (Image with permission from Leeson, Flynn et al. 2020)

The final article, by Romy O'Callaghan and Teresa Lynch, shines a light on the importance of deaf-hearing team interpreting at both national and international level and outline how this is instrumental to ensuring high quality output for those accessing events via interpretation.
Teanga is an open access journal and the special issue (and all other Teanga volumes) can be accessed here: https://journal.iraal.ie/index.php/teanga/issue/view/33