Making Ireland
To explore, to conquer, to resist.
To nurture, to build, to create.
To reflect, to imagine, to perform. 
Multiple Irelands have been fashioned through the ages. The Making Ireland theme explores this profoundly complex inheritance in its local and global manifestations, bringing Trinity's expertise on all things Irish to scholars across the world and to Ireland's citizens.
See the latest news, events, projects and publications from the theme
Research Institutes / Centres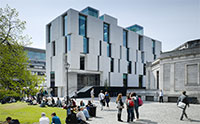 The Making Ireland theme is a priority research theme of the Trinity Long Room Hub – Trinity's Arts & Humanities Research Institute
Steering Committee
A Steering Committee  has been established to oversee the research theme and guide the development and delivery of new research projects and activities related to the theme over the course of its duration:
Dr Mark Hennessy, Theme Convener, Assistant Professor, Department of Geography
Dr Sarah Kerr, Theme Project Officer, Postdoctoral Research Fellow, TLRH
Dr Ruth Barton, Associate Professor in Film Studies and Drama, School of Creative Arts
Professor Christine Casey, Professor in Architectural History, Department of History of Art and Architecture
Dr Peter Crooks, Assistant Professor in Medieval History, School of Histories and Humanities 
Professor David Dickson, Professor of Modern History, School of Histories and Humanities
Dr Oran Doyle, Associate Professor of Law, School of Law
Professor Patrick Geoghegan, Professor in Modern History, School of Histories and Humanities
Dr Sarah Hamill, Assistant Professor of Law, School of Law
Dr Rosie Lavan, Assistant Professor of Irish Studies, Literary Arts Officer, School of English
Dr Séamus Lawless, Assistant Professor in Intelligent Systems, School of Computer Science and Statistics
Professor Jane Ohlmeyer, Erasmus Smith's Professor of Modern History, Director of the Trinity Long Room Hub, Arts & Humanities Research Institute
Prof Ciaran O'Neill, School of Histories and Humanities 
Professor Micheál Ó Siochrú, Head of Department, School of Histories and Humanities
Christopher Pastore, Co-fund Fellow, TLRH
Dr Melissa Sihra, Assistant Professor, Drama, School of Creative Arts
Dr Sam Slote, Associate Professor, Director of Research, School of English
Dr James Smith, IRC Postdoctoral Research Fellow, Department of Geography 
Dr Ciarán Wallace, Postdoctoral Research Fellow, School of Histories and Humanities
Student Representative
Emer Emily Neenan, PhD Scholar in GeoScience Education, TLRH
more Trinity researchers for the theme
Featured Publications & Research Outputs
publications for the theme