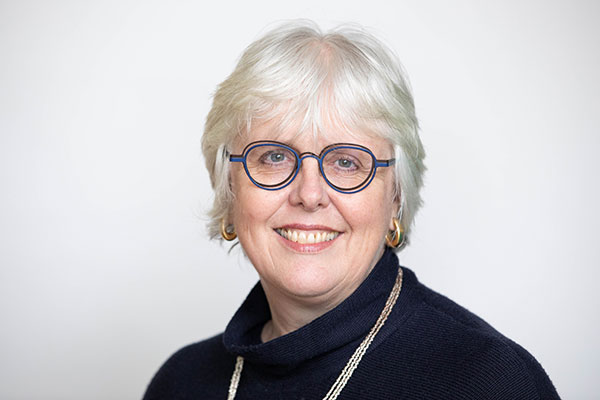 Professor Jane Ohlmeyer
Erasmus Smith's Professor of Modern History
she/her
Research Interests
I am Erasmus Smith's Professor of Modern History (1762) at Trinity College Dublin and Chair of the Irish Research Council, which funds frontier research across all disciplines. I was the founding Head of the School of Histories and Humanities, Trinity's first Vice-President for Global Relations (2011-14) and Director of the Trinity Long Room Hub Arts and Humanities Research Institute (2015-20).
I am an expert on the New British and Atlantic Histories and have published extensively on early modern Irish and British history. I am the author or editor of numerous articles and 13 books, including being the editor of Volume 2 of The Cambridge History of Ireland, published in 2018. My most recent book is an edition of Edward Hyde, earl of Clarendon's A Short View of the State and Condition of the Kingdom of Ireland (Oxford, 2020). I am currently working on a book on 'Ireland, Empire and the Early Modern World' which I will give as the Ford Lectures at the University of Oxford in 2021.
In addition to historical research, I regularly speak on topics that relate more generally to the humanities, the value of inter- and trans-disciplinarity, educational policy and digital humanities. I am a committed advocate of the public humanities and established the popular 'Behind the Headline' discussion series during my tenure as Director of the Trinity Long Room Hub. I regularly comment on contemporary issues, including Brexit.
Over the years, I have been the Principal Investigator (PI) or co-PI for 25 research and research infrastructure projects with awards totalling c.€22 million from national, European and international funders. These include:
SHAPE-ID (2018-21), an EU-funded project that aims to improve inter- and trans-disciplinary cooperation between the Arts, Humanities and Social Sciences (AHSS) and Science, Technology, Engineering and Mathematics (STEM) disciplines.
Human+ (2020-25), a ground-breaking project c.o-funded by the European Commission's Horizon 2020 Marie Skłodowska-Curie Actions and undertaken in partnership with the Adapt Centre which places the human at the centre of technology innovation to serve the long-term and collective needs of society.
Global Humanities Institute on the 'Crises of Democracy' (2017-19), funded by the Mellon Foundation, this brought together a consortium of humanities scholars spanning four continents to explore the various threats to democracy through the lens of cultural trauma.
1641 Deposition Project (2007-10), a flagship technology project which digitised 8,000 witness accounts from the 1641 massacres, making these controversial documents available online in a fully Text Encoding Initiative (TEI) compliant format. The website was launched in 2010 by President Mary McAleese and Ian Paisley, Lord Bannside. In 2020 the Irish Manuscripts Commission published the final seven print volumes of the 1641 Depositions. We marked the occasion with a Research Impact Showcase.
Select Publications
Books
Making Ireland English: The Irish Aristocracy in the Seventeenth Century (Yale University Press, 2012)
Civil War and Restoration in the Three Stuart Kingdoms: the Political Career of Randal MacDonnell First Marquis of Antrim (1609-83) (Cambridge University Press, 1993; paperback reprint in Four Courts Press's 'Classics in Irish History' Series, Dublin, 2001)
Edited Collections
The Cambridge History of Ireland. Vol. 2. Early Modern Ireland, 1550-1730 (Cambridge University Press, 2018; paperback, 2020)
1641: Contexts and Reactions editor with Micheál Ó Siochrú (Manchester University Press, 2013; paperback 2014)
Irish and Scottish Mercantile Networks in Europe and Overseas in the Seventeenth and Eighteenth Centuries editor with David Dickson and Jan Parmentier (Ghent University Press, 2007)
Intelligence, Statecraft and International Power editor with Robert Armstrong and Eunan O'Halpin (Irish Academic Press: Dublin, 2006)
British Interventions in Early Modern Ireland editor with Ciaran Brady (Cambridge University Press, 2004; paperback 2010)
The Stuart Kingdoms in the Seventeenth Century: Awkward Neighbours editor with Allan Macinnes (Four Courts Press, Dublin, 2002)
Kingdom or Colony?: Political Thought in Seventeenth-century Ireland (Cambridge University Press, 2000; paperback 2010)
The Civil Wars: A Military History of England, Scotland and Ireland, 1638-1660 (Oxford University Press, 1998; reprinted as part of the Oxford Illustrated History series, 2002)
Ireland from Independence to Occupation, 1641-1660 (Cambridge University Press, 1995; paperback, 2002)
Edited Texts
A Short View of the State and Condition of the Kingdom of Ireland … (Oxford University Press, 2020)
The Irish Statute Staple Books, 1596-1687 (Four Courts Press, Dublin, 1998) with Éamonn Ó Ciardha
The 1641 Depositions. Between 2014 and 2020 the Irish Manuscripts Commission published the 1641 Depositions in 12 volumes. Aidan Clarke is the principal editor and I am one of the co-editors, along with Tom Bartlett, John Morrill and Micheál Ó Siochrú.
Articles
I have published articles in peer-reviewed journals (including very highly regarded Past & Present, American Historical Review and The Historical Journal), and chapters in edited volumes, anthologies and conference proceedings. Others have appeared in more popular outlets (History Ireland and History Today). See the full list here.
Teaching and Supervision
I am a passionate teacher of undergraduate history students and offers courses on the War and Society in early modern Ireland and Europe, the Nobility in the early modern period and the Civil Wars of the 1640s.
I have supervised c.15 MPhil theses, 11 PhD students, 8 postdoctoral fellows, and 9 Marie Skłodowska-Curie Cofund Fellows at Trinity over the past 17 years. Most of my doctoral students hold external awards, including IRCHSS/IRC funding, and many have gone on to become teachers or hold academic positions in universities in Ireland and the UK.
I have also served as an external examiner for PhD theses in the English and History Faculties at the Universities of Oxford, Cambridge, Edinburgh, New South Wales, Galway, UCD and Maynooth.
Contact Details
Department of History
Trinity College
Dublin 2.
Telephone: +353 1 896 2042
Email: ohlmeyej@tcd.ie
Twitter: https://twitter.com/janeohlmeyer
https://www.janeohlmeyer.ie/