News and events
Latest News
The Fifth Crusade in Context
The Crusading Movement in the Early Thirteenth Century
Edited by E.J. Mylod, Guy Perry, Thomas W. Smith, Jan Vandeburie

The Fifth Crusade represented a cardinal event in early thirteenth-century history, occurring during what was probably the most intensive period of crusading in both Europe and the Holy Land. Following the controversial outcome of the Fourth Crusade in 1204, and the decrees of the Fourth Lateran Council in 1215, Pope Innocent III's reform agenda was set to give momentum to a new crusading effort. Despite the untimely death of Innocent III in 1216, the elaborate organisation and firm crusading framework made it possible for Pope Honorius III to launch and oversee the expedition. The Fifth Crusade marked the last time that a medieval pope would succeed in mounting a full-scale, genuinely international crusade for the recovery of the Holy Land, yet, despite its significance, it has largely been neglected in the historiography. The crusade was much more than just a military campaign, and the present book locates it in the contemporary context for the first time. The Fifth Crusade in Context is of crucial importance not only to better understand the organization and execution of the expedition itself, but also to appreciate its place in the longer history of crusading, as well as the significance of its impact on the medieval world.
---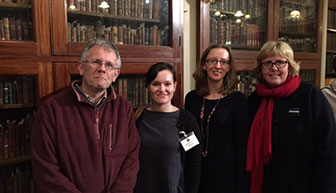 Two Trinity historians received prestigious RIA Charlemont Grant Awards in a ceremony at the Royal Irish Academy on 15 February 2016. Dr Grainne McEvoy, an IRC postdoctoral fellow (pictured second from left), will use her award to undertake study in the United States, while Dr Isabella Jackson (second from right), Assistant Professor in Chinese History, will be heading to Shanghai to complete her research project. The RIA Charlemont Grants Scheme is aimed exclusively at early-career postdoctoral researchers. Grants are available for short international research visits to any country. The award winners attended the ceremony with David Ditchburn (Head of the School of Histories & Humanities) and Jane Ohlmeyer (Erasmus Smith's Professor of Modern History).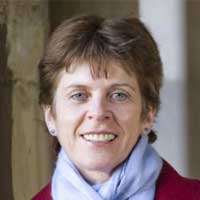 Trinity College Dublin History Graduate Appointed as First Female Vice-Chancellor at Oxford University
Professor Louise Richardson, a graduate of History at Trinity College Dublin, has been nominated as Oxford University's next vice-chancellor. Professor Richardson holds a BA in History from Trinity College, Dublin, an MA in Political Science from the University of California, Los Angeles (UCLA) and an MA and PhD in Government from Harvard University. Professor Richardson, a distinguished academic in the field of terrorism and security issues, worked at Harvard University in the United States before becoming the principal and vice-chancellor at St Andrews, a post she has held since 2009. Her publications include 'What Terrorists Want: Understanding the Enemy Containing the Threat.'
Professor Richardson will be the first female vice-chancellor to be appointed at the University of Oxford since its records began nearly 800 years ago. This will not be the first time that she has filled a historic role: at St Andrews she was the first female Principal in 600 years. The Department of History at Trinity College Dublin would like to congratulate Professor Richardson on her appointment and wish her every success in her new role. Further information
Thursday 27 November: Trinity College Dublin and the First World War
Dr Tomás Irish, Associate Director of the Centre for War Studies, TCD, will deliver a lecture on Trinity College Dublin and the First World War at 5.15pm on Thursday 27 November in School of Nursing and Midwifery building at 24 D'Olier Street, Dublin 2. The lecture is delivered as part of the School of Nursing and Midwifery 2014-15 public lecture series entitled 'Tell Me About'. The lecture will discuss TCD's experiences of the First World War (1914-18) when over 3,000 students, staff, and alumni of the College enlisted in the British Armed Forces and ended up serving in various theatres of war across Europe and the world. The lecture will look at their motivations for doing so and will discuss some experiences of war, which notably included the defence of Trinity during the Easter Rising of 1916. From there it will discuss the legacy of both the First World War and the Irish Revolution for Trinity College Dublin. Tomás Irish is a postdoctoral research fellow and Associate Director of the Centre for War Studies in Trinity College Dublin. He completed his PhD in 2012 and is currently writing a history of Trinity College Dublin in the period 1912-23 which will be published in 2015. This lecture is offered free of charge however pre-booking is advisable.
To book a place please email Jeni Ryan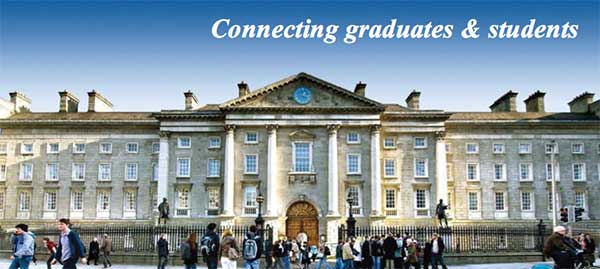 Launch of GradLink Mentoring Programme
On Tuesday 28th October at 6.45pm we are launching the GradLink Mentoring Programme in the Long Room Hub, TCD for Junior Sophister students of the departments of Classics, History and History of Art and Architecture. The idea is that you can meet graduates of each of these departments who are now working in a range of different professions (e.g. Arts and Culture, Business, Communications, Law, Conservation and Heritage, Publishing, Education) and, if you choose, you can be mentored by one of the graduates.
We will be launching GradLink with a wine reception where you can hear from all the graduates and mingle informally to learn about their experience and career pathways in their sectors. Mentoring involves meeting with a mentor 2-3 times over the coming months, to find out more about the work they do and discuss your own career development. It is an excellent opportunity to start thinking about your future and we are very grateful to our alumni for giving their time to participate in this programme.
We realise that not everyone will want to be mentored, but we would encourage all JS students to come along to the launch and find out what graduates of Classics, History and History of Art and Architecture are now doing from a career point of view and their career paths so far. For those of you who are interested in being mentored, we will also explain the sign-up process and will arrange meetings for the following week to allocate mentors. The mentors can help you with issues such as researching particular careers, reviewing your CV/ LinkedIn profile, finding jobs that are not advertised, and practising job interviews and networking.
This should be a very enjoyable experience. We look forward to meeting you at the launch and hope you benefit from the experience of our School's alumni.
For further information on the programme, see the department careers page.
If you are a Junior Sophister student, please register online at: http://gradlinkmentoring-historiesandhumanities.eventbrite.ie
Tuesday 21st October 2014: James Lydon Lectures in Medieval History and Culture. Public Lecture on War, Enslavement and Chivalry in Irish and European History
Professor John Gillingham, London School of Economics, Emeritus will deliver this lecture on Tuesday 21 October 2014 at 7pm in the Thomas Davis Lecture Theatre (Room 2043). Professor John Gillingham (Emeritus Professor of History at the London School of Economics) is an historian of extraordinary range, best known as author of the standard textbook on The Angevin Empire (1984; 2nd edn 2001), and the biography of Richard I ('The Lionheart') in the distinguished Yale English Monarchs series. Professor Gillingham has written a series of seminal essays on the history and historiography of medieval Ireland, many of which appear in his collected essays: The English in the twelfth century: imperialism, national identity and political values (2000). Admission is free and all are welcome to attend.
Further information is available at www.tcd.ie/history/lydon-lectures/
Please register online at: www.tcd.ie/history/lydon-lectures/ or Email: lydon.lectures@gmail.com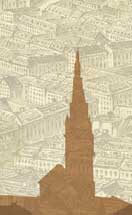 Conflicted Cities 1880 – 1930: Between imperial and proto-national - a one-day workshop conference, will be held at Trinity College Dublin on Saturday, 7 June 2014.
This conference/workshop aims to stimulate debate and research into the importance of smaller cities in Europe, and in territories under European colonial rule, in the late nineteenth and early twentieth centuries. It will explore the tension between newly elevated national capital cities and the nations which they serve. Nationalist myths frequently harked back to an ancient tribal past, a common blood line and a rural idyll, but the stage on which a liberated nation was to present its identity – its capital city – struggled to live up to the nationalist ideal. Physical remnants of foreign rule, an unsettling cultural diversity and a cosmopolitan attitude placed the new capital in an uncomfortable relationship with the new state.By examining a selection of cities from western and central Europe, and cities under European colonial rule, the conference hopes to identify the strategies used by cities, citizens and states to cope with this tension.
Registration is free.
http://conflictedcities.wordpress.com/
To register for Conflicted Cities please email: conflictedcities@gmail.com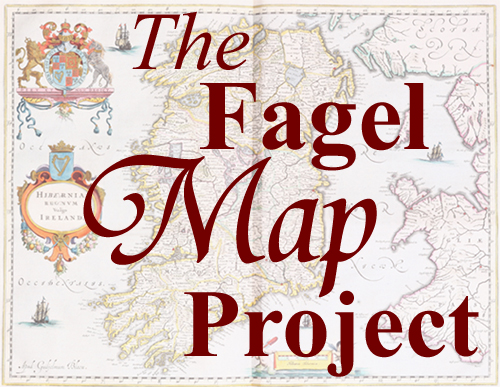 Dutch atlases - the Google Earth of the 17th century
Wednesday 11 June 2014, 18:00. In the Neill/Hoey Lecture Theatre, Trinity Long Room Hub. Admission is free anf all are welcome.
A lecture by Prof. Peter van der Krogt (Amsterdam and Utrecht) as part of the Fagel Project. The lecture is organised by the Fagel Map Project.
Friday 11th and Saturday 12th April 2014: The Battle of Clontarf Conference
The Department of History is hosting a special event on Clontarf 1014-2014: National Conference to mark the millennium of the Battle of Clontarf. The conference will take place from 9.15am to 5.30pm over these two days in the Edmund Burke Lecture Theatre, Arts Building, Trinity College. Donnchadh Ó Corráin will deliver the opening address. Other guest lectures include: Edel Bhreathnach, Clare Downham, Colmán Etchingham, Marie Therese Flanagan, Bart Jaski, Máire Ní Mhaonaigh, Linzi Simpson, and Alex Woolf.
A full programme is available at: https://www.tcd.ie/history/clontarf/
19th February 2014: Annual Lecture in U.S. History
Gerald Early will deliver the third Annual Lecture in U.S. History in the Synge Theater in the Arts Block at Trinity College on 19 February at 7:00. Early is the Merle Kling Professor of English and African American Studies at Washington University in St. Louis. An internationally-known essayist and expert on African American culture, Early is the author of several books, including "A Level Playing Field: African American Athletes and the Republic of Sports" and "One Nation Under a Groove: Motown and American Culture." He has appeared in the television documentaries of Ken Burns on jazz and baseball.
The title of Professor Early's lecture is "Whose Neighborhood is It? An African American Festival and the Fight Against Gentrification?" Early will be drawing from his current book project, co-authored with his daughter, a professional journalist. It examines the history of the Odunde festival in his home town of Philadelphia. Established in 1975 as part of the Afrocentric black consciousness movement of that era, this popular ongoing street festival had recently been the subject of controversy as the once African American neighbourhood in which it takes place has been gentrified by affluent white residents. Early's talk will shed light on the history of African American culture since the 1960s, on the recent reshaping of public space in American cities, and on the political and cultural conflicts over race that remain a prominent feature of American life in the Obama era.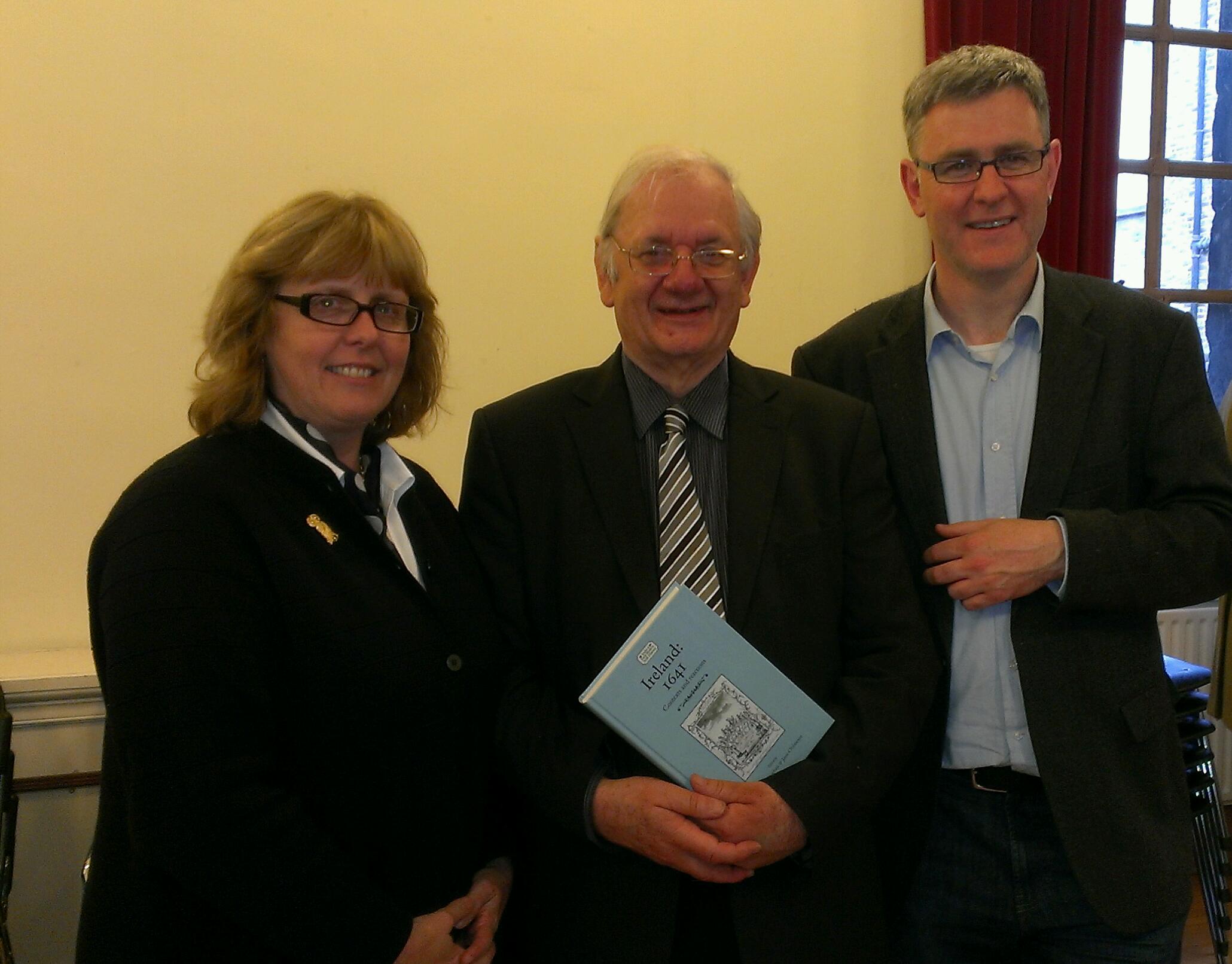 John Morrill, Professor of British and Irish History at Cambridge, was presented with a copy of the newly published Ireland: 1641 Contexts and Reactions by its editors Professor Jane Ohlmeyer and Dr Micheál Ó Siochrú at the Printing House, Trinity College Dublin where Professor Morrill reflected on his engagement with Irish History over the past thirty years to mark his forthcoming retirement.
22 Mary 2013
Congratulations to Dr. Joseph Clarke and Professor John Horne who have received an EU-funded HERA award for their role in the research project, 'Making war, mapping Europe: cultural encounters and the soldier traveller c. 1792-1945'.
Congratulations also go to Dr. Robert Armstrong who has won a Provost's Teaching Award for 2013.
May 16th 2013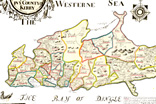 TCD Website Brings 17th-Century Maps Together for First Time in 300 Years
A new Trinity College website brings a unique 17th-century map collection together for the first time in 300 years as a public online resource.
Led by Dr Micheál Ó Siochrú, Associate Professor in Modern History, TCD historians have now tracked down over 2,000 contemporaneous copies of the original survey maps in dozens of libraries and archives throughout Ireland, Britain and France, and brought them together as a free online resource.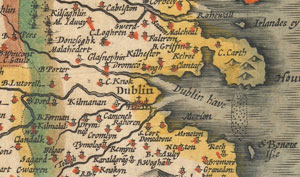 15th Medieval Dublin Symposium (PDF, 594kb) takes place on Saturday 25th May 2013 in the Robert Emmet Theatre, Arts Building, Trinity College. This day-long series of lectures, on the archaeology, history and literature of Dublin from the Vikings to the Tudors is free of charge; no advance booking is required.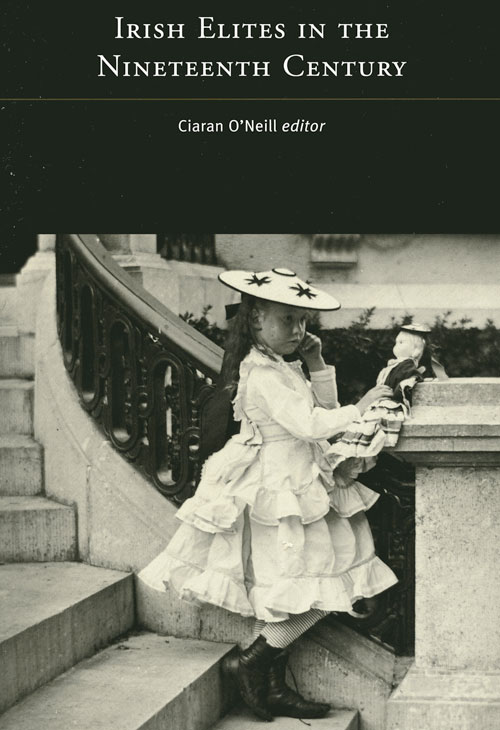 Professor Ciaran O'Neill's edited volume, Irish Elites in the Nineteenth Century, was published by Four Courts Press in March 2013. The volume, which investigates how power, wealth and influence were exercised in the nineteenth century, includes seventeen articles, and an introduction by Professor O'Neill.
21st March 2013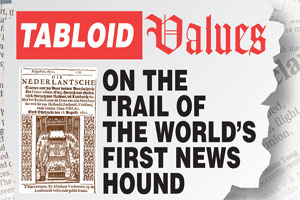 Tabloid Values: on the trail of the world's first news hound (PDF, 1.1mb)
December 3, 2012 7:00 PM
Thomas Davis Lecture Theatre, Arts Building, Trinity College Dublin
The Department of History invites you to The Centre for Early Modern History Inaugural Annual Lecture, delivered by Professor Andrew Pettegree, University of St Andrews on: 'Tabloid Values: On the Trail of the World's First News Hound' on Monday 3 December 2012. The lecture will take place at 7pm in the Thomas Davis Lecture Theatre, Arts Building, Trinity College Dublin.
The people of Early Modern Europe had a voracious appetite for news, but in an era of slow and uncertain communication, assessing the reliability of rumour, reports and despatches was by no means easy. This lecture explores the contribution to the building of a commercial news market of the world's first news hound, Abraham Verhoeven, who helped shape our concept of how news should be reported and presented. Speaker Andrew Pettegree is Professor of Modern History at the University of St Andrews, and the Director of the AHRC's Universal Short Title Catalogue Project.
11th Oct 2012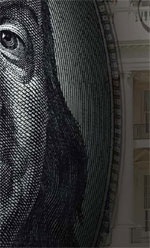 Tuesday 30th October: Annual Public Lecture in American History Gary Gerstle will address these questions in his public lecture, "Democracy and Money in America: A Historical Perspective on the Election of 2012," to be delivered at 7 pm on Tuesday 30 October in the Synge Theater in the Arts Building at Trinity College. All are welcome to attend the lecture. For further details, please contact Jennifer Scholtz in the Department of History at histhum@tcd.ie or at 018961020.
11th Oct 2012
1st September 2011
Dr Ciaran O'Neill will join the Department as an Usher Lecturer. Dr O'Neill, a graduate of Galway and Liverpool, who has studied most recently in Oxford, is a specialist in the history of nineteenth-century Ireland, with interests in the connections of the Irish elite with both Britain and Empire.
1st June 2011
The Minister for Arts, Heritage and Gaeltacht Affairs, Jimmy Deenihan, launched two new postgraduate Masters programmes, in Public History and Cultural Heritage and 'Digital Humanities and Culture' at Trinity College Dublin on May 31st last that will add a new dynamic to the development of Ireland's Cultural Heritage.The programmes have been developed under the umbrella of Trinity's Creative Arts, Technologies and Culture initiative and are an outcome of the new partnership between the university and some of Ireland's leading cultural institutions located in close proximity at the centre of Dublin. The National Library of Ireland, the National Museum of Ireland, the National Archives of Ireland, Dublin City Gallery Hugh Lane, Dublin City Public Library and Archive Services and the Chester Beatty Library among others will collaborate with Trinity in the development of these new programmes.
27th May 2011
Professor Jane Ohlmeyer, Erasmus Smith's Professor of History, was installed today as a member of the Royal Irish Academy.
Latest Events
November 1st 2011
Lucy Riall, Professor of History at Birkbeck College - University of London, will deliver a lecture on the topic Italy: Myths and Memories of Unification in the Emmet Theatre, Arts Building, at 7:30pm
October 21st/22nd 2011
Borderlands as Physical Reality: Producing Place in the 18th and 19th Centuries
Proposals for 8,000-word pre-circulated papers are invited, with comparative and/or interdisciplinary approaches being especially welcome for The conference, which will be held at King's College London on Friday, October 21, and Saturday, October 22, 2011
February 2nd 2012
Richard J Evans, Regius Professor of History at Cambridge University, will deliver the annual Holocaust Lecture for 2012, in the Burke Theatre, Arts Building