Postgraduate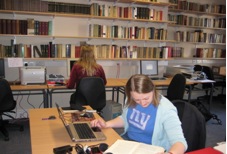 The Department of History welcomes applications from suitably qualified students for graduate study. We host a thriving community of postgraduate students some of whom are undertaking taught programmes, leading to the degree of M.Phil, while others are studying for the research degrees of M.Litt. or Ph.D.
We currently offer Taught Postgraduate Programmes in Medieval History (as part of the Medieval Studies MPhil), Early Modern History, Modern Irish History, International History, Environmental History, and Public History and Cultural Heritage. Follow the links to the left for more information on these programmes.
The Research Postgraduate Programmes constitute primarily the preparation of a thesis. The thesis for the Ph.D. is more substantial than that for the M.Litt. (a maximum of 100,000, as opposed to 60,000, words), and takes correspondingly longer to complete, usually four years for the Ph.D. and two years for the M.Litt. Students intending to proceed to the Ph.D. normally enter on the Probationary Ph.D. register. Progress is reviewed on an annual basis and, subject to satisfactory reports, a student's status on the Ph.D. register will normally be confirmed at the end of the second year of registration. The M.Litt. degree allows for research on topics which may require a shorter period of research and a shorter treatment. 
For further information on postgraduate study in the School of Histories and Humanities please see https://histories-humanities.tcd.ie/postgraduate/.