Cancer
Cancer research is a Trinity priority research theme, based on the quality of research which has been generated by its academics.
The theme has developed an integrated, thematic programme which involves research across a number of areas including basic science, translation medicine, health economics and planning, and global health.
Trinity researchers working in partnership with clinicians in the teaching hospitals St. James's, Tallaght, The National Paediatric Hospital and The Coombe Women and Infants University Hospital are making advances in both basic and translational research, improving the treatment, and management of cancer in a way that allows people to live good quality lives.
At present there are over 180 scientists actively working on cancer projects as part of a vibrant interdisciplinary research community. They have a track record of high quality cancer research, greatly strengthened by Trinity as an acknowledged international leader in research in biochemistry, immunology, genetics and neurosciences.
Trinity's cancer research covers the full value chain, ranging from new scientific discoveries to the translation of these discoveries into new treatments. Trinity and its affiliated institutions deliver cancer services from cradle to grave with research and treatment of all cancers that occur in children, adolescents, young and older adults. Trinity researchers participate in international cancer research consortia at the highest level.
The Trinity St. James's Cancer Institute aims to educate and to expand knowledge and understanding for best practice with regards to cancer research, as well as develop new treatments and strategies through a combination of biomedical and biomolecular research. The main cancer research niche areas include: lung, ovary, cervix , oesophagus, breast, prostate, colon, salivary, thyroid/head and neck, multiple myeloma, leukaemia, paediatric cancer, cancer stem cell biology, cancer immunology and immunotherapy approaches, radiobiology, chemobiology, tumour microenvironment, cancer imaging, cancer pharmacodynamics and therapeutics, drug modelling and nanomedicine.
Read more about the Trinity St. James's Cancer Institute
Did you know that as well as caring for patients, St. James's Hospital also carries out important research? This video shows how cancer research is carried out at St. James's Hospital in collaboration with its academic partners at Trinity College Dublin.
PERK from Medical Illustration Unit SJH on Vimeo.
Co-created with students of New Cross School, Finglas, Trinity Department of Surgery (GI Translational Oncology group) and was funded by the Health Research Board, Dr. Margaret Dunne.
Research Institutes / Centres
Trinity St. James's Cancer Institute
The research vision of the Trinity St. James's Cancer Institute (TSJCI) is to advance cancer care and outcomes through internationally recognised translational research.  This document outlines our plans to develop and grow as a world-class cancer research institute which complements our commitment to clinical cancer care.
Our research strategy builds on existing strengths and integrates key research areas across 4 main themes, namely cancer prevention, molecular and precision oncology, cancer immunology and cancer survivorship and supportive care.   Clinical research, encompassing cancer clinical trials, radiation oncology research, nursing research and a broad spectrum of allied health professional research fields, spans the breadth of these 4 themes and results in a horizontally and vertically interwoven, multidisciplinary, vibrant cancer research network.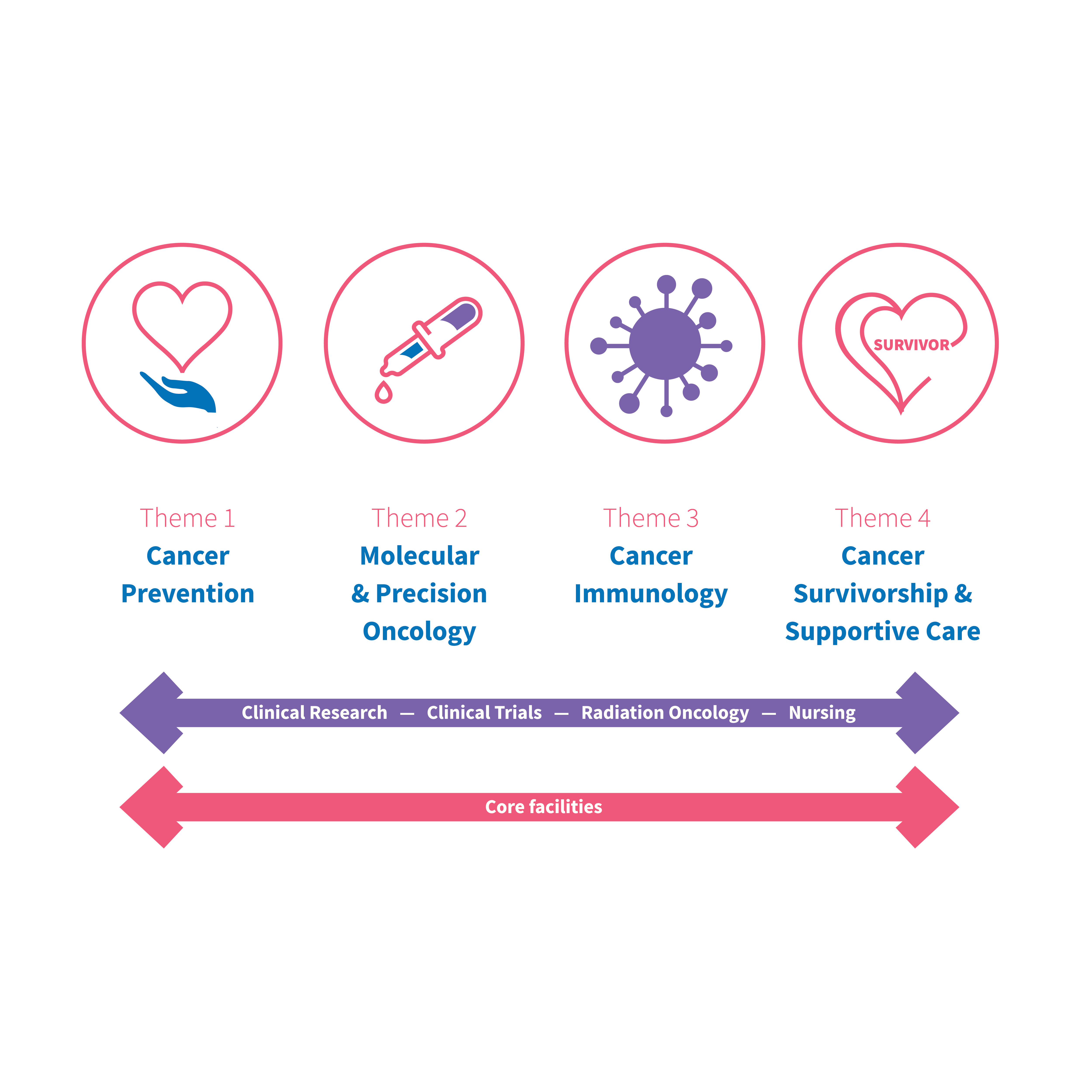 Cancer Prevention
    Leads: Profs. John O'Leary and Cara Martin, Screening [cmartin3@tcd.ie]
Dr. Karen Cadoo, Genetic predisposition [kcadoo@stjames.ie]
Molecular and precision oncology
    Leads: Prof. Lorraine O'Driscoll, Molecular oncology [lodrisc@tcd.ie]
Prof. Adrian Bracken, Precision oncology [brackea@tcd.ie]
Cancer Immunology
    Leads: Prof. Clair Gardiner [gardinec@tcd.ie]
  Prof. Joanne Lysaght  [jlysaght@tcd.ie]
Cancer survivorship and supportive care
    Lead: Prof. Juliette Hussey [jmhussey@tcd.ie]
Please contact the thematic leads above if you would like further information.
For general queries contact Dr. Patricia Doherty, Senior Research Programme officer at thecancerinstitute@tcd.ie
The Institute provides extensive education programmes in Translational Oncology for undergraduate and postgraduate students, scientists, clinicians, nurses and other healthcare professionals. Education programmes are also designed to engage with public-patient involvement (PPI activities). The Institute offers scholarships and fellowship opportunities in clinical and translational research and directs a career development programme for young investigators, 'Training and educating tomorrow's leaders today'.
Trinity College Dublin and St. James's Hospital are embarking on a journey to develop, on the St. James's hospital campus, a comprehensive cancer centres similar to best international exemplar models to deliver patient-centred care. The first of its kind in Ireland, the Trinity St. James's Cancer Institute sets a new standard for cancer care nationally, integrating medicine and science in cancer prevention, treatment and survivorship. St. James's Hospital and Trinity have been scaling up for the new Cancer Institute with the recruitment of key new clinical academic and research appointments in oncology. It has also became a member of the Organisation of European Cancer Institutes (OECI) that sets the gold standard for leading cancer institutes in Europe. In 2019, TSJCI underwent a rigorous accreditation process comprising a 2 day external site visit by a team of auditors. This audit assessed and benchmarked TSJCI performance in cancer research, education and cancer care. Based on this audit, we were accredited in September 2019 as an OECI Cancer Centre, the first of its kind in Ireland. We are now in a continuous improvement cycle with OECI to ensure that we strive for the highest standards for Irish cancer patients and their families.
Featured Publications & Research Outputs
See more publications for Cancer
Featured Trinity Researchers
Theme Champion and main contact
Professor of Pathology
School of Medicine
Professor of Surgery
School of Medicine
Director of the Trinity Translational Medicine Institute (TTMI)
Professor in Molecular Pathology, School of Medicine
Professor of Pharmacology
School of Pharmacy & Pharmaceutical Sciences
Associate Professor in Medical Moleculor Genetics
Smurfit Institute of Genetics
Associate Professor Consultant (Histopathology)
School of Medicine
Associate Professor of Biochemistry
Trinity Biomedical Sciences Institute
Trinity researchers for Cancer