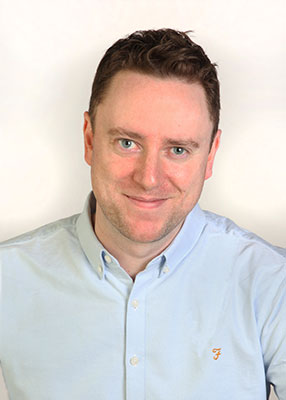 Dr. Peter Crooks
Associate Professor/Senior Lecturer in Medieval History
Research Interests
My primary research interest is in Ireland in the period 1171-1541 and, arising from that, in the wider 'English world' or 'Plantagenet empire' of which Ireland formed an integral part. Before returning to Trinity in 2013, I was a Past and Present Society Research Fellow at the Institute of Historical Research and a Lecturer in Late Medieval History at the University of East Anglia.
I am currently completing a monograph entitled England's First Colony: Power, Conflict and Colonialism in the Lordship of Ireland, 1361–1460. I have published widely on Irish and British medieval Irish history and have been commissioned to serve as editor of the forthcoming Cambridge History of Britain, vol. 2: 1100–1500.
I am Founding Director of Beyond 2022: Ireland's Virtual Record Treasury, an all-island and international collaboration to create a virtual reality reconstruction of the Public Record Office of Ireland, and its collections, which were destroyed at the outbreak of the Irish Civil War in 1922. I am also the Academic Coordinator of the Trinity Long Room Hub's Multiannual Lecture Series entitled, 'Out of the Ashes: Collective Memory, Cultural Loss and Recovery' (2018 to 2021).
Publications
Books
2016. Empires and Bureaucracy from Late Antiquity to the Twentieth Century, ed. with Timothy H. Parsons. Cambridge: Cambridge University Press.
2016. The Plantagenet Empire, 1259–1453, ed. with D. Green & W.M. Ormord. Shaun Tyas: Harlaxton Medieval Studies no. 26.
2016. The Geraldines and Medieval Ireland: The Making of a Myth, ed. with S. Duffy. Dublin: Four Courts Press. Trinity Medieval Ireland Symposium 1.
2008. (ed.), Government, War and Society in Medieval Ireland: Essays by Edmund Curtis, A.J. Otway-Ruthven and James Lydon. Four Courts: Dublin, 2008. ISBN 9781846821059
Digital
Articles and Book Chapters
2018. 'The Structure of Politics in Theory and Practice, 1210–1541', in The Cambridge History of Ireland I: Medieval Ireland, ed. B. Smith. Cambridge: Cambridge University Press.
2016. 'Before Humpty Dumpty: The First English Empire and the Brittleness of Bureaucracy, c. 1259–1453' in Empires and Bureaucracy in World History, ed. Crooks and Parsons. Cambridge: Cambridge University Press.
2013. 'Reconstructing the Past: The Case of the Medieval Irish Chancery Rolls', in N.M. Dawson and Felix Larkin (eds.), Lawyers, the Law and History: Irish Legal History Society Discourses and Other Papers, 2006-2011. Dublin: Four Courts Press, 2013.
2011. 'State of the Union: Perspectives on English Imperialism in the Late Middle Ages', Past and Present: A Journal of Historical Studies, no. 211 (August, 2011), 1-40.
2010. 'Representation and Dissent: "Parliamentarianism" and the Structure of Politics in Colonial Ireland, c.1370-1420', The English Historical Review, 125:512 (Feb. 2010), 1-34.
2007. 'The Arrest of Sir Christopher Preston and the Fifth Earl of Kildare in 1418: A Missing Membrane', Analecta Hibernica, no. 40 (2007), 1-15 [commentary and edition of National Archives, UK (PRO), E 101/698/34].
2007. 'Factions, Feuds and Noble Power in the Lordship of Ireland, c.1356-1496', Irish Historical Studies, 35:140 (2007), 425-54.
Teaching and Supervision
At undergraduate level, I coordinate Freshman Modules on 'The Hundred Years War' and 'Imagining History'. For  Sophisters, my special subject 'Richard II: Kingship, Tyranny and Revolution' explores politics and society in late-medieval Britain and Ireland. My List 2 module - 'Medieval Globetrotters: Exploration and World Conquest in the Age of the Black Death' - examines hemispheric interactions across Eurasia during a distinctive phase of world historical development. I also offer an innovative module on the new MPhil in Medieval Studies: 'The Middle Ages in Film: Alterity, Identity and Imagination'.
I am happy to supervise doctoral research projects on many aspects of political culture and society in late-medieval Ireland and the wider English world, particularly projects that exploit the rich records produced in the medieval English colony in Ireland. Past doctoral students have examined the legal history and parliamentary culture of later medieval Ireland and the British Isles.
Contact Details
Room 3147
Department of History
Trinity College
Dublin 2.
Telephone: +353 1 896 1790
Fax: +353 1 896 3995
Email: pcrooks@tcd.ie