About
Recent Discoveries
In our recent study published PLOS ONE, Dr. Emma O'Connor (funded by a Prof. John M. Scott Fellowship) demonstrated that mitochondrial uncoupling protein 3 (UCP3) is expressed in peripheral naive CD4+ T cells and its expression is markedly downregulated following activation. Non-polarized, activated T cells (Th0 cells) from Ucp3 knock-out mice produced significantly more IL-2, had increased expression of CD25 and CD69 and were more proliferative than Th0 cells from wild-type mice. When compared to wild-type, CD4+ T cells from UCP3 knock-out mice had increased FoxP3 expression under iTreg inducing conditions. Conversely, CD4+ T cells from UCP3 knock-out mice produced a significantly lower concentration of IL-17A under Th17 cell-inducing conditions in vitro. These effects were mirrored in antigen-specific T cells from mice immunized with immunogenic protein antigens (KLH and CT). The altered IL-2 expression observed between T cells from wildtype and UCP3 knock-out mice may be a factor in determining differentiation into Th17 or induced regulatory (iTreg) cells. Interestingly, the altered responses of T cells from UCP3 knock-out mice were partially reversed upon neutralisation of IL-2.
Together, these data indicate that UCP3 acts to restrict the activation of naive T cells, acting as a rheostat to dampen signals following TCR and CD28 co-receptor ligation, thereby limiting early activation responses. The observation that UCP3 ablation alters the Th17:Treg cell balance in vivo as well as in vitro suggests that UCP3 is a potential drug target for the treatment of Th17 cell-mediated autoimmune diseases, such as multiple sclerosis and psoriasis.
https://journals.plos.org/plosone/article?id=10.1371/journal.pone.0239713
Relevant Websites on Our Speed Gene Discovery: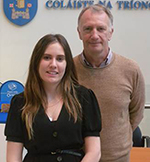 https://www.rte.ie/news/2018/1106/1008968-race-horses/
https://www.irishtimes.com/news/science/irish-scientists-pinpoint-what-makes-thoroughbred-racehorses-go-faster-1.3688584
https://www.tcd.ie/news_events/articles/worlds-first-nutrigenomic-supplement-for-horses-will-boost-exercise-performance/
Research Interests
1. The Role of Mitochondrial Uncoupling Protein 3 (UCP3) in T-cell Immune Function
Mitochondrial uncoupling protein 3 (UCP3) is predominantly found in skeletal muscle mitochondria and we have previously demonstrated, for instance, that MDMA (aka ecstasy) activates UCP3 in vivo in skeletal muscle through phosphorylation of UCP3. Our current focus is on UCP3 in the immune system and we provide evidence that suggests that UCP3 is a potential target for the treatment of Th17 cell-mediated autoimmune diseases, such as multiple sclerosis and psoriasis.
2. Energy Metabolism and Cancer Phenotype
Our recent Marie Curie funded project focused on oral cancer and Dr. Marilena Karavyraki demonstrated a role for Interleukin-6 (IL-6) in anoikis resistance (an index of metastases), and bioenergetic programming in oral squamous cell carcinoma. The work indicates that anti-IL6 receptor antibodies may be efficacious in stopping the spread of oral cancer.
We have also embarked on an exciting collaboration with Artelo Biosciences to set up an in vitro model of cachexia, and to test the efficacy of a cannabinoid agonist on limiting cachexia progression. See the following websites for more information:
https://www.tcd.ie/news_events/articles/researchers-investigate-treatment-of-cancer-cachexia-in-collaboration-with-artelo-biosciences/
https://www.siliconrepublic.com/innovation/trinity-artelo-biosciences-cancer-research
https://www.benzinga.com/markets/cannabis/21/02/19750529/what-to-know-about-artelo-bio-and-trinity-colleges-partnership-for-cannabinoid-and-cancer-resear
https://ir.artelobio.com/news-events/press-releases/detail/52/artelo-biosciences-announces-research-collaboration-with
Astrazeneca Plc (AZN) - What To Know About Artelo Bio And Trinity College's Partnership For Cannabinoid And Cancer Research | Benzinga
Artelo is a clinical-stage biopharmaceutical company focused on the development of therapeutics that modulate endogenous signalling pathways - including the endocannabinoid system.
www.benzinga.com
Trinity and Artelo Biosciences to investigate cancer 'wasting syndrome' - Silicon Republic
Researchers will investigate pre-clinical models of cancer cachexia, a wasting syndrome that is said to effect up to 80pc of cancer patients.
www.siliconrepublic.com
3. Efficiency of Energy Metabolism in Thoroughbred Horses polymorphic for Myostatin.
Prof. Porter and independent Research Fellow Dr. Mary Rooney are currently characterizing, at the cellular and mitochondrial level, the differential bioenergetic profile in cultured skeletal muscle cells of Thoroughbred horses polymorphic for the "myostatin" speed gene. We recently pinpointed the specific non-coding section of the "speed gene" that is exclusively responsible for limiting myostatin protein production in thoroughbreds which, in turn, affects skeletal muscle development and race distance aptitude. Those findings were published in leading international journal PLOS One in 2018. The primary researcher on publication was Mary Rooney (pictured below with lead author Prof. Porter) and was a collaboration with Associate Professor Vincent Kelly from Trinity, together with Professor Emmeline Hill from the UCD School of Agriculture and Food Science. Our data provides the first mechanistic evidence as to the specific element of the "speed gene" that acts as the sole protagonist in dictating its expression in the thoroughbred. As a result, this element is the key genetic factor in determining distance aptitude in thoroughbred horses. This knowledge is extremely valuable to thoroughbred breeders and trainers, in what is a multi-billion dollar industry.
4. Efficiency of Energy Metabolism in Cattle with Differential Residual Food Intake (RFI)
We (Dr. Clare McKenna in collaboration with Teagasc) are determining the differential bioenergetic profile in skeletal muscle, liver and fat tissue, in Simmental steers divergent for residual food intake. The latest findings indicate that low RFI cattle exhibit upregulation of the molecular mechanisms governing glucose metabolism in adipose tissue, in particular, glucose clearance. The decreased expression of the glut4 transporter in the inefficient cattle correlates with less efficient glucose metabolism in these animals and thus the glut4 transporter may be a potential biomarker for RFI in cattle.