Neuroscience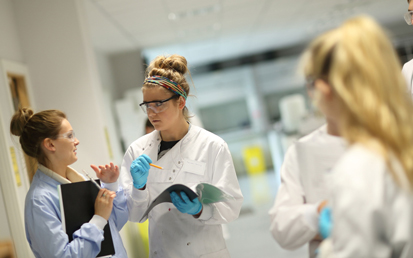 Neuroscience is the discipline concerned with the scientific study of the nervous system in health and disease. It probes the intricate processes of the nervous system in an attempt to understand how we think, move, perceive, learn and remember. Research in the neurosciences is of considerable importance in medicine, considering the debilitating and costly effects of neurological and psychiatric disease.
Is this course for me?
Neuroscience links neurobiology with cognitive science and as a result modules are provided by several Schools within the Faculties of Health Sciences, Science, and Social and Human Sciences. The course involves in-depth instruction in the fundamentals of modern molecular and cellular biology, as well as on the structure and operation of the nervous system. Other modules focus on the development of the nervous system, its response to injury and disease, the relationship of the brain to behaviour, imaging the brain and the drug treatment of brain disorders. You will also be trained in scientific methodology and experimental design, data handling and resource skills.
Students who wish to study Neuroscience must first complete 2 years in the Biological and Biomedical Sciences Stream (TR060).
See more details on the main courses website