Molecular Medicine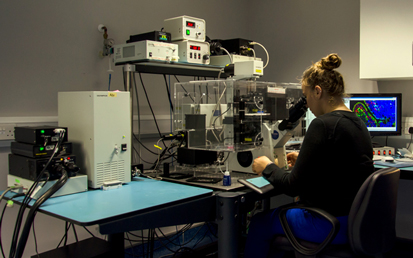 Molecular Medicine is a unique collaboration between the School of Biochemistry & Immunology, Trinity Biomedical Sciences Institute (TBSI) and the Dept. of Clinical Medicine, St. James's Hospital.
Our facilities
TBSI is equipped with state-of-the-art technologies and provides a rich research environment for interdisciplinary collaboration with colleagues in medicine, pharmacy, chemistry and neuroscience while the Dept. Of Clinical Medicine operates from St James's Hospital and is affiliated with the teaching hospitals of Naas General Hospital and Our Lady's Hospice. As such, our Schools are positioned to deliver material covering both fundamental molecular and cellular principles and specialized topics in clinical cancer, infection, stem cells, drug design, neurobiology, haematology, oncology, immunology, diagnostics & therapeutics among others.
Is this course for me?
The School of Biochemistry & Immunology and School of Medicine are highly committed to delivering the very best standards of undergraduate teaching and provide students with access to resources of international standard. In addition to highly engaging course material, students will gain experimental skills in a range of cutting edge techniques and technologies through practicals and laboratory placements in the final year. The courses are designed to equip graduates to work in all major aspects of biochemistry, immunology, and cell biology, and to respond to the rapid pace of development in these fields. The course content has relevance to both academia and the healthcare/pharmaceutical sector therefore former graduates have gone on to study medicine, engage in postgraduate research (Ph.D.; M.Sc.), and pursue careers in industrial and government organizations. Opportunities also exist in hospital and commercial labs as well as in clinical biochemistry, biotechnology, food science, teaching, information systems, communications, and management.
Students who wish to study Molecular Medicine must first complete 2 years in the Biological and Biomedical Sciences Stream (TR060).
See more details on the main courses website