Biochemistry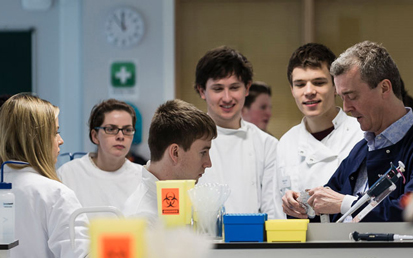 In Biochemistry we study the molecular basis of life. Within our School the scientific questions explored cover a wide range of topics including cancer biology, obesity, diabetes, neurobiology, neurodegeneration, autoimmunity, parasitology, immune-metabolism, protein structure and drug development.
Is this course for me?
We are a collegial and energetic community of researchers with a genuine enthusiasm and passion for teaching. As a training environment we provide expertise in a wide range of techniques that address the molecular and cellular mechanisms essential to understanding health and disease. Our commitment to research-led teaching means that Biochemistry delivers an education of the highest international standard. In Biochemistry there is an emphasis on developing practical skills and on the cultivation of independent thinking and critical analysis. As a result, graduates of Biochemistry are recognised worldwide for their excellent practical and scientific knowledge. Many of our graduates go on to engage in postgraduate research in our School and are also recruited to other prestigious research institutes worldwide. Apart from biomedical research, a myriad of career pathways are open to graduates including careers in the pharmaceutical industry, companies that conduct clinical trials, hospital laboratory sciences, scientific journalism, broadcasting and media, finance, and teaching. Biochemistry also provides excellent training for graduate entry into medicine and pharmacy.
The intellectual life of the School has been enriched by our relocation to a state-of-the-art facility, the Trinity Biomedical Sciences Institute, which has enhanced interdisciplinary collaboration with colleagues in immunology, medicine, pharmacy, chemistry and neuroscience.
Students who wish to study Biochemistry must first complete 2 years in the Biological and Biomedical Sciences Stream (TR060).
See more details on the main courses website