Immunology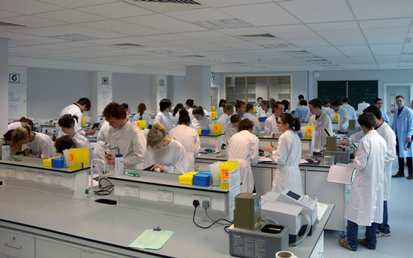 In the Immunology degree, students will learn about all aspects of Immunology: from the cells and molecules of the immune system and how they carry out their jobs in particular diseases through to what happens when the immune system goes wrong and actually starts to attack our own bodies, as seen in autoimmune diseases. In order to fully understand the immune system, students will also cover important aspects of biochemistry, genetics and microbiology.
Is this course for me?
Trinity is not only the leading centre for Immunology in Ireland but is recognised around the world for its high level of research excellence. Graduating with an Immunology degree from Trinity puts students in an excellent and competitive position for their future career. Many of our students are recruited into Ph.D. positions either here or abroad. Others choose to go into industry where their skill set is highly valued. Science communication and graduate medicine are other common career choices.
Immunology is a dynamic and rapidly expanding subject and this degree provides excellent training from world class researchers and lecturers to enable students to successfully pursue a career in Immunology. One exciting aspect of the Immunology degree is that undergraduates experience real research as they undertake a Senior Sophister project in a research laboratory in the School of Biochemistry and Immunology.
Our School is based in the new state of the art Trinity Biomedical Sciences Institute building on Pearse Street.
Students who wish to study Immunology must first complete 2 years in the Biological and Biomedical Sciences Stream (TR060).
See more details on the main courses website