Human Reproductive Immunology
The complexity of the links between immunity and reproduction are only now being fully realised. The CIG is studying how immune cell populations influence fertility. In Ireland, infertility affects approximately 10% of couples and up to one third of these women have endometriosis. Endometriosis is defined by the presence of endometrial glands and stroma outside the uterine cavity resulting in symptoms of severe pelvic pain, dysmenorrhoea, dyspareunia and infertility. Current studies have largely overlooked the role of innate immune cells in the pathology of endometriosis. We are working closely with the Merrion Fertility Clinic to explore the role of innate immune cells in the establishment, development and progression of this debilitating disorder. Uterine natural killer (uNK) cells are unique to the endometrium due to their CD56bright/CD16-ve phenotype. As the most populous immune cell within the endometrium, roles have been described in tissue remodelling at all phases of the normal menstrual cycle but their role in the pathology of endometriosis has largely been overlooked.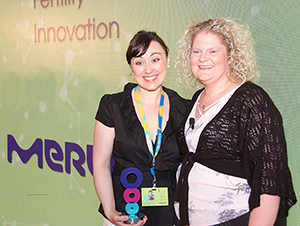 Dr. Louise Glover, Research and Development Coordinator at the Merrion Fertility Clinic in Dublin (Ireland), and Visiting Research Fellow (Immunology) at the School of Biochemistry and Immunology at Trinity College, Dublin was awarded the Merck GFI (Grant for Fertility Innovation) for her project "Antimicrobial peptides in cross communication immune system-microbiota in the endometrium: predictive biomarkers of optimal endometrial receptivity".
Dr. Glover is pictured with Louise Brown, the first child born through IVF at the award ceremony which was held at the Annual Congress of the European Society of Human Reproduction and Embryology, July 2018, Barcelona, Spain.