Key Trinity Routes
From 2011 to 2018, cycling modal share in Trinity reduced from 22% to 14%. 87% of all students and staff who responded to our 2018 travel survey (n=3,912) question the safety of cycling in Dublin and 91% would like more segregated cycling or quiet ways to increase cycle safety. Full details here.
Acting on these data, in 2018 Trinity's Provost, Patrick Prendergast approved the statement below on cycling. In November 2021, Trinity's new Provost, Linda Doyle renewed Trnity's commitment to the statement.
"Cycling is environmentally friendly, quick, cost-effective, healthy and flexible. Trinity would like to see improved cycling infrastructure in Dublin city between its main campuses and the residences it provides for students and staff. Both Trinity and Dublin would benefit."
Responding to this statement, drawing on the consensus created at our #LiveableDublin events and including the work of Trinity colleagues focused on biodiversity, Trinity has identified the following priority routes on which we would like safe, segregated cycling, place-making and infrastructure that supports biodiversity:
From College Green to Trinity Hall
We recommend two cycling routes from Trinity Hall. The first focuses on perceived safety, the second on getting to College quickly. Trinity's preference is that the quickest route be made more liveable.
Route 1: Focused on perceived safety. Click on the image to see the route in detail.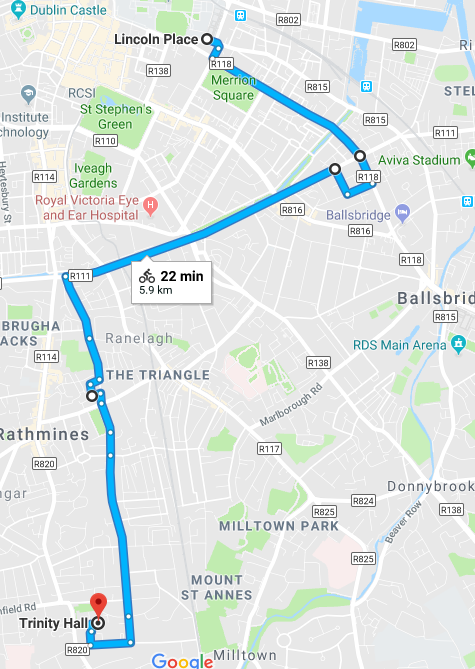 Route 2: Focused on getting to College quickly. Click on the image to see the route in detail.

From College Green to St. James's Hospital
Cycling from College Green to St. James's Hospital is the fast way to travel. See route here.

Nassau Street
Trinity is grateful for the segregated cycling installed on Nassau Street during COVID-19 and would like to see Nassau Street become a more liveable place with wider footpaths, further installation of segregated cycling and more liveable spaces. We would like to explore how the introduction of Bus Connects will make space available for placemaking, in particular along College Park from Frederick Street to Kildare Street.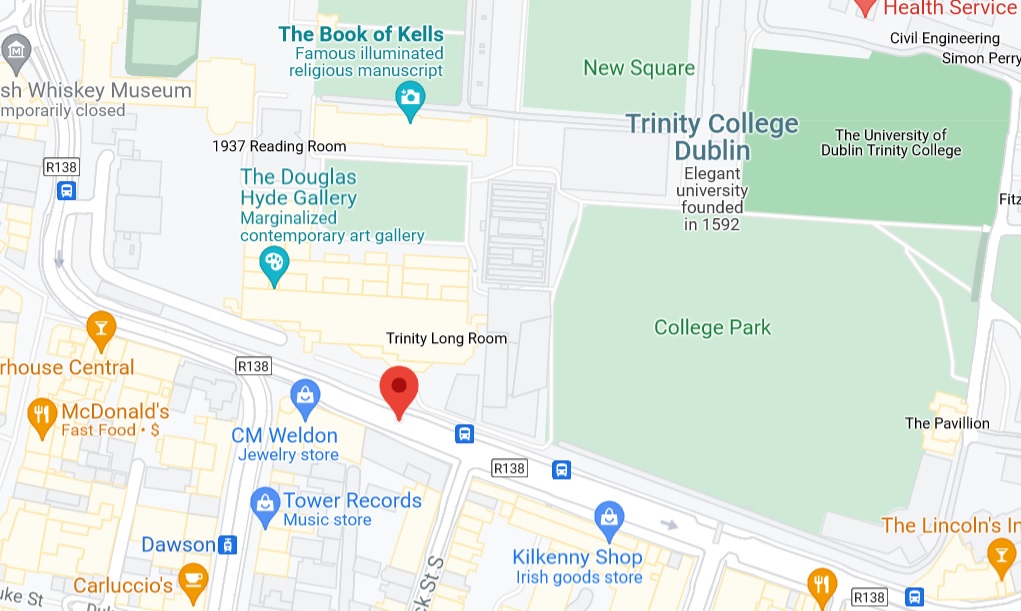 Pearse Street
Trinity's College Green Campus is a six minute cycle from T-Tech, the site of the planned Trinity East campus. The Google maps image below shows cycling along Pearse Street which at time of writing is not possible as Pearse Street has four lanes of vehicular traffic moving west with no provision for cycling. Trinity would like to see a two-way, safe segregated cycle lane on this route.

At time of writing, because of the lack of cycling infrastructure and the one way traffic systems around our College Green campus, Trinity recommends the route below to cyclist travelling to Trinity East.