Impact Report 2020 2021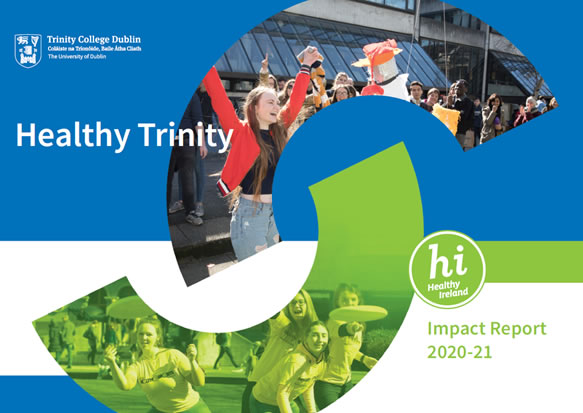 Healthy Trinity is proud to present our first Impact Report detailing 2020/2021 projects to support health in Trinity and events and interventions that reached more than 2,000 people. Highlights of the year included: upgraded bike parking; funding for a European mental and physical health programme, installation of condom dispensers and Trinity's first ever misuse of drugs policy.
Provost Linda Doyle at the launch of the report said,
"The uncertainty of the COVID-19 pandemic has forced us all to take stock of our physical, mental and social wellbeing and has reminded us how we rely on one another. I welcome the launch of this report as a demonstration of the commitment right across the Trinity community to the health and wellbeing of all."
She also highlighted education as a social determinant of health saying,
"Investment in education is investment in health. We urge Government to increase investment in further and higher education as we know this improves public health and promotes health equity. In fact, by the age of 30, those with the highest level of education can expect to live four years longer than those with the lowest. Investment in education also alleviates the burden on health and social services and, most importantly, on the people who use them."
Healthy Trinity is a cross-university collaboration of over 100 academic partners drawn from academic staff, professional service staff and students. We believe that by embedding and enabling health in Trinity, our community can thrive.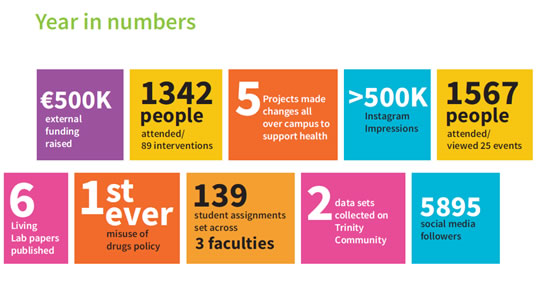 In 2020/2021 we delivered events and interventions across health topics to over 2,000 people. We made changes all over the campus and to Trinity policy to support health e.g. we worked with Estates and Facilities to upgrade bike parking, we installed condom dispensers under the HSE's national scheme and we introduced Trinity's first misuse of drugs policy.
As part of our Living Lab approach we published 6 papers e.g. our alcohol group found that 75% of Trinity students who drink alcohol, binge drink - men more than women; our Tobacco group found that more than half of people who smoke in Trinity start over the age of 18; our physical activity group found that active breaks during lectures are a feasible means of promoting physical activity. Our Healthy Eating group also identified barriers to healthy eating on campus and our Workplace Group found that although staff were resilient and completed their work during COVID's first lockdown, wellbeing was low.
Led by Trinity Sport and Student Counselling we received funding for a European mental and physical health programme and the Smarter Travel Group received funding to upgrade bike parking on campus. As part of our co-curricular work, students from the three Trinity faculties included Healthy Trinity in their coursework and our blackboard module the Healthy Trinity Online Tool was made available to all first year students. Finally, we grew our presence on social media and online so that we could meet students where they're at.
Healthy Trinity responds to Trinity's Strategic Plan 2020-2025 and the Department of Further and Higher Education, Research, Innovation and Science's Healthy Campus Framework.
We invite anyone with an interest in promoting health to contribute to Healthy Trinity. Maybe you have a big idea you want to introduce or maybe you can adapt what you're doing to put a healthy slant on it. Either way, we're open and interested in hearing how we can support you to make it easier to be healthy in Trinity.