Health and Wellness Practices - Undergraduates
In April 2019, a web-based survey was emailed to all Trinity undergraduate students. 1458 responded. Details here.
28% (n408) rated their cooking skills as 'poor' or 'very poor' (Fig. 1).
Two in five (40.6%, n592) used a screen at least once a day during a meal.
72.5% (n1057) reported that college commitments most commonly overtake time initially set aside for cooking.
Elements of the physical environment most commonly contributed to a positive eating environment
The study concluded:
There is a need to address the suboptimal practical food preparation skills, self-management and time-management skills of undergraduate students.
It is recommended that a study identifying the characteristics of students who are more likely to report suboptimal health behaviours and inadequate skills is conducted.
Health and Wellness Practices – Postgraduates and Staff
In April 2019, a web-based survey was emailed to all Trinity postgraduates and staff. 579 responded. Details here.
A quarter (24.8%) of the total sample reported that a usual day in work rarely or never enabled them to eat the way they wish to
Barriers to enabling participants to eat as they wish to included a perceived lack of: campus facilities, variety of foods available, and time (Fig. 2)
Importance of healthy eating was rated 65.9 ±20.9 on a scale of 0-100 (p=0.396)
Cooking skills were rated an average of 65.7 ±21.0 on a scale of 0-100 (p=0.789)
One in ten (11.6%) cooked with fresh ingredients less than once a week, with PG students less likely to cook with fresh ingredients (p=0.034)
A majority (83.5%) ate while using a screen some, most, or every day (p=0.066)
The study concluded:
Many of the perceived barriers to healthy eating were common for postgraduate students and staff
Despite self-reporting moderate levels of cooking skills, the majority of participants do not cook with fresh ingredients every day
Key issues that impede cooking and healthy eating were affordability of food and poor time-management
University-based interventions aimed at improving food preparation skills, time management skills relating to food preparation, and self-efficacy skills should be explored
Eating Habits of Trinity Undergraduates
In spring 2018, Trinity medical students in partnership with Healthy Trinity undertook a survey of student eating habits that incorporated the Healthy Ireland IPSOS MRBI survey which was published in 2015. An abstract of their findings is below.
Introduction: Diet and smoking are two lifestyle factors that play a key role in determining one's health and risk factors for morbidity. The aims of this study were to survey the eating and smoking habits of Trinity College undergraduate students and compare them to national statistics.
Method: Data were collected using an anonymous online questionnaire, distributed via email to the Trinity undergraduate population.
Results: 1,910 undergraduates responded to the survey. Trinity students appear to have a healthy diet when compared to national figures, consuming more fruit and vegetables and less snack portions and sugar-sweetened drinks than the rest of the population. Lack of time was identified as the main barrier to healthy eating among students.
Conclusion: Trinity students have healthier eating and smoking habits than the general population. Students are vulnerable to developing poor eating and lifestyle habits during the transition to college, therefore, it is important that the college is aware of its students' current eating and smoking habits, in order to implement more effective intervention campaigns specific to its student population. A key target area identified by this study is student time management as a barrier to healthy eating.
This research was completed by medical students Aoife Doyle, Daire Pryal and Lorna Mooney with supervision by Martina Mullin (College Health Service) and Dr. Catherine Hayes (School of Medicine) and support from Dr. David McGrath (Director of College Health Service), Prof. Joseph Harbison (School of Medicine) and Dr. Aileen Patterson (Head and Deputy Head of Undergraduate Teaching and Learning in School of Medicine, respectively)
Put Up Healthy Eating Posters
A student on the Healthy Eating Committee, Jessica, designed these posters. We're encouraging students and staff to put them up near where you study/work. Click on the pictures to download them. If you'd like some printed ones email Martina on health.promotion@tcd.ie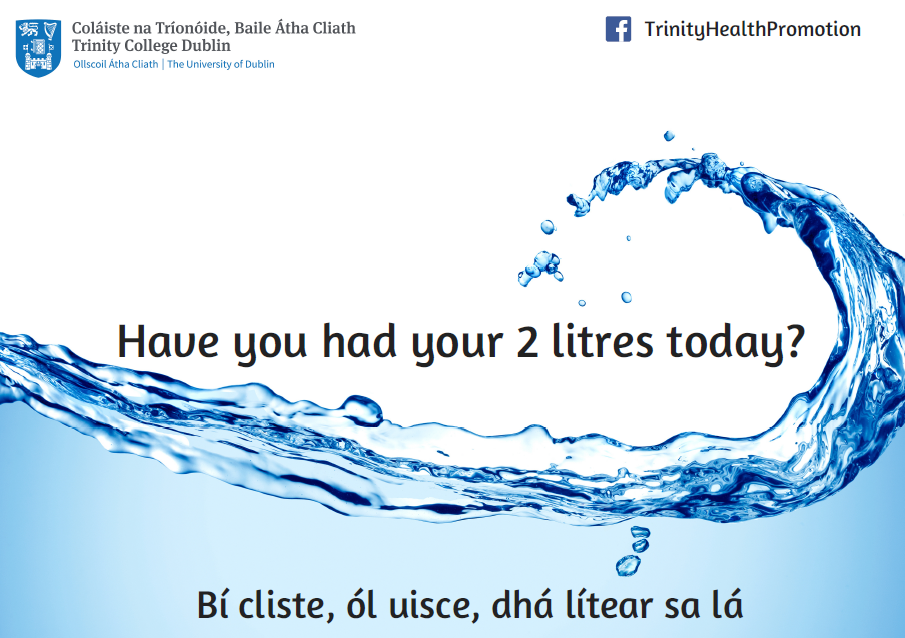 Healthy Eating On Campus
Eating healthily on campus is a combination of knowledge and choice. You can read more about balanced, healthy eating here (PDF, 68 kB) so that you have the tools to make healthy choices.
There are a wide variety of catering facilities on campus. The staff at catering services are well-informed about healthy eating and make every effort to provide healthy choices at all venues and at all times. Here are some of the positive changes that have been made in recent times:
A healthy meal option is available every day
Roast meats are cooked on racks to allow the fat to drain away
Vegetable oil is used in cooking
Vegetables are steamed and no butter is added to the finished products
Low fat mayonnaise is used for salads
Low fat dressings are available
Wholemeal and brown breads are available as alternatives to white
Healthy snacks are available in all areas. These are clearly labelled in a healthy eating section
Health Eating In College Accommodation
The Healthy Trinity: Healthy Eating Committee works with the Accommodation Office to ensure there is a good standard of cooking facilities in Trinity student accommodation. If you have any queries about cooking facilities in Trinity accommodation, please email Martina on health.promotion@tcd.ie. The Committee is interested in all feedback.
Healthy Recipes at a Low Cost
We love a goji berry as much as the next person but carrots are just as healthy and a lot cheaper. This book, 101+ Square Meals is full of great healthy recipes that are easy and cheap to make. We recommend it.
If you have any questions or suggestions about healthy eating on campus, please contact the health promotion officer at healthp@tcd.ie.