Tap Tap for Mental Health – A campaign to support each other through summer exams 2021
What is Tap, Tap for Mental Health?
Remember library chats? They were great. At least when you were studying with a few friends you knew you weren't the only one stressed out by exams . Having buddies in the same boat, slogging your way through months of lecture notes at least came with the benefit of breaks for tea and chats and a bit of talent spotting. At home, there's none of the casual craic that made exams bearable.
And what if you're not coping? Or you think your friend needs help? Telling people you're struggling is hard at the best of times but online it's harder than ever, with the awkward silences, the talking over each and the dreaded 'you're on mute'. That's why we're running the tap, tap for mental health campaign. We're encouraging Trinity students and staff to look out for each other this exam season by using a tap tap sign to say:
I'm available to talk about mental health if someone needs to

Or to tell someone, I need to talk about my mental health.
How do I tap, tap for mental health?
Double tap on your clavicle to indicate you're available to talk about mental health or that you need to talk. The tap tap looks like this:
What should I do if someone tap, taps for mental health?
If someone has tap, tapped you, thank you for being there for a friend or colleague. If you're the one tap, tapping, well done for reaching out. In both cases, there are lots of supports available in Trinity and we want people to use them. Below is information on individual, social, academic, service and big picture supports for mental health.
Individual supports for mental health
To do lists: This year, six Trinity students developed the Shine A Light campaign which focused on the top stressors for students: College Life (72%), Exams (65%) and Coursework (45%). Their top tip for dealing with stress was To Do Lists. A very simple place to start.
Physical activity: Exercise is a no brainer, especially if you're stressed and even if you're too busy. The best type of exercise is anything you will do. During exams even short bursts of exercise (10 minutes) can boost mental alertness, energy levels and mood.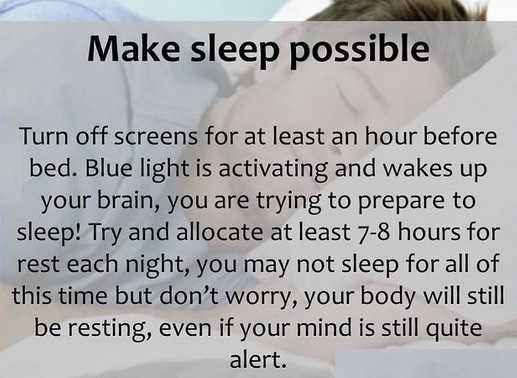 Trinity Sport is open during exams you can see their online class schedule here or follow them on Facebook, Instagram or Twitter. Our Physical Activity section has lots of great resources too.
Mindfulness and meditation: Although it can seem like there's no time for things like mindfulness or meditation, it's a really good use of your time and can help you cope with difficult feelings.
We have weekly drop in mindfulness, details here. Trinity's counselling have some great videos addressing issues that come up regularly for Trinity students. For example, this simple exercise about watching your thoughts is quick useful for managing exam stress.
Sleep: Sleep without the routine of College can be really challenging. The College Psychiatrist, Dr. Niamh Farrelly recommends a wind-down before bed. This is often a good time to tidy your work space, do washing, change your sheets or attend to grooming. These physical activities activate a different part of your brain than academic work. Whilst doing this, your brain is working to unwind. She also suggests you make sleep possible as pictured.
Do you pomodoro? Some Trinity students use the Pomodoro method to stay productive all day. That's 25 minutes working with all distractions off, followed by a 5 minute break. Others find apps like Forest motivating.
How friendship and social networks support mental health
Social support: Both receiving and giving social support is consistently associated with good mental health. If you need a friend, call or text someone. Or, if you feel up to it, call or text a friend you think might need help. Time chatting is not time wasted. In normal circumstances you would take breaks with friends. Could you do the same online or outdoors now?
Academic supports for mental health
Exam arrangements: The Senior Lecturer sent this email detailing arrangements for online exams, assessment formats, online invigilation, plagiarism, essay mills, defferals, deferred semester one assessments and resits. Read here to be sure you know what to expect during exams.
Student Learning Development: Student Learning and Development have one to one online study management sessions, and webinars on how to manage your studies.
Tutor: If you're struggling, let your tutor know. If you have any difficulty contacting your College Tutor, please contact the Senior Tutor's Office at ST.Office@tcd.ie
Online study groups: Have you tried group online study events? It's something you could do with friends or Student Learning Development have this one open to all: https://student-learning.tcd.ie/workshops/links/studygroup.php
Online Assessment Study Guides: IT Services have these guides for exams: https://www.tcd.ie/itservices/working-remotely/online-assessment/student/index.php
Automatic Deferral: All students have the right to defer exams. Please contact your tutor before the deadline for the exam/submission. Deferrals cannot be made retrospectively under the measures. Automatic deferral may not apply in some professional modules.
Automatic Resits: Third and fourth years can apply to resit exams if you're not happy with the result. There are other conditions attached to this option. The best approach again is to contact your tutor. .
Exam Accommodations: Details of Exam Accommodations are available here from the Disability Service: https://www.tcd.ie/disability/services/exam-accommodations.php
Services for Mental Health
Text "TCD" to 50808: 50808 provides a safe space where you're listened to by a trained Crisis Volunteer. The Crisis Volunteer will introduce themselves, reflect on what you've said, and invite you to share at your own pace. You'll text back and forth, only sharing what you feel comfortable with. By asking questions, listening to you and responding with support, they will help you sort through your feelings until you both feel you are now in a calm, safe place. For free 24/7 support in a crisis, text "TCD" to 50808. Details here.
Student Counselling: You can sign-up for Student Counselling Service groups and workshops here: www.tcd.ie/Student_Counselling/counselling/group-workshops/. For a first one-to-one consultation, you can email student.counselling@tcd.ie who will set up an appointment as soon as possible. For an overview of all the Student Counselling services, click on any of the links on this stepped care model here. You can follow the Student Counselling Service on Instagram: @TCD_Headspace.
Niteline: NiteLine is an out-of-hours peer support service for third level students. They offer a listening and information service run by and for third level students every night of the week during term-time. They provide a service that is anonymous, confidential, non-judgemental and non-directive. Details here: https://niteline.ie/
College Health: The College Health Medical Team are seeing students as normal during the exam period. They are offering a blended telephone/face to face service. Morning emergency clinic phone lines are open from 9am.Afternoon ones are open from 2pm.Call01 896 1591 or 01 8968555. Emergency appointments are done by phone. The doctors will telephone you.
Silvercloud: Student counselling offer online courses. They are are 6 to 8 weeks long, and are free of charge. There are 5 programmes available. Some include weekly feedback (online) from a member of the Trinity counselling team. Others operate as a self-help programme without an online supporter
Chaplaincy: All the Chaplains of Trinity College are available to help and serve you during your time in college – maybe especially at times of stress and difficulty! The Chaplaincy is a place of welcome and hospitality for all members of the University community. As an Ecumenical Chaplaincy, the chaplains are keen to assist people of all faiths and none in any matters that assail you during the college years. All chaplains will be glad to assist you in any way that they can, you will always find a friendly listening ear. The general Chaplaincy email is: chaplain@tcd.ie. If you would like to speak directly to Fr. Peter Sexton, email him on sextonpe@tcd.ie or phone on 087 943 6459. For direct contact with Jools Hamilton, email julian.hamilton@tcd.ie.
What's in the big picture that supports mental health?
COVID-19 is hard: There is a broad consensus that COVID-19 is hard on students. A lot people are thinking of young people and opportunities you've lost. If you're finding exams difficult, it's reasonable. A lot people are rooting for our students and young people.
You've come to the right place: Although this is a really stressful time, In the long-term, being in university is good for health. We want you to stick with Trinity.
Take home message of the Tap, Tap for Mental Health Campaign
These are exceptionally difficult times. You're doing the right thing by being in university. It's tough. Please reach out to whoever can help if you're struggling, or if you feel up to it, get in touch with a friend who might be struggling. Semester 2 exams finish on the 22nd May. Semester 1 exams finish on 29th of May. Sunday, 30th May will be so much better.
Have we missed anything?
Almost everything positive is good for mental health. Some people like reading, others like running, others like socialising. What makes one person feel good, might make another want to leave the room. We've created this map of all the resources available to a Trinity student that create positive mental health. Have we missed anything? If so, drop us an email on health.promotion@tcd.ie or DM us on Instagram, Facebook or Twitter.