Oneview

Project Overview
The purpose of this study is to identify and validate the requirements for new technology promoting staff professionalism, resident experience, resident safety and relationship centred care in residential homes and/or assisted-living communities.

Our research investigates the human dimensions and care implications of new technology, to ensure that that it is ethically aligned and promotes positive states for residents and other stakeholders (for example, care assistants, nurses and families). Further, our research addresses the HMI design of different AAL technologies.

This research adopts a stakeholder evaluation approach to requirements elicitation and user interface design. Specifically, the study design combines several qualitative human machine interaction (HMI) design frameworks/methods, including realist ethnography, scenario-based design, persona-based design, and participatory design.

Human factors research is being undertaken as part of an industry and academia collaboration involving researchers from Trinity College Dublin (TCD) and Oneview Healthcare. This research commenced in September 2016 and is ongoing. This research is directly funded by Oneview healthcare.

Background to Research
The aged care sector has faced many scandals about the quality of aged care services, particularly in residential aged care (Royal Commission, 2018). The rate of clinical incidences/errors resulting in patient harm and/or mortality is higher for older persons and those with disability and/or cognitive impairment. (State Claims Agency, 2015).

Although rewarding, the job of being a nurse and/or a care assistant is very demanding. Workload is high. Staff-to-resident ratios are lower than those at acute care environments. Caregiver burnout is frequently reported. Critically, staff burnout can adversely impact on care quality and safety. For example, research indicates that caregiver burnout directly impacts patient mortality. Moreover, burnout increases the risk of neglect and abuse, especially in older populations.

Safety risk management (SRM) is a formal process within the SMS composed of describing the system, identifying the hazards, assessing the risk, analysing the risk, and controlling the risk. The collection and analysis of data (i.e. data from normal operations, safety events etc) enables us to not only look at past accidents and incidents, but to also see what is happening in routine operations.
What separates excellent quality organisations from lesser ones is whether they respond to sentinel and adverse events in a way that significantly reduces the risk
Of the event occurring in the future (i.e. reactive)
Prevent them happening in first place (predictive)
Assisted living/residential care settings are defined as group living environments for adults with disabilities and/or older adults who require assistance with at least one activity of daily living. In many cases, older adults may have some level of cognitive and functional decline. Assisted living facilities follow a social model of care (i.e. beyond bio-medical) which is predicated on the concept of 'home' and 'resident engagement'. Importantly, it is expected that residents live in an environment that resembles home and enables personal autonomy and social connection.

Ambient intelligence is a new paradigm in information technology aimed at empowering people's capabilities by the means of digital environments that are sensitive, adaptive, and responsive to human needs, and the presence of people. Typically, context aware technology is integrated in the person's living environment. Such technology enables an older adult to stay active for longer, remain socially connected and live independently into old age. In terms of technology, this involves the advancement of AAL/IoT/sensor-based infrastructures which make use of machine learning technology. These infrastructures connect a range of devices (i.e. TV, tablet, mobile phones etc.), sensors (environmental sensors and biosensors) and actuators as part of an IoT hub.

The advancement of assistive technology raises overarching questions in relation to the values of society and how we design technology to (1) promote positive values about ageing and (2) enhance ageing experience. Specifically, it raises fundamental questions in relation to the meaning of care and the role of people and technology in delivering care. This includes questions about what value we place on promoting autonomy and social participation for older people, protecting the personal sphere, and the importance of the human role in care (including family involvement). We should not proceed with this technology because it is available. 
Team

TCD Team

Dr Joan Cahill (Principal Investigator), CIHS, School of Psychology, Trinity College Dublin

Collaborators

Sean Mc Loughlin (Oneview Healthcare)
Sean Wetherall (Oneview Healthcare)
Niall O' Neil (Oneview Healthcare)
Research Strands
Currently, our research addresses the following themes:
Modelling the lived experience of older adults and care workers in residential settings
Promoting wellness, independence, social participation and quality of life for older adults domicile in residential homes and assisted living communities
Teamwork and professionalism for clinical staff
Ethics and the application of assisted living technologies, IoT technologies and machine learning
The Human Machine Interaction (HMI) design of electronic tools for residents/patients, staff (care assistants and nurses) and family members
Digital transformation of oncology pathways to optimise patient experience, patient safety and staff professionalism
Quality and safety in healthcare and the integration of Safety 11 and predictive risk management approaches
Community monitoring and wellness management for older adults
Optimising the resident/patient voice in healthcare decision making
Key Findings and Positive Impacts
New technologies have been developed to support communication/community dwelling and not simply risk assessment. These technologies enable a resident experience that is similar to "living in one's own home". Overall this technology affords the possibility for improved social relationships, enhanced wellbeing, better quality of care, safety and independence.

In line with the SEIPS model (Carayon et al, 2006), the proposed solution is designed to optimize the experience of both residents and caregivers.

Sensing encompasses three dimensions: (1) resident wellness, (2) the resident's environment (i.e. room and broader social spaces which constitute 'home' for the resident), and (3) care delivery.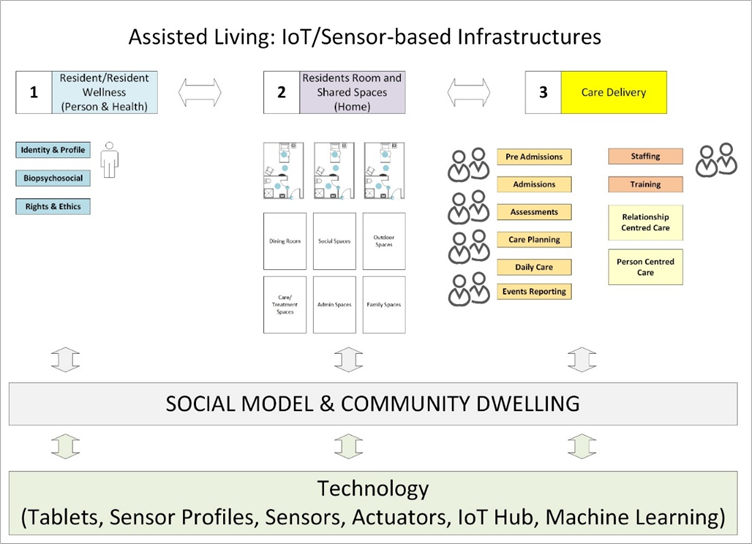 Following a Safety 11 approach (2014), the collection and analysis of data (i.e. data from normal operations, safety events etc) enables us to not only look at past accidents and incidents, but to also see what is happening in routine operations.

Resident wellness and safety/quality care delivery depends upon adequate monitoring and evaluation of information pertaining to resident wellness, the resident's environment and care delivery.

This technology will enhance resident/patient care and associated communications/interactions. Further, this technology provides an opportunity to bridge existing information gaps between care planning, care assessments, daily care and incident reporting.

It is important to maintain the human element of care.
Past Publications & Presentations
Oneview Healthcare & Cahill, J. (2019). Submission to the Royal Commission on Aged Care. April 2019.
Cahill, J., Turney, B., Wetherall, S., Khan, Haseeb, McGrath, M. & I. Widlicki. (2018). Digital transformation of oncology pathways to optimise patient experience, patient safety and staff professionalism. Paper to be presented at HCI International 2019.
Cahill, J., McLoughlin, S. (2019). IoT/sensor-based infrastructures promoting a sense of home, independent living, comfort and wellness. Sensors 2019, 19(3), 485; https://doi.org/10.3390/s19030485.
Cahill, J. Ethical Issues in Artificial Intelligence (Aged Cared). Presentation for the National summit on artificial intelligence, March 2019.
Cahill, J., Power, D., Mackey, G., & McLoughlin, S. (2018). New technologies supporting patient re-enablement, wellness monitoring and staff professionalism. Age and Ageing, Volume 47, Issue suppl_5, 1 September 2018, Pages v13–v60, https://academic.oup.com/ageing/article/47/suppl_5/v13/5099344. https://doi.org/10.1093/ageing/afy140.66
Cahill, J., Power, D., Mackey, G., & McLoughlin, S. (2018). New technologies supporting professionalism, patient experience and patient centred care. Paper presented at the Annual Conference of the Irish Ergonomics Society, May 31, 2018.
Cahill, J & McLoughlin, S. (2018). Quantified Wellness and Assisted Living. Presentation given at the Quantified Self Meet-up, Science Gallery, May 1, 2018. https://www.meetup.com/Quantified-Self-Dublin/events/248024937/
Cahill, J., Power, D., Mackey, G., & McLoughlin, S. (2018). New technologies supporting patient re-enablement, relationship centred care, patient safety and wellness monitoring. Poster presented at the Inaugural Conference on Professionalism in Healthcare in Ireland. Royal College of Surgeons Ireland (RCSI), April, 2018.
Cahill, J & McLoughlin, S. (2018). Biopsychosocial models of wellness and the human factors design of new technologies for older adults domicile in residential homes and assisted living communities. Presentation given at The National Medtech & Biotech Summit, Dublin, March 14, 2018.
Cahill, J., McLoughlin, S., & Wetherall, S. (2018). The Design of New Technology Supporting Wellbeing, Independence and Social Participation for Older Adults Domicile in Residential Homes and/or Assisted Living Communities.  Technologies 2018, 6(1), 18 pp 1-33; doi: 10.3390/technologies6010018, http://www.mdpi.com/2227-7080/6/1/18/html
Cahill, J, McLoughlin, S., & Blazek, D. (2017). The Design of New Technologies Addressing Independence, Social Participation &Wellness for Older People Domicile in Residential Homes. Proceedings of the 2017 International Conference on Computational Science and Computational Intelligence (CSCI'17: 14-16 December 2017, Las Vegas, Nevada, USA); IEEE Computer Society. Editors: H. R. Arabnia, L. Deligiannidis, F. G. Tinetti, Q-N. Tran, M. Qu Yang.  ISBN-13: 978-1-5386-2652-8; BMS Part # CFP1771X-USB; DOI 10.1109/CSCI.2017.313
Cahill, J., Bokser, S. & McLoughlin, S. (2017). Addressing independence and lived experience: New Technologies to Support Wellness, Independent Living, Social Participation and Community Engagement. Paper presented at the Seventh Interdisciplinary Ageing & Society Conference, University of California at Berkeley, Berkeley, USA, November 2017. http://cgpublisher.com/conferences/406/web/program-detail.html
Cahill, J, McLoughlin, S. & Wetherall, S (2017). Lived Experience, Stakeholder Evaluation and the Participatory Design of Assisted Living Technology. Proceedings of AAATE 2017 Congress, Sheffield, UK, 12 -15 September, 2017. Studies in Health Technology and Informatics. Harnessing the Power of Technology to Improve Lives. iOS Press. Ebook Volume 242: Pages 64 – 71. Published 2017, Editors Peter Cudd, Luc de Witte, DOI10.3233/978-1-61499-798-6-64. ISBN 978-1-61499-797-9 (print) | 978-1-61499-798-6 (online)
Cahill, J, McLoughlin, S. & Portales, R. (2017). New technology enabling wellbeing, independence, successful ageing, and relationship centred care, for seniors domicile in residential homes. Talking Poster. Proceedings of the Human Factors and Ergonomics Society Europe Chapter 2017 Annual Conference. Rome, Italy, September 2017. ISSN 2333-4959 (online). http://www.hfes-europe.org/wp-content/uploads/2014/05/AbstractsRome2017.pdf.
Cahill, J., McLoughlin, S., Wetherall S., Stolberg, M., & O'Connor M. (2017). Addressing issues of need, adaptability, user acceptability and ethics in the participatory design of new technology enabling wellness, independence and dignity for seniors living in residential homes. Proceedings of the Third International Conference on Human Aspects of IT for the Aged Population (Part 11), ITAP 2017, held as part of HCI International 2017, Vancouver, BC, Canada, July 9-14, 2017, Springer. Berlin/Heidelberg, Germany, 2017. https://link.springer.com/book/10.1007%2F978-3-319-58536-9
Cahill, J, McLoughlin, S, Wetherall, S (2016). The specification of new technology to support assisted living (AL) from a biopsychosocial and stakeholder relationship perspective. Proceedings of the 2016 International Symposium on Health Informatics and Medical Systems (CSCI-ISHI), Las Vegas, December, 2016. IEEE Xplore Digital Library - Conference Proceedings Services, 2016, Notes: [Proceedings accessed via ACM Digital Library at: http://dl.acm.org/]
Contacts
For more information, please contact