Online Postgraduate Certificate in Managing Risk and System Change
This online course is relevant to safety critical industries across the globe and focuses on people already in work, who have responsibility for managing: risk; change; safety; quality; planning; system design.
Course Director:
Course Queries:
Course Duration

Postgraduate Certificate (1 year part time)

Closing date for Applications:
Next Intake:
ECTS Credits:
Course Code:
Register Now for our Online Information Evening taking place on Thursday May 4th from 6pm.
Overview of the Course
This one year course includes four modules from our established M.Sc. in Managing Risk and System Change. Spread over one academic year it allows students to supplement their further education and career development without the need to commit to an M.Sc. On successful completion graduates of this course may progress to Postgraduate Diploma level.
It is relevant to safety critical industries across the globe and focuses on people already in work, who have responsibility for managing: risk; change; safety; quality; planning; system design. It brings the next generation of safety, risk and change management to you, in your work, embedded in your everyday practice with a systemic, proactive and performance focus.
The overall objective of this online Postgraduate Certificate programme is to provide a rigorous but practical focus on managing risk, change and strategic HR in operations, manufacturing and services, with an innovative integrated approach to the role of people in such systems. It provides a core framework that has been tested in collaborative industrial research and practice for managing and developing people, the design and integration of new technologies, the management of risk and the implementation of change.
Students will also become part of a global community of practice, a community of professional learners, across a range of safety critical sectors, where they will benefit not only from the academic and industrial experts delivering the course but also from the extended network of fellow students.
Course Delivery
The Postgraduate Certificate consists of four of the seven modules and runs over one academic year. The modules will be shared with those students undertaking the Postgraduate Diploma.
Students who successfully complete all modules in the Postgraduate Certificate may take an additional year of study and complete a further three modules for the award of Postgraduate Diploma.
This course provides students with a stimulating online learning experience by creating a structured yet flexible learning approach. The place of study is flexible as online delivery allows students to engage in learning activities at home or in the workplace and there is no requirement to attend the Trinity campus in Dublin. Students will have access to weekly materials using a virtual learning environment and the opportunity to engage with other students and lecturers using a variety of online discussion boards.
The course consists of seven core modules and runs from September until May in year one. The academic year is split across two semesters and three terms, Michaelmas, Hilary and Trinity term. In year 1 of the course lectures usually take place on Tuesday (some scheduled Thursdays) evenings from 17.30 to 19.30 (GMT).
Note: While we do encourage students to join the scheduled sessions, in the event you are unable to attend a particular session, you will be able to catch up at a time that suits you, as all sessions are available afterwards as a recording.
| Semester 1 - Michaelmas Term | Semester 2 - Hilary Term | Semester 2 - Trinity Term |
| --- | --- | --- |
| The Role of People & Processes in Organisations | Managing Performance and Risk | Leading Change |
| | | Strategic Human Resource Development |
Download a Sample Year 1 Timetable
Course Progression Routes
The below chart lays out the progression routes open to students.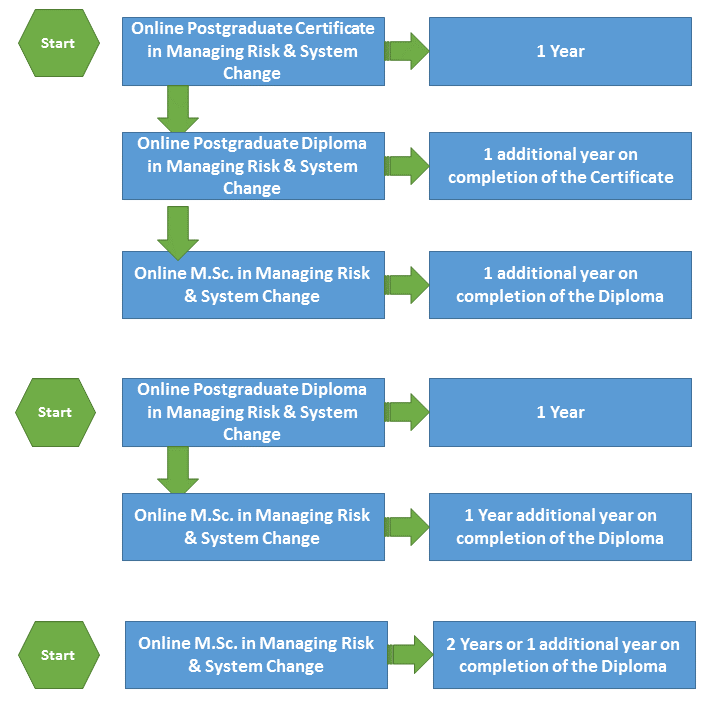 Who is the Course For?
Current students on the course are working in a diverse range of industries which include; Finance, Healthcare, IT, Defence Forces, Emergency Services, Aviation, Casino and Gambling, Law Enforcement, Process and Software Development and Pharmaceuticals. The course will be an excellent qualification to supplement the further education and career development of personnel who have responsibility for managing: risk, change; operations; quality; safety; human resources; planning; and system design. Generic knowledge and skills in managing risk and change enhances key organisational competence and increases resilience of industrial and service systems.
I typically work evenings and weekends, so I need to be able to log on to Blackboard when it suits me. This course affords me the required flexibility to attain this qualification.

Online Managing Risk and Systems Change Student
Assessment
The course consists of four core taught modules. Students who pass all four taught modules may be awarded the Postgraduate Certificate.
A range of continuous assessment methods (no examinations) are used including case reports (4,000 words), mini projects (4,000 words), reflective essays (2,000-3,000 words), along with online blogs and dossiers.
Student Handbooks
Each year registered students are given a copy of an official student course handbook. The handbook will provide information relating to the course regulations, services provided, key dates and assessments. The student handbooks for year one and year two students are subject to review each year in line with college policy.
Admissions Requirements
Applicants will normally be required to hold an Honours degree (II.1)** or equivalent and have at least 3 to 4 years appropriate professional experience.
Applicants will also have to be in (or have access) to an employment setting that facilitates the applicant to be able to satisfy the applied research aspect of the course.
**Note: In exceptional circumstances, the course director shall make appropriate recommendations to the Dean of Graduate Studies for candidates who do not fully meet the above criteria but make a reasonable case for admissions otherwise i.e. based on their work experience. An applicant may be asked to provide written samples in support of academic writing ability or be set a piece of academic writing to complete.
Students whose first language is not English will need a recognised English language qualification in line with the requirements as laid down in Postgraduate Calendar Part 3 Section 1.5 Language of Instruction.
Applicants may also be asked to take part in a short interview (in person or via phone/skype) as part of the assessment process.
References: students are requested to submit the names of two referees on their application form. In the first instance our preference is for one academic and one professional reference. We do however have discretion to accept either two academic or two professional references. Note: the referees listed on the application are automatically emailed a secure link to complete and upload the reference. Any difficulties in relation to references should be brought to the attention of the course administrator.
How to Apply
Applications are reviewed on an ongoing basis. We encourage early application as offers will be made to suitably qualified applicants as they are assessed. Please note that all documents must be supplied and conditions of offer met by July 31st or any offer made will expire.
To apply for course please click on the link below.
Applications are completed electronically. Required Documentation:
Online Application Form (€55)
Curriculum Vitae
Copies of transcripts (results breakdown) where applicable.
2 Reference Letters (see admissions requirements section for details)
Deadline for applications: 31st July 2023 (**please note that applications are reviewed on a rolling basis and the course may be filled prior to the closing date**)
Course Fees (2023/2024)*
A list of current course fees is available in the Fees and Payments section of the Academic Registry website.
*All fees are subject to review each year.
Postgraduate Certificate Graduates:
Students who have already successfully completed the Postgraduate Certificate can return to complete a further three modules and upgrade their qualificaiton to a Postgraduate Diploma. Please contact the course administrator for details on the application procedure and the tuition fees.
Please consult information about eligibility for admission as an EU/Non-EU student and note that EU applicants must satisfy specific requirements to be deemed eligible for EU fee status.
Information Evenings 2023
Register Now for our Online Information Evening taking place on Thursday May 4th from 6pm.
Typical Open Evening Structure
Course Structure
Student Learning Software Demonstration (Backboard)
Is This Course For You
Timetable
Assessments
Entry Requirements
Tuition Costs
Hear from current students about their experience.
Further Information
For further information on the course please contact:
Professor Nick Mc Donald
Academic Programme Development
nmcdonald@tcd.ie
+353-1-896-1471