Online M.Sc. in Managing Risk and System Change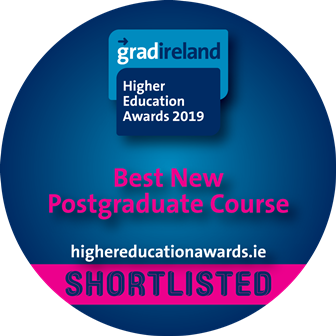 This online course is relevant to safety critical industries across the globe and focuses on people already in work, who have responsibility for managing: risk; change; safety; quality; planning; system design.
Course Director:
Course Queries:
Course Duration

M.Sc. (2 or 3 years part-time)

Closing date for Applications:
Next Intake:
ECTS Credits:
Course Code:
Register Now for our Online Information Evening taking place on Thursday March 9th from 6pm.
Overview of the Course
This online course is relevant to safety critical industries across the globe and focuses on people already in work, who have responsibility for managing: risk; change; safety; quality; planning; system design. It brings the next generation of safety, risk and change management to you, in your work, embedded in your everyday practice with a systemic, proactive and performance focus.
The overall objective of this online Masters programme is to provide a rigorous but practical focus on risk, change and system design in operations, manufacturing and services, with an innovative integrated approach to the role of people in such systems. It provides a core framework that has been tested in collaborative industrial research and practice for managing and developing people, the design and integration of new technologies, the management of risk and the implementation of change. World-class international teams who have collaborated through industrial research has been mobilised to provide the highest calibre research led teaching, supervision and professional expertise.
Students will also become part of a global community of practice, a community of professional learners, across a range of safety critical sectors, where they will benefit not only from the academic and industrial experts delivering the course but also from the extended network of fellow students.
Read what some of our current and past students have said about the course in the testimonials section below.
Course Delivery
This course provides students with a stimulating online learning experience by creating a structured yet flexible learning approach. The place of study is flexible as online delivery allows students to engage in learning activities at home or in the workplace and there is no requirement to attend the Trinity campus in Dublin. Students will have access to weekly materials using a virtual learning environment and the opportunity to engage with other students and lecturers using a variety of online discussion boards.
The course consists of seven core modules and runs from September until May in year one. The academic year is split across two semesters and three terms, Michaelmas, Hilary and Trinity term. In year 1 of the course lectures usually take place on Tuesday (some scheduled Thursdays) evenings from 17.30 to 19.30 (GMT).
Note: While we do encourage students to join the scheduled sessions, in the event you are unable to attend a particular session, you will be able to catch up at a time that suits you, as all sessions are available afterwards as a recording.
Download a Sample Year 1 Timetable
Year One
| Semester 1 - Michaelmas Term | Semester 2 - Hilary Term | Semester 2 - Trinity Term |
| --- | --- | --- |
| The Role of People & Processes in Organisations | Managing Performance | Leading Change |
| Stability & Change | Socio-Technical System Design | Strategic Human Resource Development |
| Statistics & Action Research Methods* | Statistics & Action Research Methods* | Statistics & Action Research Methods* |
*This module runs across all three semesters in year 1 of the course.
Year Two
In year two or three (pending the progression route) of the course students will pursue their research dissertation.
Research Dissertation
In year two or three of the Masters Programme the students will complete their research dissertations. The overall aim of the research dissertation is to utilise the critical understanding and key concepts gained from the other modules and to apply these directly into an action-based workplace dissertation.
The dissertation provides students with an opportunity to pursue a topic of their choice (agreed by the course supervision and, if appropriate the student's host organisation). The objectives are: to create a research-practitioner capability in managing change and innovation and to contribute to a growing body of research-based scientific knowledge in this interdisciplinary domain.
It is expected that students will attempt to answer theoretically and operationally meaningful questions using methodologies appropriate to the questions being asked and to use analysis appropriate to the data produced. Acceptable research studies are theoretically driven, focus on key strategic operational topic, and contribute to the advancement of scientific research.
Course Progression Routes
The below chart lays out the progression routes open to students.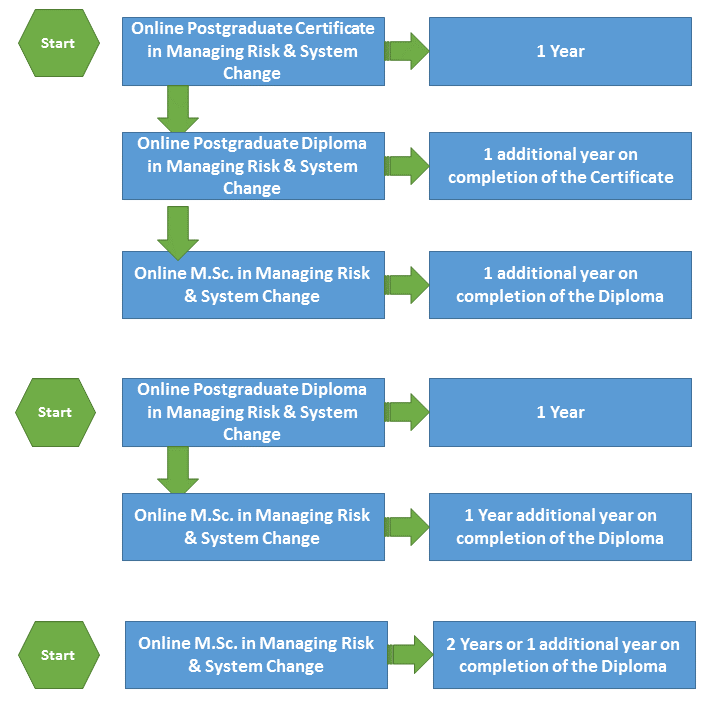 Who is the Course For?
Current students on the course are working in a diverse range of industries which include; Finance, Healthcare, IT, Defence Forces, Emergency Services, Aviation, Casino and Gambling, Law Enforcement, Process and Software Development and Pharmaceuticals. The course will be an excellent qualification to supplement the further education and career development of personnel who have responsibility for managing: risk, change; operations; quality; safety; human resources; planning; and system design. Generic knowledge and skills in managing risk and change enhances key organisational competence and increases resilience of industrial and service systems.
I typically work evenings and weekends, so I need to be able to log on to Blackboard when it suits me. This course affords me the required flexibility to attain this qualification.

Online Managing Risk and Systems Change Student
Assessment
The course consists of seven core taught modules plus the dissertation module. Students who pass all seven taught modules, but who do not choose to complete the dissertation, may be awarded the associated Postgraduate Diploma. Those students who do exit with the Postgraduate Diploma may return within five years to complete the dissertation and pursue the master's award.

A range of continuous assessment methods (no examinations) are used including case reports (4,000 words), mini projects (4,000 words), reflective essays (2,000-3,000 words), along with online blogs and dossiers.
Student Handbooks
Each year registered students are given a copy of an official student course handbook. The handbook will provide information relating to the course regulations, services provided, key dates and assessments. The student handbooks for year one and year two students are subject to review each year in line with college policy.
Admissions Requirements
Applicants will normally be required to hold an Honours degree (II.1)** or equivalent and have at least 3 to 4 years appropriate professional experience.
Applicants will also have to be in (or have access) to an employment setting that facilitates the applicant to be able to satisfy the applied research aspect of the course.
**Note: In exceptional circumstances, the course director shall make appropriate recommendations to the Dean of Graduate Studies for candidates who do not fully meet the above criteria but make a reasonable case for admissions otherwise i.e. based on their work experience. An applicant may be asked to provide written samples in support of academic writing ability or be set a piece of academic writing to complete.
Students whose first language is not English will need a recognised English language qualification in line with the requirements as laid down in Postgraduate Calendar Part 3 Section 1.5 Language of Instruction.
Applicants may also be asked to take part in a short interview (in person or via phone/skype) as part of the assessment process.
References: students are requested to submit the names of two referees on their application form. In the first instance our preference is for one academic and one professional reference. We do however have discretion to accept either two academic or two professional references. Note: the referees listed on the application are automatically emailed a secure link to complete and upload the reference. Any difficulties in relation to references should be brought to the attention of the course administrator.
How to Apply
Applications are reviewed on an ongoing basis. We encourage early application as offers will be made to suitably qualified applicants as they are assessed. Please note that all documents must be supplied and conditions of offer met by July 31st of the year of entry or any offer made will expire.
To apply for course please click on the link below.
Applications are completed electronically. Required Documentation:
Online Application Form (€55)
2 Reference Letters (see admissions requirements section for details)
Curriculum Vitae
Copies of transcripts (results breakdown) where applicable.
Deadline for applications: 31st July 2023 (**please note that applications are reviewed on a rolling basis and the course may be filled prior to the closing date**)
Course Fees (2023/2024)*
A list of current course fees is available in the Fees and Payments section of the Academic Registry website.
*All fees are subject to review each year.
Please consult information about eligibility for admission as an EU/Non-EU student and note that EU applicants must satisfy specific requirements to be deemed eligible for EU fee status.
Testimonials
We asked some of our current and past students what they thought of our Online Masters in Managing Risk and System Change.
Thomas Chitseko - Graduate
'The world that we now navigate is fast-moving, complex, and interconnected. This means that when things go wrong, they can go very wrong indeed. Risk management professionals are responsible for perceiving the dangers in organisational systems and taking action to keep them running smoothly and safely. But 'risk' is a slippery concept and effecting organisational change is notoriously difficult. That is where the TCD MSc in Managing Risk and System Change comes in. This course is an audacious effort to combine expertise from across the spectrum of safety-critical industries to both improve practitioners' thinking about risk and to equip them with the tools that they need to make positive change within their organisations. While the scope of the subject matter is far too broad to be fully captured in a 2-year degree, the course teaches concepts and skills that help students to understand the problems of their own organisational contexts and then to engineer solutions to these problems. While some of these concepts are abstract, the emphasis of the course is relentlessly pragmatic and the constant challenge to students is to develop better understanding to enable and inform better, safer operations. I personally have benefited enormously from the development of my thinking that occurred during my study with TCD as I have made the transition from sea-going naval officer to shore-based maritime risk consultant, and I'm sure that the impact of my 2 years' study with Nick, Siobhan and the team will continue to resonate for the rest of my career.
Colette Kelly – Graduate
"I expected an amazing standard of education and I was not disappointed.  The factor, however, that motivated me to attain a level of conceptual change, that translated the acquisition of information into a new way of thinking and a new perspective on how I perceive the world, was the ethos of encouragement, genuine interest and belonging I experienced through every contact with the lecturers and the support team. My lecturers facilitated an expansive learning experience; my supervisors lifted spirits and curtailed effusive prose throughout a tumultuous period of thesis preparation and writing, the support team reassured with an enthusiasm that was infectious at crisis points.
My M.Sc. in Risk Management and System Change course was delivered online, with regular onsite events occurring across two years.  The creativity with which the course team designed and delivered the course ensured that a diverse group of students, located world-wide, bonded in a manner that is a testament to the holistic quality of a Trinity education. 
I made life-long friends.  From the initial enquiry through to graduation and beyond, the level of support and care offered continues to inspire and surprise me." 
Gavin Curran - Graduate
"The Masters in Managing Risk and Systems Change provides an excellent opportunity to learn from both a theoretical and practical stance, about the key ingredients for successful system change and risk mitigation. A particular highlight of this course involves the interaction with students from a variety of backgrounds, each with different industry experiences and knowledge.
The lecturers facilitate an open and highly respectful atmosphere and encourage all students to work together and share their knowledge. The content covered is insightful and its delivery is highly professional and accessible. The flexibility of attending and completing this course online makes it a realistic achievement for those willing to take up the challenge."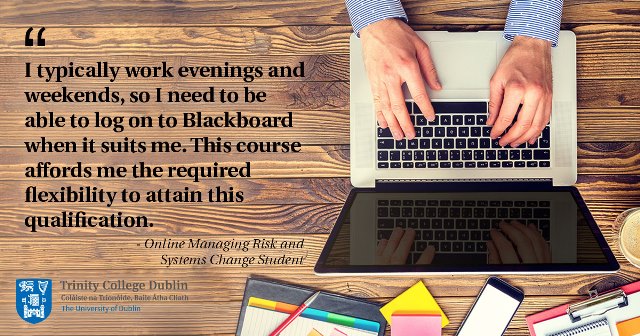 Niall Ferns – Graduate
"I am certain that the delivery of third level on-line courses will prove to be a major step forward in the education of students. In particular, the delivery of the MSc in System Design and Risk has been very beneficial for me. I typically work evenings and weekends so I need to be able to log on to Blackboard when it suits me. This course affords me the required flexibility to attain this qualification.
The on-line sessions are an important feature of the course. The notes are well presented, informative and easily understood and provides for excellent interaction between the students. At all times the supervisors and tutors are available whether to clarify any issues or to offer guidance on the course.
The weekly work and module assignments are challenging so it is important to manage your time to ensure that you are up to date. Overall, I have found the course stimulating and the interaction with the fellow students has been a major factor in the success of the course. I would highly recommend this on-line course to prospective students"
Sean O 'Hara – Graduate
" TCD's Online M.Sc in Managing Risk & System Change has been a fantastic mechanism for acquiring knowledge.
For those of us who work full time and could not therefore contemplate attending a conventional degree course on either a full or part time basis, this innovative approach has resulted in a highly flexible and adaptable course, carefully structured for all students of all ages (56yrs in my case),
I have enjoyed the huge academic challenge and the interaction with practitioners from a wide range of industries has been most enlightening. Having spent over 35 years in the aviation industry, this course is evidence that it's really never too late to learn!
Suffice to say that the 'comfort zone' will never be the same again"
David Browne – Graduate
"I completed the MSc in Managing Risk and System Change through the School of Psychology in 2017. The excellent course vastly expanded my academic horizons and took me along exciting new pathways of learning that were unknown to me prior to commencing the course. The knowledge I gained through both online lectures and directed research has equipped me to think and work in my operational environment using the very latest concepts and innovative approaches to risk management and system change in a high risk operational setting.
The course was delivered by world-class subject matter experts, the academic resources available in the university were second to none (and continue to be as alumni) and the administrative support was excellent. As the course was delivered using an online platform, I could join the virtual classroom from anywhere in the world and interact at times that suited me, which afforded me huge flexibility in engaging with all course content. I would highly recommend the course to anyone thinking about progressing their academic knowledge in safety, risk and change, and to anyone seeking to better equip themselves in the workplace in the management of these critical areas."
Finola Cashman - Graduate
"I am a non-traditional student. I work full-time with the H.S.E., and have been out of academia for over 15 years. I applied to the M.Sc. in Managing Risk and Systems Change because it was so relevant to what I do. It has been a wonderful opportunity and a great learning experience for me. My understanding and views on managing risk and systems change in socio-technical systems, such as healthcare, have been considerably broadened by what I have learned.
This programme is both exciting and genuinely hard work. The course modules are packed with information and are fast-paced. The assignments encapsulate real-life problems and require real-life response times. The quality and volume of course material provided are excellent. The TCD library is in one word, impressive, and truly accessible to a novice researcher like me with the invaluable assistance provided by the librarians.
As this course is delivered on-line it provided me with the flexibility needed to manage my career, be available to my family, and incorporate a challenging course of study. On-line learning, while making this course possible for me to study and work full time, it can also be isolating but the lecturers and tutors are exceptionally responsive and support me by making themselves available during times that fit my busy schedule. This course is definitely worth the time and effort."
Information Evenings 2023
Register Now for our Online Information Evening taking place on Thursday May 4th from 6pm.
Typical Open Evening Structure
Course Structure
Student Learning Software Demonstration (Backboard)
Is This Course For You
Timetable
Assessments
Entry Requirements
Tuition Costs
Hear from current students about their experience.
Further Information
For further information on the course please contact:
Professor Nick Mc Donald
Academic Programme Development
nmcdonald@tcd.ie
+353-1-896-1471