Diversity in the Analytics Sector
Hosted by Central Bank of Ireland, this event shines a spotlight on 'Diversity in the Analytics Sector' presented by field experts from corporate, governance and academia sectors. After delivering keynotes in their areas of expertise, our speakers will take part in a panel discussion under our theme of diversity in the analytics sector. 
Jo O'Donovan, Director of Small Business, eir and Adrian Varley, Director of Prudential Analysis and Inspections, Central Bank of Ireland will offer unique perspectives in their presentations on the importance of diversity within the analytics sector. 
Jo O'Donovan is a technically proficient and commercially aware professional with 15 years' experience in management and analytical roles. In her role as Director of Analytics with eir, she was the recipient of the Analytics Leader of the Year award from the Analytics Institute in recognition for her work re shaping the analytics function in eir.  She has the ability to see change not as the end of something but rather as the beginning, and has recently made a significant change into a new role as Director of Small Business for eir. A specialist in Business Intelligence, Analytics and Transformation she has an extensive academic background in all key disciplines. Jo is passionate about everything she does and works hard to create environments where people can achieve to the best of their ability. 
Jo will present on 'The importance of diversity and inclusion while building out a high performing analytics team', drawing on her personal experiences.
Adrian joined the Central Bank in 2010 and is the Director of Prudential Analysis and Inspections. Working with the directors of prudential supervision for the insurance, banking and asset management sectors, he is responsible for the risk analysts, data analysts and inspectors that support firm specific supervision teams. He is a champion for the greater use of data analytics and the evolution of supervisory approaches to mitigate financial, operational and behavioural risks. 
Adrian will present on Trust, Objectivity and the Need for Sustainable Change - 'Let's break the mould and show how the analytical community can be a force for honesty, transparency and real power to help us all make better decisions.  There are choices in life but not everyone is represented at the table when those choices are made. This is about how we can avoid bias, avoid complacency and not accept the status quo.  We can and must do better.  We can make our work more accessible.  We can be more honest about the potential harm.  We can fix things before they break!'
A panel discussion will follow featuring Dr. Joan Cahill (Trinity College), Peter Brabrazon (Specialisterne),  Dónal Doyle (Google), and joined by Adrian Varley (Central Bank).  
Dr Joan Cahill is a Research Fellow and Principal Investigator at the Centre for Innovation in Human Systems (CIHS), at the School of Psychology, Trinity College Dublin, Ireland. Joan is passionate about human factors and ethics and specifically technology interventions that prioritise human value and wellbeing, and that positively impact society.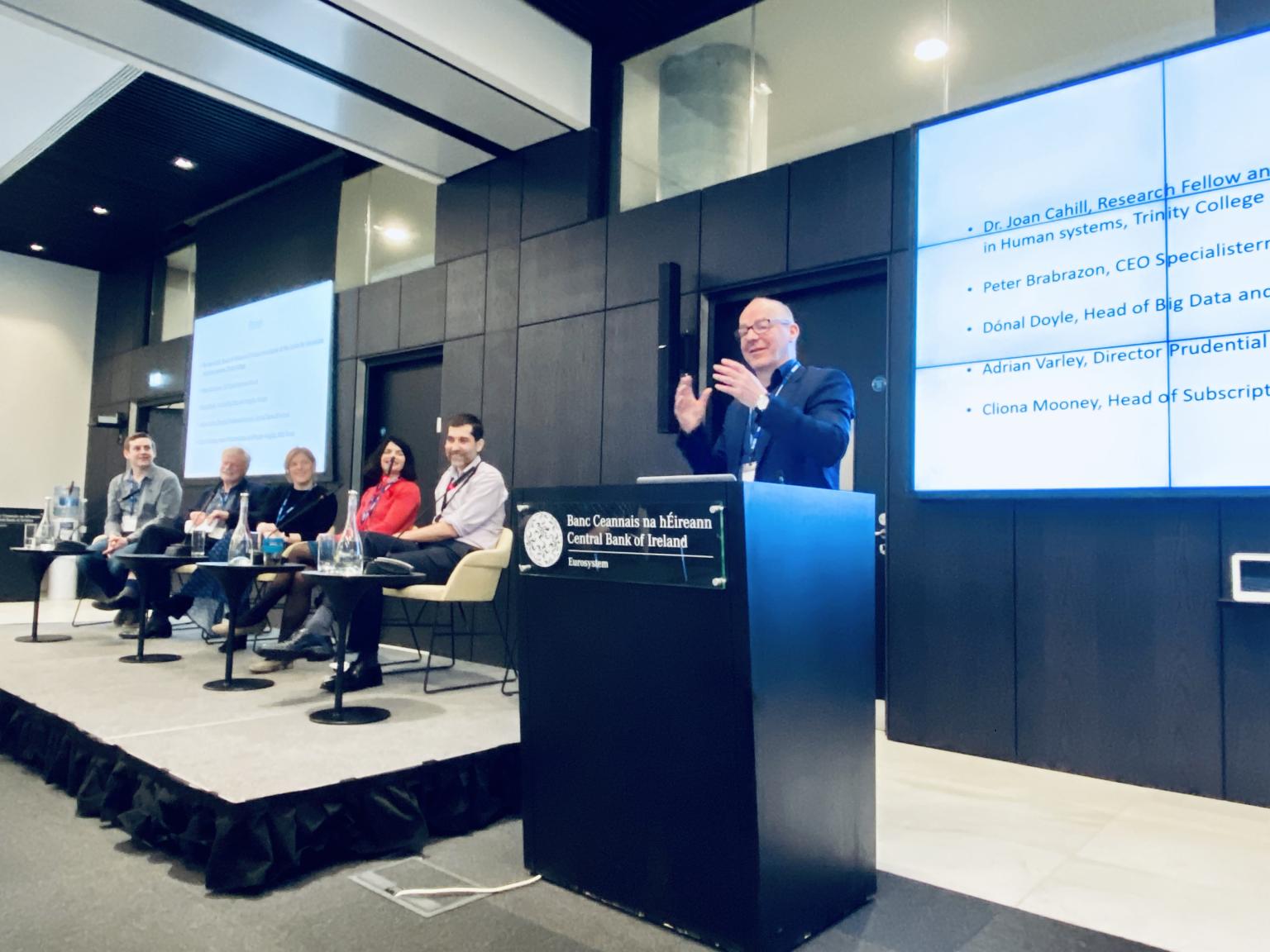 Peter Brabazon is the CEO of Specialisterne Ireland. Specialisterne is working to place people with autism, or similar challenges, in employment in its partner companies. Since its founding, Specialisterne has worked with over 700 people with autism and directly helped over 200 gain work experience or long-term employment. Last year it supported 62 people gain and/or retain employment. Specialisterne is an inclusive social enterprise and does not charge its candidates with autism with its funding coming from its partner companies and from the State and the EU. 
Dónal Doyle is Head of Big Data & Insights at Google and has a wealth of experience in business intelligence and data analytics. He also holds a PhD in machine learning from Trinity College Dublin. In his roles in Google, he leverages data to develop business insights and identify potential opportunities for driving revenue and/or efficiencies, Dónal has partnered with Sales and Marketing teams to assist them in making great business decisions. Prior to Google, Dónal worked in the start up space delivering solutions to Telecoms, e-commerce and Flavour & Fragrance companies.