Celebrating 50 Years of Political Science Graduates from Trinity College Dublin
A series of events took place 23–24 August 2013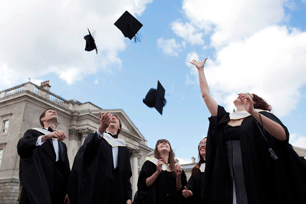 Over the past five decades, graduates from Trinity's Political Science Department have played an influential role in shaping the political, educational and business landscape both in Ireland and overseas. Founded in the 1960s under Professor Basil Chubb, the embryonic Department of Political Science produced its first graduates in 1963 – also a year in which US President John F. Kennedy visited Ireland, women protested on the streets of Dublin against a controversial new 'Turnover Tax', and The Beatles performed in the Adelphi Cinema.
The Department of Political Science invited former political science students, including of course all those who graduated with degrees in political science before the Department was established, to join us at a series of special events to mark 50 Years of Graduates of the Department of Political Science from Trinity College Dublin. The event brought together former students and lecturers at a coffee morning, roundtable discussion and banquet, and was a lively and successful event.
On Friday 23 August there was a coffee morning in the Arts Building in which alumni relived their student days and caught up with their old classmates and lecturers. On Saturday 24 August there was an alumni roundtable and reception, chaired by Professor Michael Marsh (TCD), in the Long Room Hub, at which four distinguished alumni spoke of their time in Trinity and of the impact that their Trinity experience had had on their subsequent lives and careers. The speakers were Kingsley Aikins (1974; CEO, Diaspora Matters); Sara Morris (1989; Head of Public Affairs, National Transport Authority, Dublin); Ed Mulhall (1977; former managing director RTE News and Current Affairs); Averil Power (2000; Fianna Fáil Seanad spokesperson on Education and Skills). After the speakers, other alumni present made contributions to the discussion before all were invited to a reception addressed by Trinity's Vice-Provost for Global Relations, Prof Jane Ohlmeyer. This was followed by a Reunion Banquet held in the College's haute cuisine 1592 Restaurant. Those present included graduates from the 1970s, 1980s, 1990s and 2000s, not to mention several long-serving members of departmental staff as well as some newer recruits, as well as former executive officers Orla Sheehan and Miriam Wilson.
If you would like to be kept informed about future events, or would just like to get in touch with your news, please let the department know by contacting our Executive Officer at:
Phone: +353 1 896 1651
E-mail:  polsci@tcd.ie