Funding, Fees and Scholarships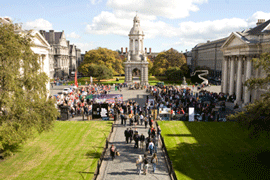 Application and tuition fees are set by the Academic Registry department, please see the Academic Registry site for further information.
The Department of Political Science generally admits six students per year to the PhD programme, and typically provides financial support in the form of tuition grants, stipends, teaching and research assistantships, along with support for postgraduate conference and research travel. (Fee levels may increase in future years, however the Department typically pays these fees on students' behalf). The Department has also offered studentships in the past through the Provost's PhD Project Awards.
PSAI PEC Travel Funding Support Scheme
PhD students who are PSAI members are eligible to apply for this scheme for travel expenses:
https://www.psai.ie/funding-calls/
Graduate students are given the opportunity of teaching and tutoring on the Department's undergraduate courses, useful preparation for going onto the job market.
Applicants are strongly encouraged to investigate other PhD scholarships/funding options: