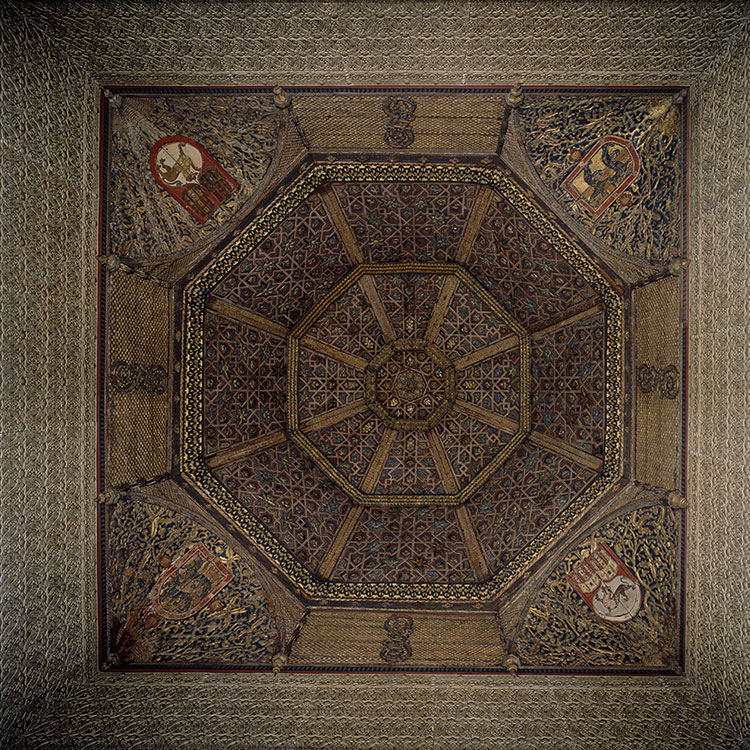 V&A Torrijos ceiling (c.1490, Carved and painted wooden ceiling from Torrijos, Spain, V&A 407-1905)
Crafting Medieval Spain: the Torrijos Ceiling in the Global Museum
Rethinking the legacy of Islamic art in Europe
We are delighted to celebrate the launch of a fascinating new project with The Victoria and Albert Museum (V&A) led by our colleague Anna McSweeney and Mariam Rosser-Owen, Curator Middle East, Asia Department, titled Crafting Medieval Spain: the Torrijos Ceiling in the Global Museum.
The project researches the medieval Spanish ceilings from the now-lost palace in Torrijos, near Toledo, now housed in the V&A and other museums around the globe. This interdisciplinary project focuses on four monumental wooden ceilings from the Torrijos palace. It investigates how Islamic techniques were adapted to Gothic taste and how artistic heritage was dispersed in the 1900s. It addresses issues of display, conservation and restoration. For further information on this inspiring project, please inspect the project website and project Instagram account.
This project is funded by The British Academy Leverhulme Trust and supported by the Trinity College Dublin Arts and Social Sciences Benefactions Fund.