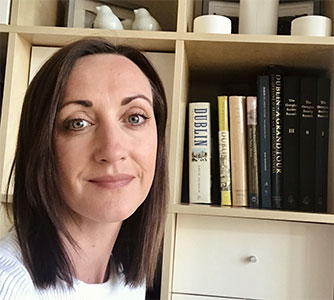 Dr Melanie Hayes
Irish Research Council Advanced Laureate Project Fellow, CRAFTVALUE.
My research focuses largely on Anglo-Irish eighteenth-century architectural history, with a specific interest in the transnational development of architectural culture and practice in the early Georgian period. I am particularly concerned with the people who populate this building history, and the broader socio-political landscape which informs the formal narrative.
My doctoral thesis, 'Anglo-Irish architectural exchange in the early eighteenth century: patrons, practitioners and pieds-à-terre (TCD, 2016) http://www.tara.tcd.ie/handle/2262/85198
is a cross-disciplinary contextualisation of inter-relationships between British and Irish architectural culture and practice in the first half of the eighteenth century.
My recent research output has continued to build upon this approach, seeking to disseminate wide-ranging inter-disciplinary findings and methodology in both an academic context and at a wider public interface. My work on the research project surrounding the conservation and presentation of the museum at 14 Henrietta Street, Dublin involved collaborative engagement with public bodies and community stakeholders in bringing new research of societal importance to the wider public. This work utilised a range of innovative delivery platforms and dissemination tools including the production of multi-media digital content, public symposia and interactive workshops, and the upcoming publication of a significant volume on eighteenth century architectural and social history: The Best Address in Town: Henrietta Street, Dublin and its first residents, 1730-80
My current role as an Irish Research Council Advanced Laureate Project Fellow on  CRAFTVALUE adopts a similarly wide-ranging and rigorously investigative approach in seeking to challenge the traditional focus on the individual designer and patron to create a new skills-based perspective on the architecture of Britain and Ireland in the long eighteenth century. https://craftvalue.org/research-team/
Press & Media
Featured in a series of videos that takes a look at some of the key historical research, conservation and restoration work that went in to creating 14 Henrietta Street: Making a Museum, Meet the authors, Dr Melanie Hayes, eps. 1- 6

Featured in Olivia Kelly, 'Lipstick on a pig? Why Dublin has failed to pretty-up O'Connell Street' The Irish Times, 5th May. 2019. https://www.irishtimes.com/news/environment/lipstick-on-a-pig-why-dublin-has-failed-to-pretty-up-o-connell-street-1.3881825
Featured in Olivia Kelly, 'Last Georgian house on Dublin's O'Connell Street is at risk from neglect' The Irish Times, 7th Feb. 2019. https://www.irishtimes.com/news/social-affairs/last-georgian-house-on-dublin-s-o-connell-street-is-at-risk-from-neglect-1.3784304
Featured in 'Henrietta Street museum,' RTE Nationwide, RTE One, 7pm, October 13, 2017. https://twitter.com/rtenationwide/status/918775837813551105?lang=en
Selected Publications
Melanie Hayes, 'An Irish Palladian in England, the case of Sir Edward Lovett Pearce' Georgian Group Journal, XXIX, (June 2021).
Melanie Hayes, Georgian Beginnings,14 Henrietta Street, 1750-1800. DCCCC, 2021.
Melanie Hayes, The Best Address in Town: Henrietta Street, Dublin and its first residents (1720-80). Four Courts Press, 2020.
Review by Melanie Hayes: 'Living Legacies: Ireland's National Historic Properties in the care of the OPW,'  (OPW, 2018), Irish Arts Review, Summer (June-August) 2018.
Melanie Hayes, 'Sir Gustavus Hume (1677-1731): courtly connections and architectural connoisseurship in the early eighteenth century.' Irish Architectural and Decorative Studies, vol. XIX, 2017.
Melanie Hayes, 'The Son he never had: Zeus' parthenogenetic creation of a surrogate son?' The Undergraduate Journal of Ireland and Northern Ireland, vol. I, 2010.
Teaching
My teaching portfolio encompasses material from classical antiquity to the post-modern period, for which I have developed innovative student-based teaching strategies which aim to promote embedded learning practices and direct engagement in object-based learning in large and small group contexts. I have contributed to a broad range of undergraduate and postgraduate programmes, including Junior Freshmen modules, Introduction to the Practice of Art History; Introduction to the History of European art and architecture; an elective module on Italian architecture (1400-1680) City, Court and Campagna; visiting student and broad-curriculum programmes, Making and Meaning in Irish Art, Visualising Ireland, and Art and Architecture of Ireland; research-led modules Studies in Irish Architecture and Ornament and M. Phil + Ireland.
Contact Details
Dr Melanie Hayes
Department of the History of Art and Architecture
Trinity College
Dublin 2.
Telephone: +353 1 896 3396
Fax: 00 353 1 8961438
Email: hayesme@tcd.ie