Trinity's Tobacco Policy
Trinity is a tobacco free campus with three exceptions as per the map below.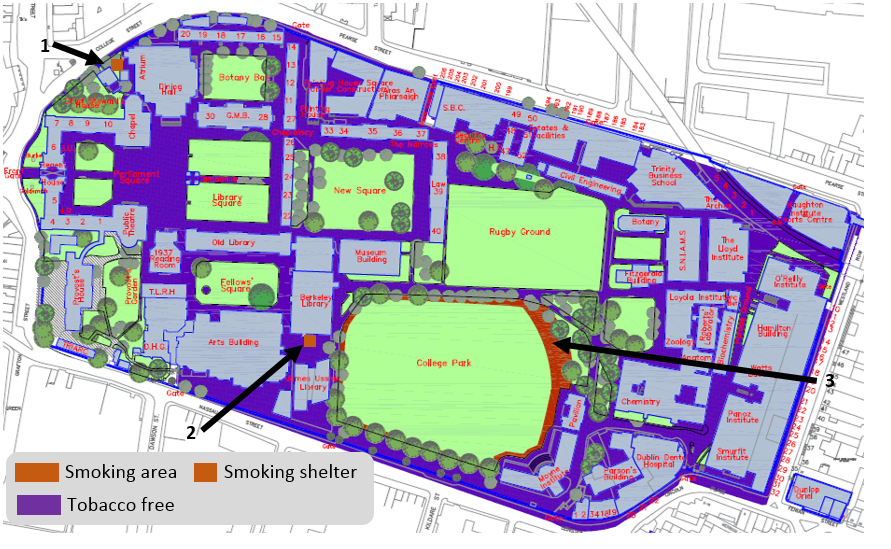 The proposal was accepted by Board in December 2018 is available here.
How was the Tobacco policy developed?
From April 2013 to December 2018, an exploration of how Trinity's tobacco policy could be changed was undertaken. The process included an investigation into become a tobacco free campus, installing smoking shelters on a temporary or permanent basis and implementing tobacco free zones. An outline of the process to date is below. The process was guided by the Healthy Ireland: Tobacco Free Ireland Report and by this document from the National Center for Tobacco Policy in the US.

Tobacco Free Zones
In June 2016, Trinity installed Tobacco Free Zones in three zones of the Trinity campus. In these zones, smoking was prohibited both indoors and outdoors.
The zones were introduced after protracted negotiations with key stakeholds in Trinity. The zones chosen were in areas of College where complaints about smoking were most often made.
We respectfully asked that people refrain from smoking:
1. Out of consideration for other people who walk through, study or work in these areas
2. To encourage a cleaner campus
3. To make Trinity a healthier campus
Effect of the Zones
There was an 81% reduction in smoking in the zones. A full report is available here. In Dec 2018, the Tobacco Policy Group used the experience of implementing Tobacco Free Zones to successfully apply for a tobacco free campus.
The Tobacco Free Zones Proposal is available here.
Details of 2017/2018 campaigns to encourage compliance are available here.