Would you like to paint a mural in the Buttery?
Introduction
The Healthy Trinity: Healthy Eating Committee would like to install a mural about Irish and European food seasons as a means of increasing consumption of local, seasonal food amongst Trinity students and staff.
This mural is generously funded by Keelings and the Faculty of Health Sciences.
What will the mural look like?
A space on the wall in the Buttery sized approximately 7 foot (2.1 metres) in height and 8 foot (2.4 metres) in width has been identified as a location for the mural.  See image below.

The Committee would like a mural that will:
Convey what's in season in Ireland at different times of the year
Convey what's in season in Europe at different times of the year
Ask people, "What's local to you?" meaning what does the reader of the mural consider local.  Will they only eat Irish in season? Will they eat European? For example, often when cherry tomatoes from Ireland become unavailable, Spain and the Netherlands still produce them.  Will the mural reader eat those?
Consider how food is transported
The mural will be accompanied by a plaque explaining its purpose.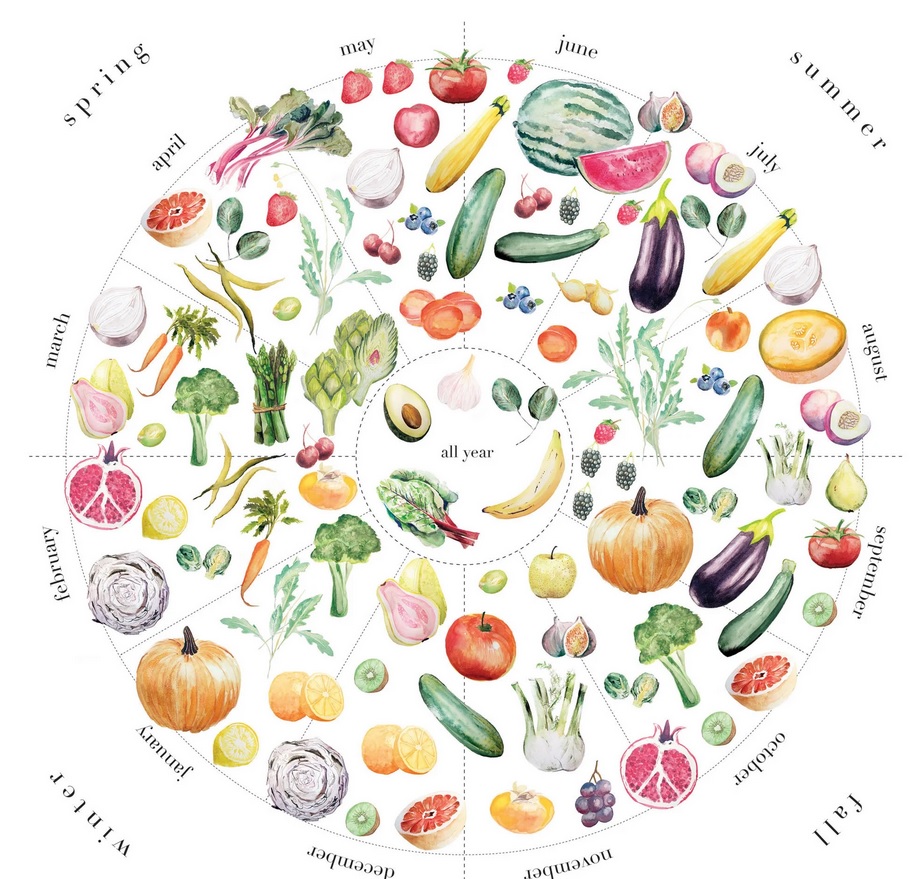 Some mural ideas are included in "Appendix A – Mural Ideas" and right, as an indication of what the Committee is picturing but we are completely open to ideas.  Applicants might also consider reviewing the Dublin Canvas initiative https://www.dublincanvas.com/
Who can apply to create this mural?
The Healthy Trinity: Healthy Eating Committee is inviting Trinity students, staff, and alumni to submit their mural ideas electronically either by creating a digital mural prototype or by taking a picture of a hand drawn one. 
How will the successful applicant be selected?
The Healthy Trinity: Healthy Eating Committee and TCD SU will select a winner.  If none of the entries are considered of an appropriate standard, the Committee will invite submissions from outside Trinity. Trinity Catering will have the ultimate decision on mural content.
What resources should be used to inform the design/content of the mural?
Please use:
https://www.eufic.org/en/explore-seasonal-fruit-and-vegetables-in-europe
https://www.bda.uk.com/food-health/your-health/sustainable-diets/seasonal-fruit-and-veg-a-handy-guide.html
Technical guidance on seasonality will be available from the Committee. 
What budget is available for creating the mural?
A maximum of €500 is available for this work. This includes the cost of all materials and labour. A further €150 voucher will be awarded for delivery of the mural on time.
Timeline for the completion of the work
| | |
| --- | --- |
| Date | Action |
| Monday, 14th February | Deadline for electronic submissions of mural ideas |
| Monday, 21st February | Commence artwork |
| Monday, 7th March | Complete artwork |
| Wednesday, 23rd March | Unveil artwork as part of Health and Sports Week |
How can I apply?
Please email Moira O'Brien at obriem10@tcd.ie by 1800 on Mon 14 February with the following:
A PDF, image or .docx providing an outline of the proposed mural design
A budget indicating the cost of delivering your design
A specification of how you will deliver the mural within the time indicated, i.e., by 07 Mar
Appendix A: Mural ideas
Note: Images shown do not necessarily reflect seasonality in Ireland