Submission to Dublin City Council on transport policy to support social distancing as Dublin reopens after Covid-19 restrictions
Summary
In June 2020, Trinity made this submission to Dublin City Council.
Social distancing has been pivotal to the successful suppression of Covid-19. Yet, as our society and economy open back up, adequate social distancing will become difficult or impossible on public transport.
80% of the Trinity community commutes less than 10km to our campus with active modes popular up to that distance. Our submission proposes that walking and cycling be encouraged and enabled for those who travel less than 5kms to Trinity's campus, so that those who can't travel actively and/or those whose commute is greater than 5km have space on public transport or on the roads. We propose the following:
Infrastructure:
Change the four routes as detailed in the Recommendations per Route section by:
Widening footpaths
Installing bike lanes and increasing the width of lanes that are too narrow
Prioritising walking and cycling at junctions
Where feasible, use greening features i.e. planters and shrubs etc. to make the changes above.
Reducing speed limits on roads
Communications & Support
To support this work, Trinity will run a communications campaign online and on campus aimed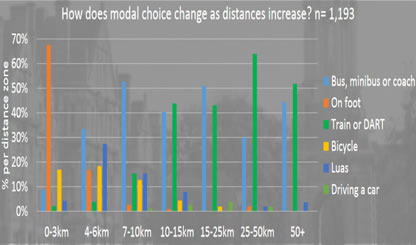 at students and staff. Its key messages would be:
If you live within 2km of campus, consider walking to campus to leave space on public transport or roads for those who can't travel actively, or who live further away;
If you live between 3 and 5 kms from campus, consider cycling. By doing so you help those who can't travel actively and who need public transport or roads;
Details of walking and cycling times for a set of distances (2km, 5km, 7km, etc.), location of showers, bike parking etc. and a bike buddy scheme;
Details of how to use Dublin, Bleeper and Moby bikes
How to sign up to Trinity's Bike to Work scheme (we will also advocate for a student equivalent)
A request that the Department of Transport further incentivise the purchase of bikes and e-bikes
Research
We plan to complete research to examine changes in travel patterns as Covid-19 restrictions on Dublin are eased and businesses, services, and education and research facilities reopen. We are also interested in researching the effect of a city-wide social marketing campaign that urges people who travel less than 10kms to commute actively to support those who must use public transport or cars. We would like to discuss these research interests further with Dublin City Council, as these questions and the research outcomes are of importance to the City community beyond Trinity.