Placemaking: Social connection, the environment, and the future of cities.
By Suzanne Smith, 2nd year medical students as part of the #TCDMedStudentInitiative on Healthy Trinity Instagram
What is placemaking?
Placemaking is taking a public space in an urban environment and turning it into an area that allows for social activities. For example, during the pandemic, many cities converted parking spaces and streets into outdoor dining areas. Placemaking is not new, but has had significant effects on social connections and the environment during the pandemic. The deckchairs on campus pictured, are a great example of placemaking.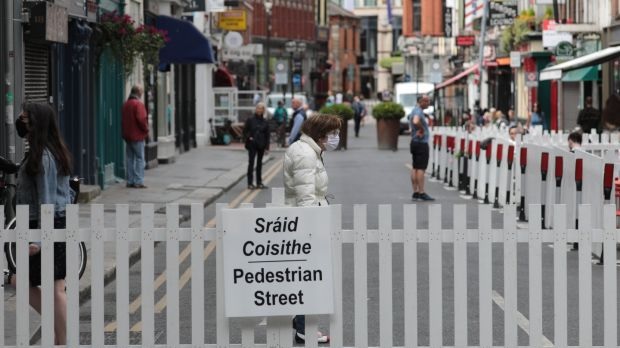 Project for Public Spaces states that placemaking is, "more than just promoting better urban design. Placemaking facilitates creative patterns of use, paying attention to the physical, cultural, and social identities that define a place and support its ongoing evolution." Covid stripped so much culture from cities, and individuals, and social (and covid safe) placemaking areas allowed the normality the world needed after being isolated for so long. A large take away from placemaking during the pandemic is the idea that we can utilize these spaces outdoors long term. Grafton Street extended its pedestrianization trials through August over last summer when originally planned to end in July; many people felt it improved the overall experience. Cities like Boston transformed the North End streets into an outdoor dining area. Placemaking adds a vibrance, cultural character, and overall sense of community that could become part of a normal life going forward.
Placemaking and the Environment
Placemaking has had a positive environmental effect. Cities removing car parks not only lower the amount of places people can park, but encourage use of other forms of transport including walking and cycling.
According to City Nation Place " the goal is to liberate public space from cars and give it to people who want to walk and enjoy the city…in Berlin, a city which has been known to take 10 years to build a bike lane opened up 14 miles between in less than ten days. These aren't isolated phenomena…New York. Bogota. Paris. Sydney. London. Cities around the world are reimagining how public space can be better used for residents….we're teetering on the edge of a sustainable transport revolution."
Energy News Network agrees. They say, "As cities and towns figured out how to both support local businesses and protect public health, many considered new uses for public roadways. Many municipalities allowed restaurants to expand outdoor seating into parking spots along the street. In Boston's infamously congested North End, diners overflowed the curbs into spaces that previously held parked vehicles almost constantly." This ultimately resulted in less traffic congestion, less emissions and less pollution.
In Dun Laoghaire, the Director of Infrastructure and Climate Action gathered data showing how congestion has eased for drivers and has also seen an increase in cyclists. Seizing the opportunity to utilize spaces like this in urban environments could potentially be a long term idea that positively impact the environment.
Here are some of the locations on campus that are perfect for placemaking!
References:
City nation place. The politics of space, culture, and placemaking for post-COVID place branding. June 2020. https://www.citynationplace.com/the-politics-of-space-culture-and-placemaking-for-post-covid-place-branding
Dr. Norton, Conor. Irish planning institute. Making quality places: Placemaking and urban regeneration. https://npf.ie/wp-content/uploads/Conor-Norton-IPI-Placemaking-and-Urban-Regeneration.pdf
Kim, Joanne, Love, Hannah, Vey, Jennifer S, and Hadden Loh, Tracey. What transformative placemaking taught us in 2020, and how it can help build a better future. Brookings. January 2021. https://www.brookings.edu/blog/the-avenue/2021/01/13/what-transformative-placemaking-taught-us-in-2020-and-how-it-can-help-build-a-better-future/
Project for Public Spaces. What is placemaking? https://www.pps.org/article/what-is-placemaking
RTE. Council says Dun Laoghaire cycleway has reduced traffic in the area. September 2020. https://www.rte.ie/news/regional/2020/0924/1167238-cycleway-dublin/
Shemkus, Sarah. Energy News Network. "Streets are for people" : Boston reflects on the role of roadways after Covid-19. October 2020. https://energynews.us/2020/10/26/in-boston-pandemic-prompts-reflection-on-role-of-streets-after-covid-19-passes/
Spencer Buell. Boston Magazine. How Boston could save winter by finally doing something fun with its streets. October 2020. https://www.bostonmagazine.com/news/2020/10/29/boston-winter-open-streets/