Study Abroad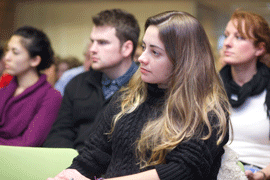 The Department of Political Science is a partner in Socrates exchanges with the Institut d'études politiques in Strasbourg and Paris, the University of Zurich, the University of Bologna, and the University of Mannheim.
Students taking Political Science as a subject in joint honors may also go abroad on an exchange administered by their other department, subject to approval of their course of study abroad by the Department of Political Science. There is close co-operation among the four departments involved in the BESS programme (Business Studies, Economics, Political Science and Sociology).
In addition there are opportunities for students to go on one of several international exchanges. These are open to all students on a College-wide basis and students must apply for these through the International Admissions & Study Abroad office.
Outgoing Erasmus Students
Applications for Erasmus exchange in the 2019/20 Academic Year are now open.
Have a look at our School of Social Sciences and Philosophy Study Abroad website. There you will find information on applications, destinations, etc.
To apply for Erasmus study, please fill out the online application form.
If you would like more information, please have a look at the slides from the Erasmus and International Exchange Information Meeting (pdf) held 1 November, 2017. You are also welcome to meet with our Study Abroad coordinators during their office hours.
Students Who Have Been Offered a Place
If you have any questions regarding any of these applications, please feel free to contact the Political Science office or the Department's Exchange Coordinator, Tom Paskhalis.
Requirements
Any student who takes part in an exchange during Junior Sophister year and hopes to study single honors politics in Senior Sophister year must ensure that the modules taken during the exchange include a module on political science research methods, equivalent to POU33011 and POU33012, that is approved by the Department's international coordinator, Tom Paskhalis.
The Department of Political Science can authorise a 'study abroad' only if exchange programmes are organised by the Study Abroad Office, the Department of Political Science, or another Department/School in Trinity that is involved in the student's degree programme.