HA4320 City, Court, Campagna: the foundation of early modern architecture in Europe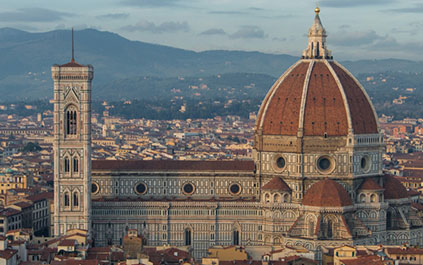 The dominant patterns and typologies of western European architecture in the early modern period originate in Italy in the fifteenth century. In the cities and courts of central and northern Italy a virtual laboratory of architectural form generated new typologies of domestic, civic and ecclesiastical architecture. In particular the development of domestic or residential design as a subject of focused architectural endeavour reflects the increasing secularisation of European society.
Module Organisers:

Professor Christine Casey

Duration:
Contact Hours:

2 lectures pw, and 1 seminar per fortnight

Weighting:
This module aims to introduce students to the formal characteristics of architecture in the period 1400-1700, to examine the relationship of function, form and patronage in architectural design and to consider in particular the development of the villa and palace form.
Learning Outcomes:
Upon the successful completion of this module students should be able to:
describe and analyze the relationship of plan, elevation and section of key European buildings from the period 1400-1660
identify the manner in which specific historical circumstances influenced the character of domestic and public architecture in the period.
use correctly the stylistic terminology employed in the description and analysis of renaissance and baroque architecture.
assess the content and character of the period's most significant architectural treatises.
engage with the principal modern authorities on the architecture of the period and identify the dominant approaches within this literature.
make an effective visual presentation on a specific topic that demonstrates creative research.