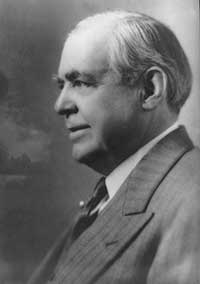 Image: Chester Beatty (c) National Portrait Gallery.
Migrant Manuscripts: The Western Manuscripts of the Chester Beatty Collection and Twentieth-Century Provenance Studies
24 September 2015
Trinity Long Room Hub, Trinity College Dublin
From 9.00
Registration
9.30
Welcome and Introduction to the Migrant Manuscripts Project, Laura Cleaver (Trinity College Dublin)
10.00-11.15

Session One: Chester Beatty as Collector of Western Manuscripts

Buying History: Chester Beatty and the Golden Age of American Book Collecting, Danielle Magnusson (Trinity College Dublin)

In 1877 Bernard Quaritch noted in The Times that, "A library formed by a shrewd, liberal-handed, well-educated collector is sure to realize ultimately a profit…old books are as good as investment as anything else." This was still the case in 1932, when Andrew Block commented in The book collector's vade mecum that, "in spite of world depression books are still one of the safest investments." Book prices may have fluctuated considerably from year to year, but the investment potential of books suggests that they often were able to outperform inflation. Nonetheless, it is difficult to argue that book collectors were motivated by investment return alone, particularly in the case of American collectors. 1932 also happened to be the year of two major book sales: the Lothian sale in New York and the Chester Beatty sale in London. While the Beatty sale made £26,500, the Lothian sale brought in $410,000, overshadowing its English counterpart both in total sales and in the prices paid for individual manuscripts. These figures suggest more about the American market for rare books than the quality of Beatty's manuscripts. Even by 1914 Maggs Bros. were shipping books to America almost every week, and American dealers such as George D. Smith and A. S. W. Rosenbach were determined to acquire the rarest books Europe had to offer. This paper will examine the American rare book market in which J. Pierpont Morgan, Henry Huntington, and Henry Folger amassed their libraries. Beatty may have been collecting during this "golden age of American book collecting," but his experiences would have been very different. The Times lamented in 1906 that, "thanks to the unlimited commissions of two or three rival American collectors, it seems hopeless for English collectors to attempt to enter the arena in the face of such odds." I argue that by understanding the momentum caused by rival American collectors, and their impact on manuscripts sales across both sides of the Atlantic, we gain useful insights into Beatty's collection of Western manuscripts.

Sir Alfred Chester Beatty and his Hours, Catherine Yvard (Trinity College Dublin)

Books of Hours once held pride of place on Sir Alfred Chester Beatty's bookshelves yet, as a consequence of two large sales of Western manuscripts in 1932-1933 and 1968-1969, only three are left today in the Chester Beatty Library collection at Dublin Castle. This paper will focus on this particular aspect of his collection, and will investigate the ways in which he acquired, treated and disposed of his hours. What part did his wife, Edith Beatty, play in their acquisition? How representative are these books of the couple's taste in Western manuscripts? What were the books' later fortunes?

The Chester Beatty Sales of 1932 and 1933, William P. Stoneman (Houghton Library, Harvard University)

While the data associated with the Chester Beatty manuscripts is still very much in the process of being compiled and evaluated, there is enough to begin to explore the movement of manuscripts in and out of his collection. In this paper I will use the sales of manuscripts in 1932 and 1933 as focal point for preliminary observations that are based on the data and on reports of the sales in the public press and through the observations of Philip Hofer, a private collector and later Curator Printing and Graphic Arts at Houghton Library, Harvard University, who attended the sales.

11.15
Coffee
11.45-13.00

Session Two: Digital Resources for Provenance Research

The New Schoenberg Database of Manuscripts: A Tool for Provenance Research, Lynn Ransom (Schoenberg Institute for Manuscript Studies, University of Pennsylvania)

Thanks to support from the National Endowment for the Humanities, the Schoenberg Database is currently being redeveloped to become an open-access, user-built, community-driven research tool for the history of manuscript transmission from production to the present. As before, the New SDBM gathers and preserves data from auction and sales catalogues, inventories, catalogues from institutional and private collections, and other printed sources, but it will soon allow users to contribute data, including one's own personal observations of a manuscript or group of manuscripts, and to engage with other users to facilitate research and conversations about both the history of manuscript transmission and the data gathered in the process of recording this history. I will demonstrate the new functionality of the database, which will become available to the public in early 2016, and show how it could be put to use in the Migrant Manuscripts Project.

Digital Modelling of Provenance Networks for Medieval Manuscripts: Chester Beatty and Thomas Phillipps, Toby Burrows (King's College London)

A significant group of Sir Alfred Chester Beatty's manuscripts were bought privately in the 1920s from T. Fitzroy Fenwick, the grandson of the great collector Sir Thomas Phillipps. These manuscripts had been acquired by Phillipps from various sources during the course of the nineteenth century. I will look at the history of the Phillipps-Beatty manuscripts in the context of the formation and dispersal of the Phillipps Collection, and will use them to demonstrate some of the work I am doing on digital modelling and visualisation of provenance networks.

e-codices: Virtual Manuscript Library of Switzerland, Ramona Fritsch (e-codices project)

e-codices aims to provide access to all medieval and to selected early modern manuscripts of Switzerland via a virtual library (www.e-codices.ch). At the moment, the virtual library contains 1363 manuscripts from 57 different collections, a very few of them once belonged to the collection of Chester Beatty. A brief presentation will show all steps necessary for making a manuscript available on e-codices.